Rick Ridgeway Makes the Case for Freedom to Roam at Copenhagen Climate Change Conference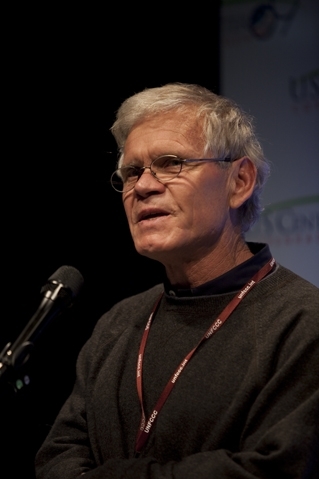 Before all the memories from Copenhagen fade from our collective consciousness, Santa Barbara Independent reporter Ethan Stewart and freelance photographer Kodiak Greenwood remind us of one very positive presentation they witnessed at the conference.
Last month, the whole world was watching Copenhagen as the United Nation's held their much hyped Framework Convention on Climate Change. Anticipated by many to be the biggest environmental moment of our lives, the two-week bureaucratic rodeo of world leaders and eco-minded experts concluded just a few days before Christmas without accomplishing much towards its goal of establishing sharp toothed, earth saving carbon emissions policy. However, despite this crucial failure, the COP15 was by no means a lost cause. In fact, even the most cynical observers hanging out in Denmark's capital city for the groovy green get together had to see hope everywhere they looked. From the passion of 100,000 people strong protests in the streets to the countless mindboggling presentations going down each and every day in the Bella Center about the various ways we can, and are already, trying to heal Mother Earth, the path to a better tomorrow was on full display for all who cared to look and listen.
[Patagonia's Vice President of Environmental Initiatives, Rick Ridgeway. Photo: Kodiak Greenwood]
A prime example of this was a side event that went down during the final Tuesday of the convention featuring Patagonia Vice President and climbing icon Rick Ridgeway. Holding court at the United States' Pavilion part of the Bella Center, a weary Ridgeway – the man had the misfortune of arriving for the conference just as security measures were ratcheted up past 10 on the lock-down dial and, as a result, lines snaked for hours to get into the Bella Center even if you were an official guest of the U.S. Government – was joined by some serious eggheads to talk about the ever important, though often overlooked, intersection of climate change realities and biodiversity. The talk, which was organized by the Director of the Center for Applied Biodiversity Informatics at the California Academy of Sciences, Dr. Healy Hamilton, provided a sort of real world snapshot of what biodiversity means for ecosystem health, what sort of havoc a climate in flux might wreak upon that fragile balance, and, most importantly, what sorts of things are being done to contemplate this potential catastrophe. While science big wigs like Dr. Phil Duffy from Climate Central and Dr. Greg Asner from the Carnegie Institute offered up the goods on things like the latest and greatest technologies for measuring the amount of carbon stored in forests – a huge tool in the fight for tropical forest preservation – and how habitats might shift in the next century if climate patterns continue to go bonkers, it was Ridgeway who stole the show with his easily accessible, real world talk about the importance of giving wildlife the Freedom to Roam.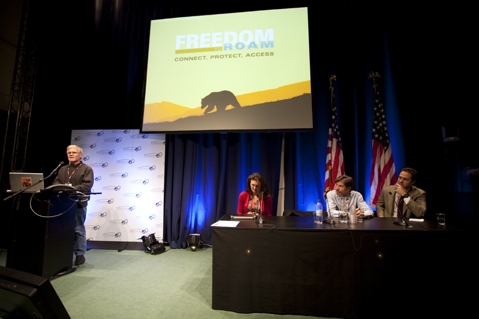 [Rick begins his presentation in Copenhagen. Photo: Kodiak Greenwood]
With its big picture, border busting focus on once again giving creatures the space they have historically enjoyed to chase food, migrate, find mates, etc., the Freedom to Roam initiative is exactly the type of forward thinking, adaptive program that will need to become common place rather than cutting edge in the years ahead if we, humans and animals alike, are to not only survive, but to combat the crush of climate change. "All of us are descendants of hunters and gatherers that learned to follow the herds…And, well, wild animals need that same ability to move," explained Ridgeway, connecting our struggles with that of the animal world. Going on to demonstrate the importance of "connecting landscapes and connecting corridors" via a series of wildlife photographs and various maps of North America migration corridors, Ridgeway did, in the span of about 10 minutes, what many highly qualified, supremely intelligent and well-intentioned climate scientist fail to do; he created an undeniable and visually compelling awareness for the common man/woman about the peril our ecosystems are in thanks to the human born perfect storm of climate change and development. "We are all in this together," stated Ridgeway, his voice impressively resolute in a room full of experts. Then, after a short pause, he added for emphasis, "We are all on the same planet." As applause broke out in the room, I couldn't help but wonder how many, if any, of the decision makers at the conference felt the same way. 72 hours later, I had my answer and, unfortunately for all of us, it seems the divisive walls of global politics and the bottom line of bank accounts are still, at least for now, more important to our policy makers than the health of the only home we have ever known.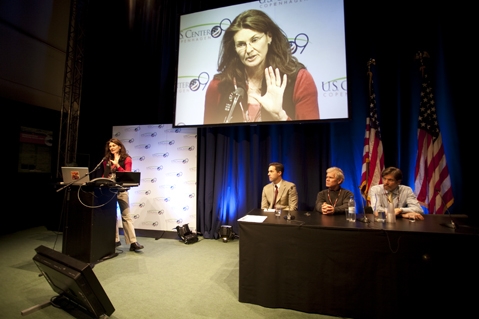 [Dr. Healy Hamilton, Director of the Center for Applied Biodiversity Informatics at the California Academy of Sciences. Photo: Kodiak Greenwood]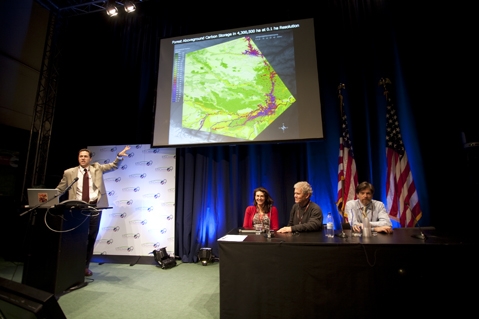 [Dr. Greg Asner from the Carnegie Institute. Photo: Kodiak Greenwood]
For more firsthand reporting from Copenhagen, check out Ethan and Kodiak's previous post "Tear Gas for Breakfast" and their comprehensive coverage at the Santa Barbara Independent.