Ríos to Rivers: Dos Mundos Unidos Por La Gente de Los Ríos!
Juanita Ringeling Vicuña
/
9 Min Read
/
Activism
A primera vista, el río Klamath en el Pacífico Noroeste de los Estados Unidos y el Río Baker en la Patagonia chilena, América del Sur, parecen no tener ninguna conexión. Separados por más de 17.000 kilómetros de distancia, sus aguas drenan cuencas que son drásticamente diferentes. El primero, comienza en un desierto de artemisa para luego serpentear a través de escarpados cañones coronados de coníferas; el otro desciende de los glaciares y viaja a lo largo de los campos de hielo patagónicos. El Klamath drena un área del tamaño de Suiza, aproximadamente 16,000 millas cuadradas; la cuenca del Baker es un poco más de la mitad de eso, pero ostenta el mayor caudal de su pais. Sí, parecen no tener nada en común.
Hasta hoy; cuando surcando las aguas del río Klamath, que inicia su curso en Oregón y desemboca en California, vemos a  27 jóvenes, 10 patagones y 17 norteamericanos. A través de un programa de intercambio organizado por la ONG internacional Ríos to Rivers, juntos recorrieron por tres semanas, más de 160 kilómetros en balsa y kayak. Tiempo durante el cual corroboraron que, a pesar de las barreras del idioma y de la aparente brecha cultural, tenían muchas cosas en común.
Los jóvenes chilenos, que viajaron desde los pueblos Patagónicos, de Cochrane y Tortel, han crecido en un férreo vínculo con el Baker; los estadounidenses, provenientes mayoritariamente de pueblos nativos, han habitado en la cuenca de Klamath desde hace milenios. Ambos grupos han vivido íntimamente ligados a sus ríos, al ecosistema creado por éstos y a la forma de vida que sustenta el correr de sus aguas. Ambos también, luchan por preservar las aguas libres, limpias y sanas.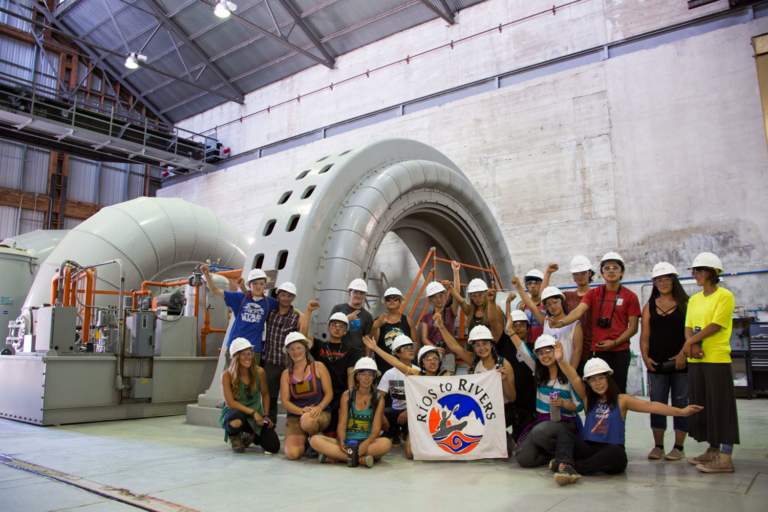 Mundos Distintos
La cuenca del río Klamath se caracteriza por su generosa y magnífica naturaleza, por eso ha sido habitada desde hace 10.000 años, proveyendo a tribus como los Klamath, Karuk, Hupa, Yurok, entre otros. Sin embargo, esta misma opulencia atrajo desde el siglo XIX a diversos aventureros, empresas y proyectos industriales.
Primero fueron los cazadores tras las pieles de castores y ocasionalmente la de los osos Grizzly; en pocos años, dichos animales, fundamentales en la regulación del hábitat, estaban extintos. Luego llegaron los hombres del oro, las industrias madereras y la agricultura a gran escala. Con ellos, el llamado progreso; el ferrocarril, las manufactureras y las represas (seis a lo largo del río). Así, en poco tiempo arrasaron con el milenario bosque costero de Secuoya, con el bosque de coníferas del interior y más arriba, con los oasis emplazados en el área desértica de la cuenca, secando gran parte de los humedales que formaban un sitio de parada transitorial para millones de aves migratorias.
El Klamath, que históricamente, fue conocido por ser el tercer sistema fluvial más productivo de salmón en los Estados Unidos, se convirtió en un cauce de aguas mortíferas. El grandioso salmón, que gobernaba el rio está al borde de la extinción y este otoño, se ha pronosticado que el retorno del Chinook será la más baja registrada, las aguas corren prácticamente sin peces, amenazando la subsistencia de los pueblos nativos y de los bosques de la cuenca, que han basado su habitar en torno al salmón durante milenios.
El río Baker, por su parte, recorre 175 kilómetros, desde el Lago General Carrera en el corazón de la Patagonia hasta Tortel.  Con prístinas aguas y con un generoso caudal (el mayor del país), su cuenca se ha constituido como un territorio excepcional que junto con el Pascua han definido la región de Aysén como uno de los últimos reductos del planeta donde la naturaleza se mantiene en su estado más salvaje. Creando un ecosistema marcado por la heterogeneidad, singularidad y valiosísima calidad ambiental.
Pero dichas aguas, su ecosistema y la forma de vida de miles de patagones están amenazadas. Aunque el mega proyecto Hidroaysén, que planeaba construir tres represas en el Pascua y dos en el Baker fue rechazado el 2014 tras masivas protestas sociales, y la semana pasada, en una victoria temporal para el pueblo chileno, las compañías (Enel y Colbún) decidieron renunciar a sus derechos de agua, esto aún no significa que estos ríos estén fuera de peligro. Los derechos de agua volverán ahora al gobierno, hasta que llegue la próxima compañía hidroeléctrica. Hasta que los ríos salvajes y pintorescos de Chile estén permanentemente protegidos, el Baker y otros hermosos ríos en Chile permanecerán en riesgo.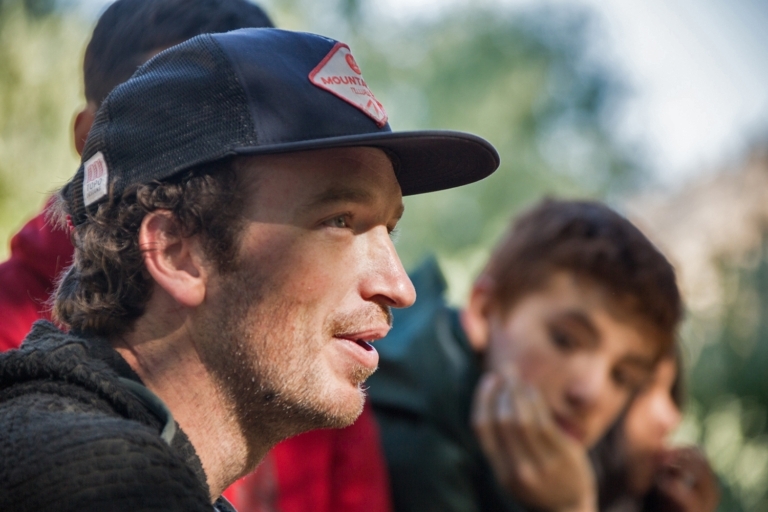 Ríos to Rivers
Es en este contexto socio-ambiental que la ONG internacional "Ríos to Rivers", con la colaboración de Warrior Institute, Ancestral Guard y Klamath Riverkeeper, decidió realizar su nueva versión del programa chileno/estadounidense de educación ambiental, con un descenso por el río Klamath.
El director de "Ríos to Rivers", el kayakista estadounidense Weston Boyles -quien reside en Puerto Guadal, en la región de Aysén- comenta que "esta organización fue fundada para capacitar y educar a los jóvenes en el cuidado de los ríos, con el fin de proteger ecosistemas prístinos y aportar al resguardo de lugares degradados, tanto en la Patagonia como en EEUU".
Las dos caras de la moneda parecen ser el hilo conductor de este intercambio, y el encuentro de estos jóvenes se convierte en la instancia para darle voz a las historias hasta el momento opuestas,  de estos ríos.
Durante tres semanas, remos en manos bajaron las aguas del Klamath, acampando en distintas playas y bosques, compartiendo el pan con mantequilla de maní de la mañana y un buen mate por la tarde. Intercambiaron canciones alrededor de la fogata y mediante dibujos, mímicas y juegos, terminaron entablando una fluida comunicación. Pero el programa también unía a este grupo en diversas actividades educativas; visitaron 4 de los 6 embalses, tuvieron la oportunidad de escuchar ponencias de biólogos especializados en peces y ecólogos especializados en ríos, fueron recibidos por los jefes de distintas tribus a lo largo del río, para aprender de sus costumbres y formas de vida, entre otras.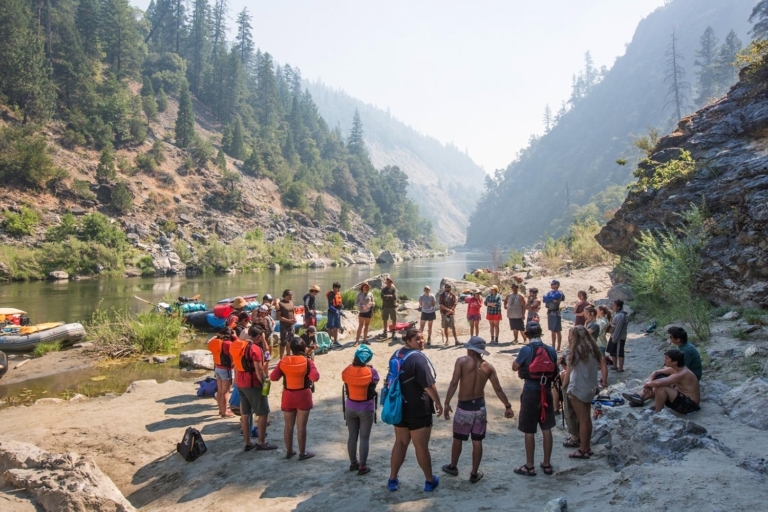 Haciendo Historia
Para los chilenos, algunos de los cuales salían por primera vez de Chile, fueron días intensos, de aventura, de aprendizaje y de retroalimentación "En la Patagonia, donde vivimos, aún no pasan o no han pasado estas cosas, no hay represas y nuestros ríos están limpios y llenos de vida y el agua se puede beber donde sea, antes de venir aquí no sabía la suerte que tenemos de vivir en ese pequeño paraíso. Este viaje nos ha servido mucho para aprender y valorar lo que tenemos", cuenta Diego Delgado (Cochrane).
Pero la historia que viven y quieren contar al mundo no es tan simple, no se trata solo de de un río prístino y uno mutilado; como señala Weston Boyles "elegimos el rio Klamath como el lugar de este nuevo intercambio porque esta cuenca está experimentando una de las transformaciones más revolucionarias de la historia de Estados Unidos. Al 2020 está planificado desmantelar cuatro represas, siendo esta la remoción más grande realizada"
Este plan se constituyó alrededor del 2010, tras casi una década de protestas, demandas y negociaciones. El dueño de las represas, Pacific Corp, junto con agricultores, empresas pesqueras, representantes de las tribus indígenas, ambientalistas, el gobierno federal y los estados de Oregon y California, se acordó la remoción de cuatro represas (generadoras de energía eléctrica). Si bien el Congreso de los EE.UU. no ratificó el acuerdo original, los grupos pudieron modificar el acuerdo en 2016, permitiendo dicha demolición para 2020 sin un acto del Congreso.
Actualmente en Estados Unidos, se remueven mas represas de las que son construidas debido, principalmente, al creciente reconocimiento del elevado costo social y medioambiental que producen
Y entonces surge la pregunta obvia: ¿por qué a un lado del mundo continuamos construyendo represas mientras que en el otro éstas se están desmantelando?
Máquina del Tiempo
Como bien lo expresa John Luke Gensaw (19 años), perteneciente a la tribu Yurok "este intercambio de Ríos to Rivers ha sido súper potente porque es como subir a una máquina del tiempo. Si pudiera subir a una máquina del tiempo, definitivamente volvería atrás y lucharía para que mi río no fuera destruido. Los ríos donde viven los compañeros chilenos, todavía no han sido destruidos. Tengo la oportunidad de luchar junto a ellos y ayudarles a tratar de no repetir los mismos errores."
Siguiendo la idea de la máquina del tiempo, el Klamath se convertiría, para estos jóvenes chilenos, en el viaje al futuro en caso de que se decidiera sacrificar la región de Aysén con los proyectos anteriormente mencionados. El reconocimiento de esta realidad entretejida creó una profunda complicidad entre los jóvenes; conforme pasaron los días y llegado el final de esta travesía, sus historias se fueron transformando en una causa, su opinión en lucha y su compañerismo en hermandad.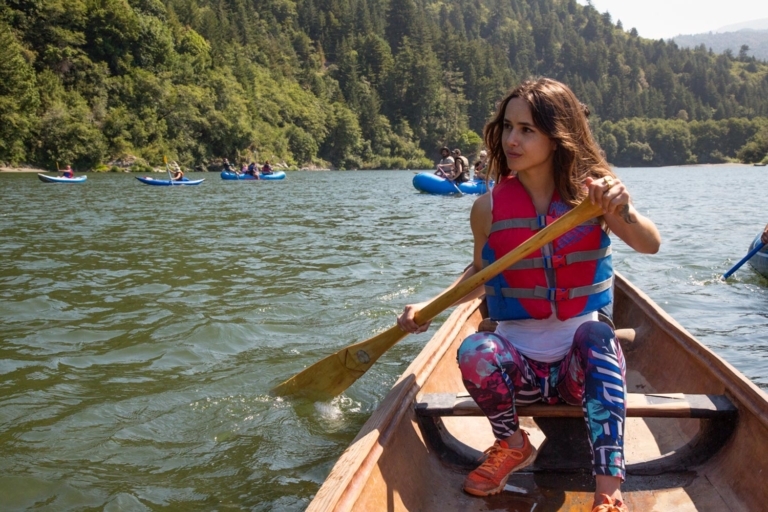 Arribo al Mar
Así llegó el 29 de julio, a eso de las tres de la tarde la desembocadura del río Klamath vio aparecer tres canoas tradicionales seguidas por decenas de balsas y kayaks. Desde Requa (nombre del pueblo Yurok donde el Klamath se une con el mar Pacífico) las voces dulces entonaban una melodía reiterativa que inundaba el río y el mar, eran las mujeres Yurok que daban la bienvenida a los aventureros. La letanía, la niebla costera y las proclamas (pintadas la noche anterior) constituían un singular y emocionante paisaje.
Arribaron a tierra; familias, amigos, gente de la zona los esperaban con música, comida y muchas preguntas. En el escenario dispuesto para su llegada, los jóvenes pudieron compartir sus ideas, agradecimientos y anécdotas. Resonaron las palabras de la Tortelina, Alejandra Chodi (15 años) "Somos el pez que nada contra la corriente, que lucha contra una ola de represas, somos vida en ríos libres y presos, una corriente llena de esperanza que entrega poder al grito del pueblo, porque aún hay tribus y gauchos sobrevivientes a la tortura de poder, quienes viven para defender sus tierras y aguas. ¡Todos somos Baker, Todos somos Klamath!!"
Este es solo el inicio del gran viaje. La culminación de este intercambio precisamente en el lugar donde el río se encuentra con el mar parece simbolizar lo vivido y lo que vendrá; como el estuario mismo con su mixtura de agua salada y dulce que genera un ecosistema rico y abundante, esta mixtura de culturas produjo bullente energía y renovadas visiones. Y simboliza lo que vendrá, porque este es el comienzo del gran viaje, su convicción por esta causa recién se forja en su conquista del océano, en su intención de propagar su opinión e ideales a sus pares, a los niños, a los habitantes de sus ciudades, a Chile, a EEUU, al Mundo. El momento de actuar es Ahora.
Rios to Rivers es una organización que inspira la protección de los ríos a través de la educción fluvial y del apoyo y práctica de programas al aire libre. Para obtener mas información acerca de sus programas de intercambio (y el apoyo de estos mismos) visite www.riostorivers.org.