Save Money, Save Salmon, Save Mike: Free the Snake
Steve Hawley
/
Aug 21, 2015
/
7 Min Read
/
Activism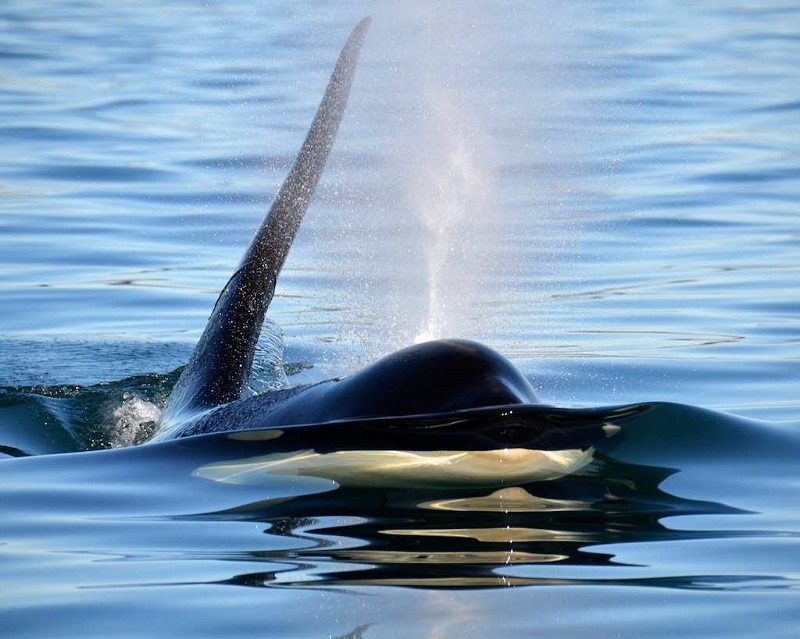 Meet Mike. He's 21 years old, 20 feet long, weighs about 10,000 pounds. He speaks a language that was taught to him by his elders: a series of squeaks, clicks and squeals that allow him to coordinate hunting strategies with his clan. His species is the apex predator in the eastern Pacific. He also babysits.
Mike is often seen protectively swimming alongside his younger siblings, part of a group of 80 orcas known as the Southern Residents that spend their summers fishing in the vicinity of Puget Sound. But over the past decade the babysitting gigs have been too few and far between. Not enough young orcas are making it through pregnancy, birth and into adolescence. Toxicity is a problem, as it is for all the world's large marine mammals. But lack of food—Chinook salmon—is a death sentence. Acknowledging as much, NOAA put Mike and the rest of the Southern Residents on the Endangered Species list in 2005.
Above: J26 Mike surfaces in Haro Strait, a key foraging area for the Southern Residents. Photo: Monika Wieland/Orca Watcher Photography

It takes around 600,000 Chinook salmon to feed the Southern Residents each year. In winter, these whales feed on Chinook just outside the mouth of the Columbia, where the fish stage for their migration as far as a thousand miles upriver.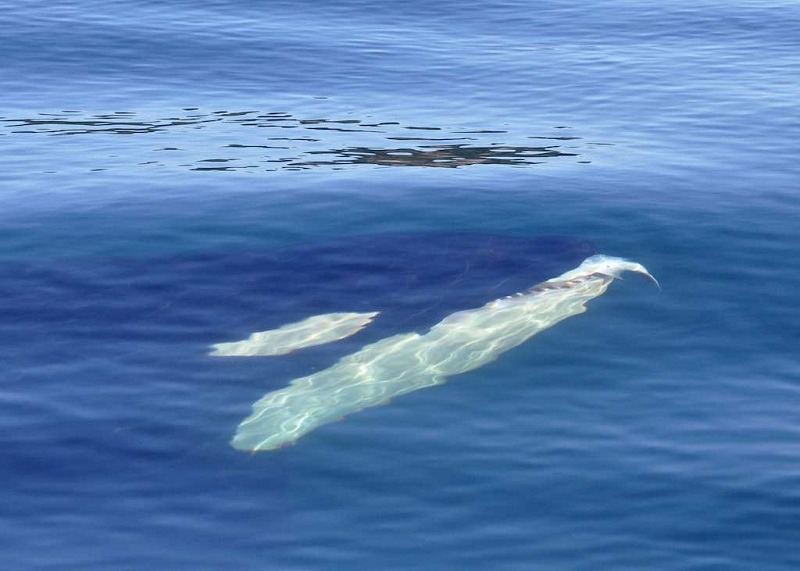 K25 Scoter, a young adult male in K-Pod, carries a salmon in his mouth as he rises to the surface. Photo: Monika Wieland/Orca Watcher Photography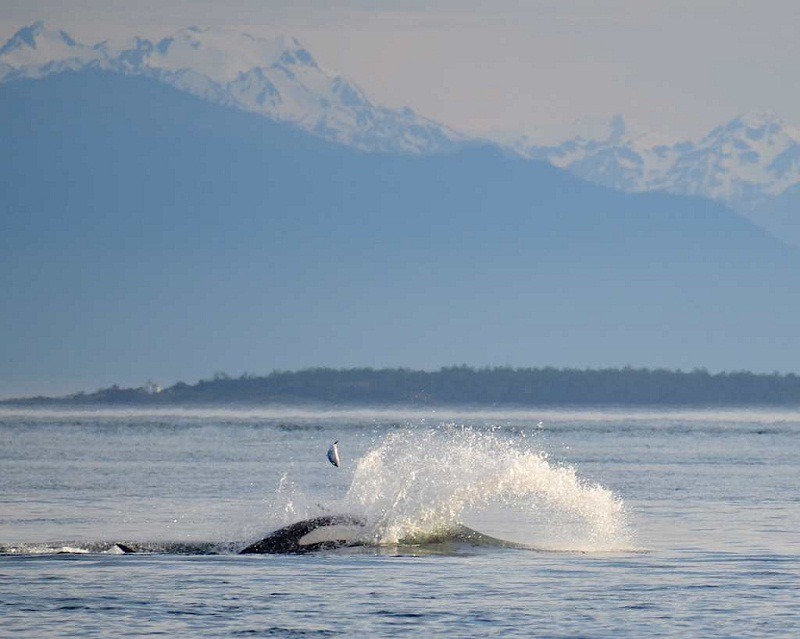 Sometimes resident orcas will lunge at the surface in pursuit of a salmon. Here, an L-Pod whale actually launches a salmon into the air! Photo: Monika Wieland/Orca Watcher Photography

Meet Mike. Video: Peterson-Hawley Productions

Columbia/Snake Chinook are endangered too. A cabal of national agencies that likes to call themselves the federal family has spent $9 billion over the past 30 years on a salmon recovery plan that hasn't recovered any fish. Reliance on hatcheries, trap and haul schemes, and Rube Goldberg style techno-fixes at the dams themselves have made it possible for these agencies to put off making difficult decisions. Bad policy, bad science, and inept management have been masked by some luck with the weather and the courts. Yet the cardinal rule about getting by on luck is that it has to run out.
The lucky streak ended on the Columbia this year. Little snow and rain and a scorching hot June and July have helped push water temperatures beyond what salmon can stand. A minimum of a quarter million adult sockeye salmon died in hot water in the Columbia and Snake last month. Century-old six- to ten-foot-long sturgeon are washing up dead along the banks of these two rivers. Worse yet, the winter we didn't have in 2015 is likely a preview of the winters we won't have on a regular basis in the future. Climate projections suggest what looks like a disaster for fish this year might look routine a half-century from now.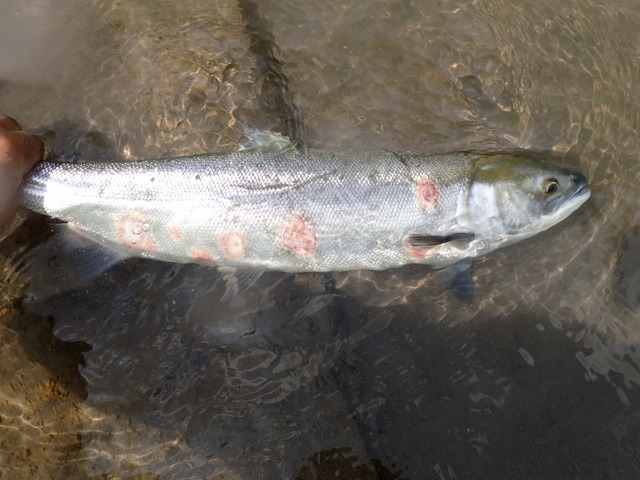 Dead sockeye at the mouth of the Deschutes. Photo: Steve Pribyl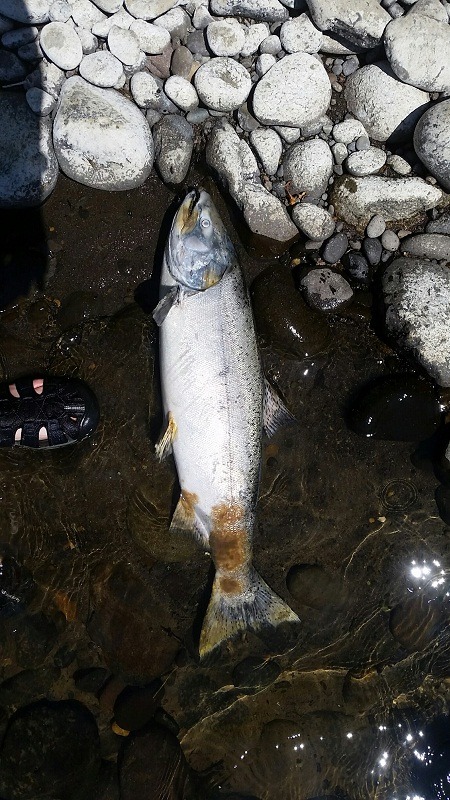 Photo: Oregon Department of Fish & Wildlife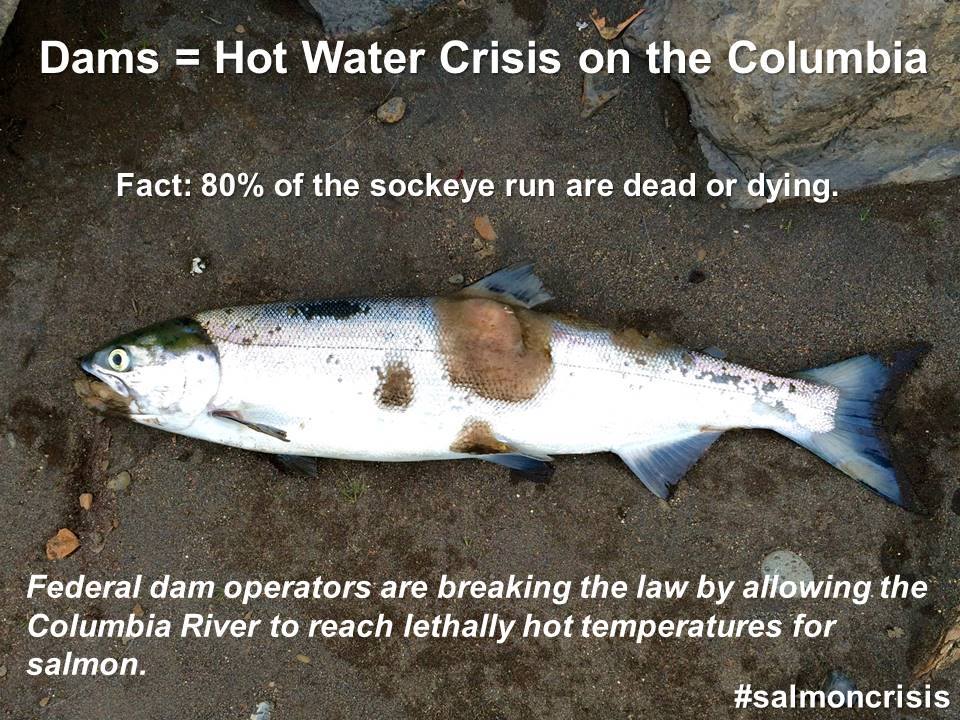 #salmoncrisis
The federal family has little to say and wants nothing to do so far with revamping the thoroughly plugged river to meet present or future needs for fish. They pass off this year's debacle as an unlucky bout of hot weather. But the fact is, water impounded behind a dam works as a giant solar collector. A deadly heat sink. While this year is hot, the dammed Snake River has made an annual summer tradition out of exceeding temperature standards mandated by federal and state law. A computer model created by the EPA calculates the capacity for warming in these sweltering reservoirs. According to this model, four dams on the lower Snake River have the capacity to heat the river by double-digit degrees Fahrenheit. Cooling the river by half that much even in a summer like this one would transform the Snake from a slackwater deathtrap back into the migration corridor it has been for millions of years. But cooling the river requires a change in tactics.
A popular term among environmental wonks is "mitigation," which the dictionary defines as "lessening the force or intensity of something unpleasant." The mitigation mindset has plagued river and fish recovery efforts all over the country, because as the meaning of the word suggests, mitigation stops short of doing away with the unpleasant thing altogether. There is no mitigating for high water temperature on the Snake River. The unpleasant thing has to go. Four of them to be exact: Ice Harbor, Little Goose, Lower Monumental and Lower Granite Dams. Doing so would grant unfettered access to 5,500 miles of heat resistant high-elevation salmon-bearing streams, the arteries and veins of 4.4 million acres of wilderness habitat in Oregon, Washington and Idaho. As a bonus, getting rid of these dams, it has been calculated by economists and engineers, would be a net economic benefit to the region.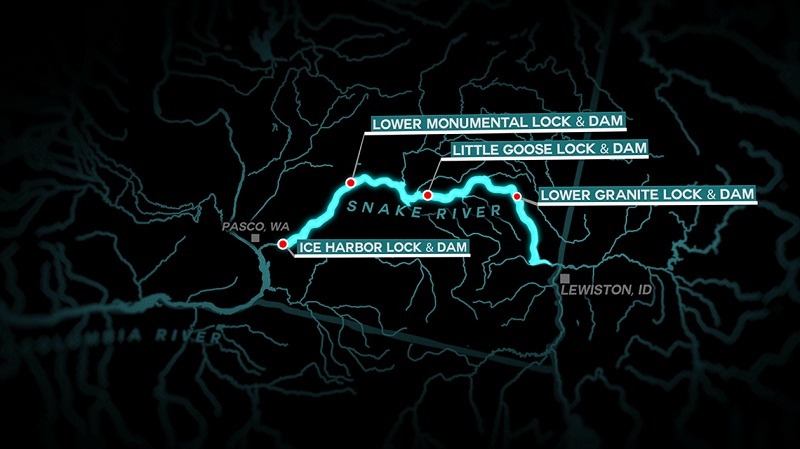 Join us in asking President Obama to remove four deadbeat dams on the lower Snake River in Washington. Map: DamNation/Patagonia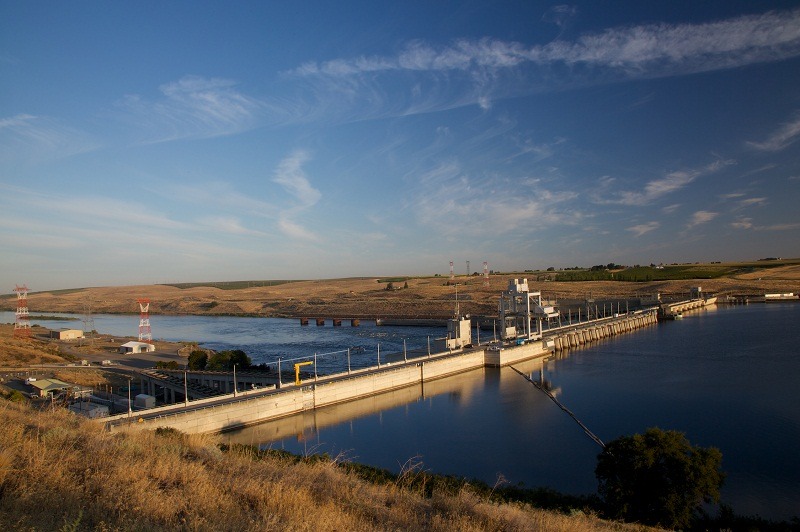 Ice Harbor Dam, the furthest downstream dam on the Snake River and first Snake River dam encountered by upstream migrating salmon and steelhead. Photo: Matt Stoecker

Dammed to Extinction (Teaser). Video: Peterson-Hawley Productions
Writer Wendell Berry coined the phrase "solving for pattern" as the antidote to the mitigation mindset. He described it as imagining and acting on "a solution that leads to a ramifying set of solutions." It's hard to think of an act that exemplifies solving for pattern as well as getting rid of a high-cost, low value dam.
A year after the utility company PacifiCorp blew a hole in the bottom of Condit Dam on the White Salmon River, Chinook spawned on clean gravel beds not a hundred yards from where the dam had stood. Further North in Washington state, the Elwha's robust estuary rebuild, courtesy of sediment settling at its mouth that had for a century been trapped behind two dams, is happening so fast it seems like science fiction.
And on the Klamath River, after devastating fish kills due to tepid water in 2002, ranchers, Indian tribes and conservationists hammered out a hotly contested agreement that will rid that river of four fish killing dams. Better yet, a few Klamath locals with traditionally opposing interests, people that had hated each other on general principle for generations, are now working together to get an utterly dysfunctional Congress to finalize their dam removal deal. At least two former Klamath adversaries have admitted they now golf together.
We like the idea of old enemies putting aside their difference to play games for some of the same reasons we like to watch highly intelligent, charismatic creatures like Mike nurturing and protecting their young. Both are stories about taking good care, about wild possibilities coming true, the grace to be had in not just living up to but living well with our shared responsibilities.
Mike and I are neighbors. Our neighborhood was until recently one of the richest marine ecosystems anywhere, one that stretches from the continental shelf to the continental divide. It was all powered by a river that was the top Chinook producer on the planet. We both badly want some semblance of that richness back. The river feeds us both. But Mike's life depends on it. So let's solve for pattern once more. Save money. Save salmon. Save Mike. Free the Snake.

It's time to act. Please contact President Obama today!
Visit our partners at Save Our Wild Salmon to email President Obama AND call the White House comment line: (202) 456-1111. When you call, urge the President to "Please remove the four lower Snake River dams in Southeastern Washington state to save the longest, highest migrating salmon on the planet, and the Pacific Northwest's endangered Southern Resident orcas."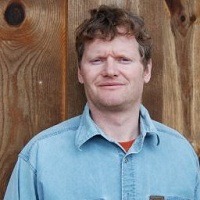 Steve Hawley is a writer from Hood River, Oregon. He's at work on a documentary film about the connection between orcas and salmon. To learn more, visit dammedtoextinction.com. He's also working on a book with DamNation co-producer Matt Stoecker about future prospects for healthy rivers around the world.
Learn more about our campaign to Free the Snake at Patagonia.com.