Save the Blue Heart of Europe: Climbing in Albania
Quotes by Arnaud Petit and Stéphanie Bodet, Luka Krajnc and Jon Bracey
Patagonia Europe has been supporting the Save the Blue Heart of Europe campaign through grants and communication efforts over the past year. Our first story introduced you to the rivers of the Balkan Peninsula and the absurd number of dam projects (2,700+) threatening them. Then we shared a report from the Vjosa River where activists did a 35-day float to raise public awareness about this important issue. The trip culminated with a protest on the doorstep of the Albanian Prime Minister. Today, we'll venture high above the rivers of Albania with a team of Patagonia climbers who are seeking to bring a different perspective to the campaign. We've been inspired by the people, natural beauty and incredible recreation opportunities of this region and will continue to speak out against the harmful dam projects that would ruin it.
Deep in the folds of a land I knew nothing about just one year ago, lay rivers and mountains, landscapes and countrysides, pristine and unexplored.
It's places like these that we, a society thirsty for advancement, development, money, ownership, technology and instant gratification, need to appreciate. They remind us to slow down and look around. And maybe, just maybe, take the time to see our impact before it's too late.
Driving south from Slovenia through the core of the Balkans felt like going back in time. First we crossed the borders of the commonly visited Croatia, and then later to Serbia, Macedonia and finally Albania reinforced that feeling. The pace of locals was slower and slower. The everyday "problems" of Western-minded people became less frequent, while living in the moment became more obvious.
—Luka Krajnc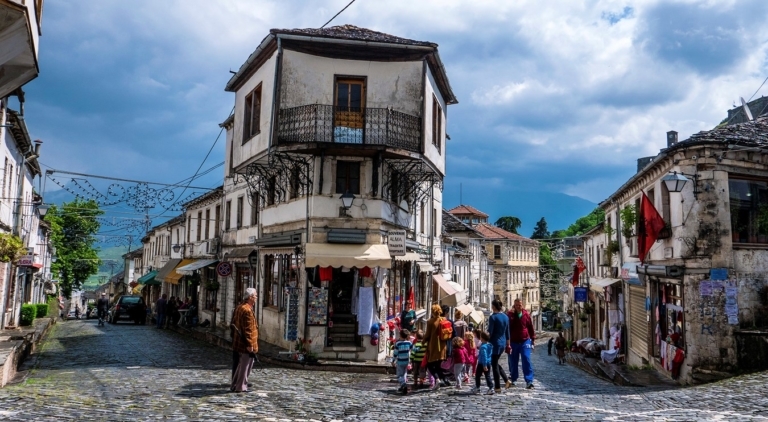 One year ago, myself and seven other climbers from across Europe, embarked upon an adventure to explore the wild landscapes of the Balkans. It started with a challenge: How could we bring eyes and ears to this mission to save the Blue Heart of Europe, to stop the development of more than 2,700 of dams and preserve a 21st century hidden treasure?
We scanned maps, Internet sites and trip reports and came up with endless climbing possibilities, too many for just one lifetime. We narrowed the choices down to Albania and began to talk about the possibilities. Is it safe, this land that has been riddled with violent history and economic strife? Will the people embrace Western Europeans and Americans with open arms and minds? We would learn the answers soon enough—once we set foot on their soil and floated down their rivers.
Leaving behind the buzz and modern air of Tirana, Albania's capital, Arnaud Petit (FR), Stéphanie Bodet (FR) and Nastja Davidova (SLO) headed two hours southeast along the Vjosa River, the last, biggest, undammed wild river in the region and the poster child for the Save the Blue Heart of Europe campaign. In less than a morning's drive, the team found themselves far from the development of the city and deep in the heart of small Albanian village life.
In Çarshovë, the atmosphere is peaceful. Some people were working with old scythes in fields full of wild flowers. It is difficult to realize that the Greek border is just a few kilometers away and even harder to think that the beautiful orange limestone crag above the village is virgin. No one has ever climbed here!
—Arnaud Petit and Stéphanie Bodet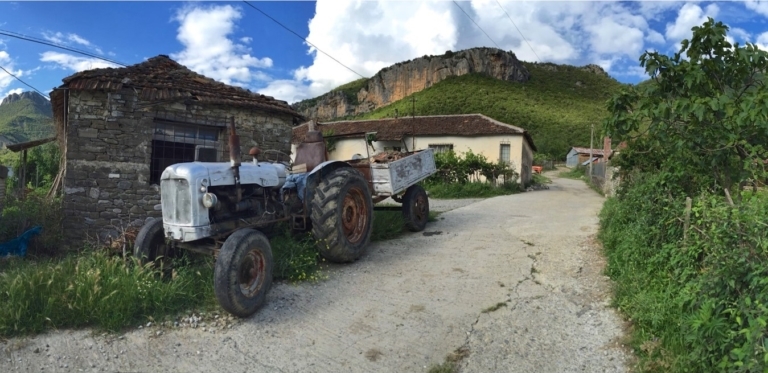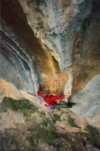 Finding unclimbed crags was icing on the cake for these world-class climbers who have spent over 30 years gallivanting the globe in search of pristine walls and unknown adventures, hoping for cultural enlightenment and rhythm alongside of nature. The damming of these rivers, of the Vjosa in particular, would flood endless valleys and villages destroying traditional lands. The damming of these rivers would also steal forever the possibilities of unknown adventures yet to be had: developing climbing areas, floating down river rapids, swinging fly rods along riverbanks, linking up days on quiet trails. Yes, it would bring more money and more power, but to who, and at the cost of what?
At the end of the day, Arnaud, Stéph and Nastja managed to establish a new route, an 8a test piece that would attract Greek climbers within just a few weeks. In a world that is exponentially shrinking from globalization, adventurers salivate over the potential to explore new, wild untarnished landscapes. If you climb it, they will come, and with them ecotourism dollars that could give the people of this area a much preferred alternative to the damming of their river.
As the crew packed up their climbing ropes, shoes and gear, they were given a special invitation.
We met Kosta, an old man with a wise and quiet face, who spent the whole day with us. When the sun disappeared, he invited us to his home. Fotini, his wife, had already boiled us some water to take a shower. These people, we didn't know them the day before, these people we could not even communicate with, welcomed us as their children. It was so touching. We were offered a wonderful dinner with fresh, organic food from the small garden of our hosts. Strawberries, divine lettuce, olives, fresh sheep milk, homemade bread filled with nettle, an amazing cake served with çaj mali, a special herbal tea used in Albania to keep you healthy. Kosta, who doesn't even have a car, walks two hours each year to pick this plant in the mountains. I amazed by their simple and pure life, a life connected with nature, a life with no impact, but one that made a big impact on us.
—Arnaud Petit and Stéphanie Bodet
In the morning, the team left their generous new friends with a tear in their eyes. The humanity they found deep in the wilderness is hard to come by in the developed world. Kosta joined the team at the new route and drilled the first bolt of the second new line, a 6c, with the hope that a more accessible grade will draw more climbers to explore the region.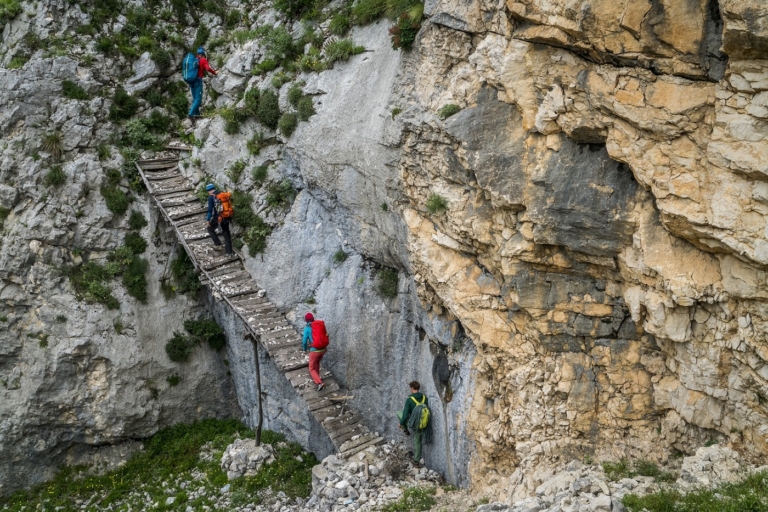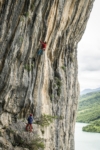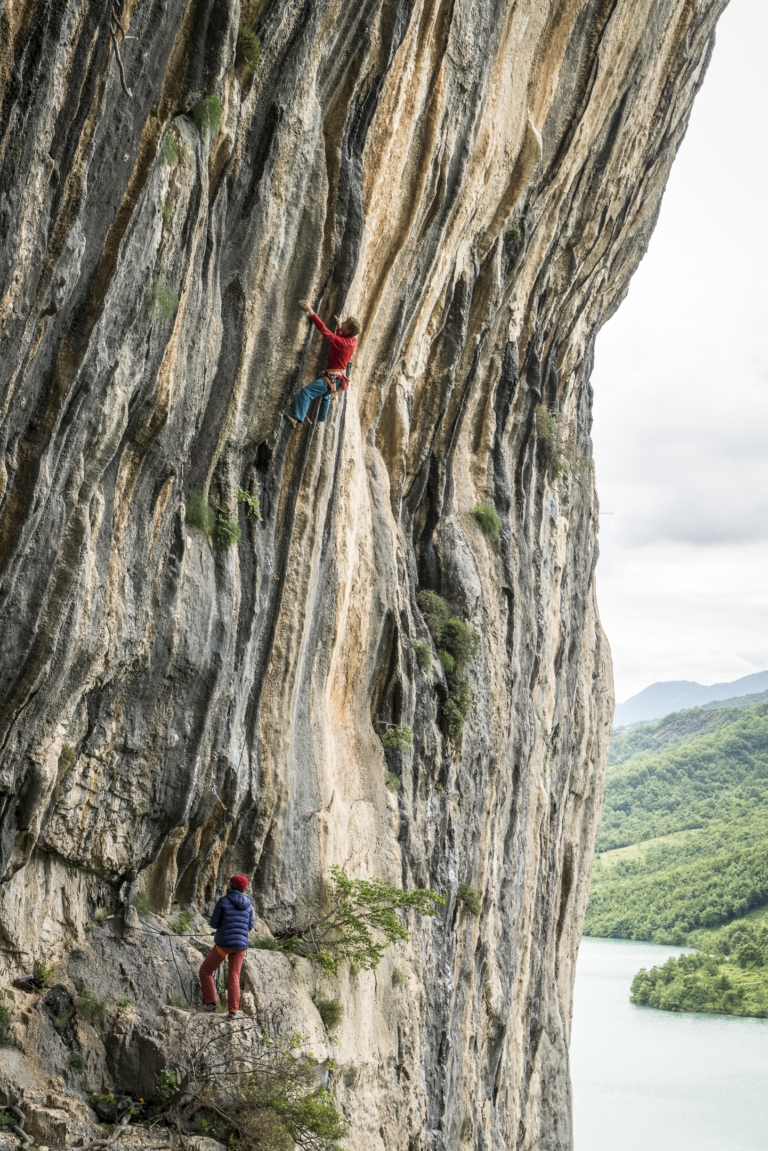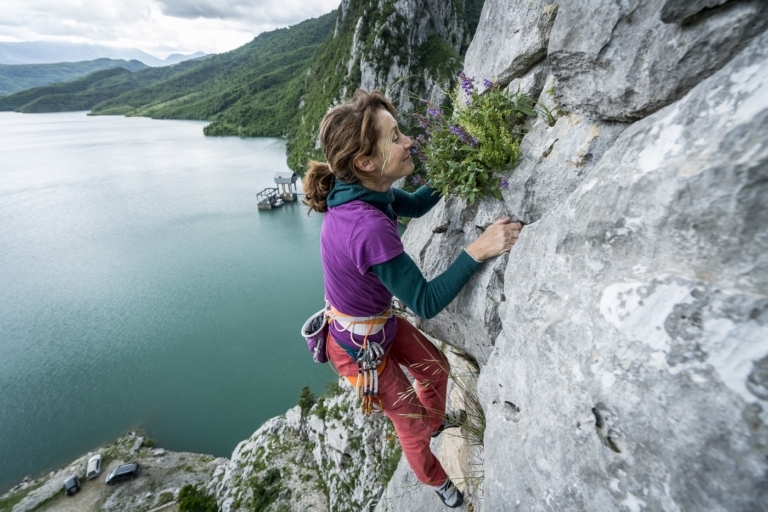 At the same time, Marko Prezelj (SLO) and Luka Krajnc (SLO), also just a few hours away from the capital of Tirana, found themselves deep in the heart of the wild 700-meter limestone face of Papignut, attempting to link up rope length after rope length of previously unexplored terrain. Encased by fog and clouds, loose rock and intermittent showers, Marko and Luka climbed on.
[The] steepening terrain, we both agreed, was the worst rock either of us had climbed in our lives. Rock pitches turned into steep grass which the leader tackled with one ice axe that we brought just in case. The seriousness of the climbing was taxing for our heads and we were pleased to see the top of the wall getting closer.
—Luka Krajnc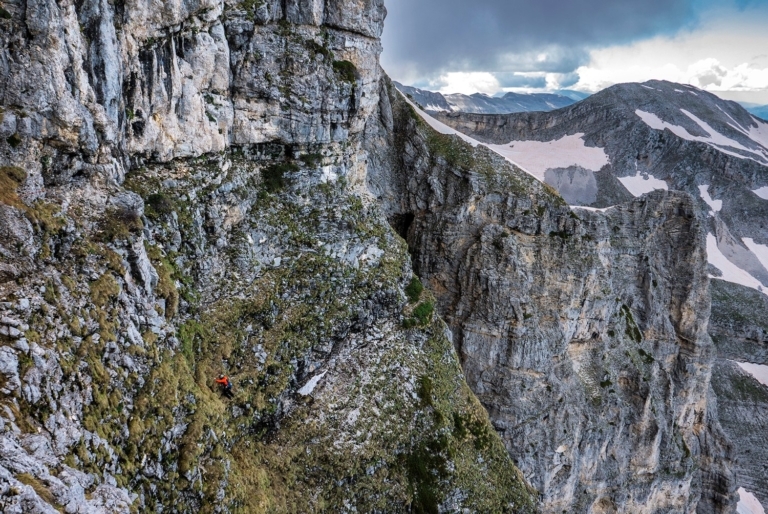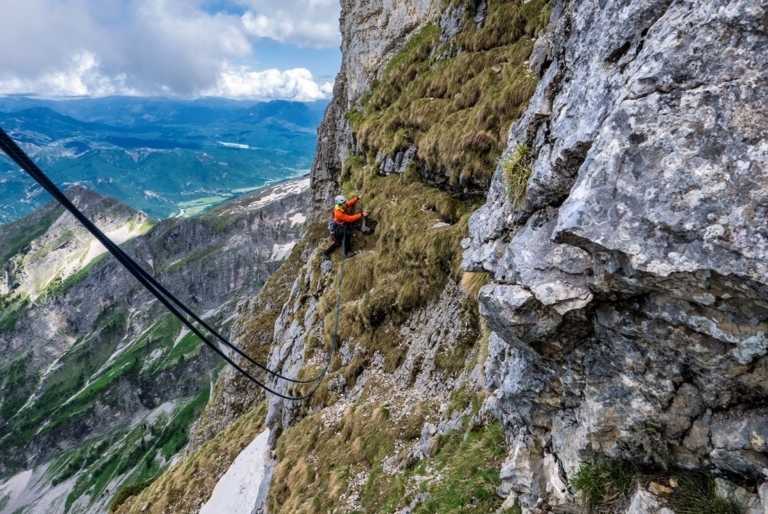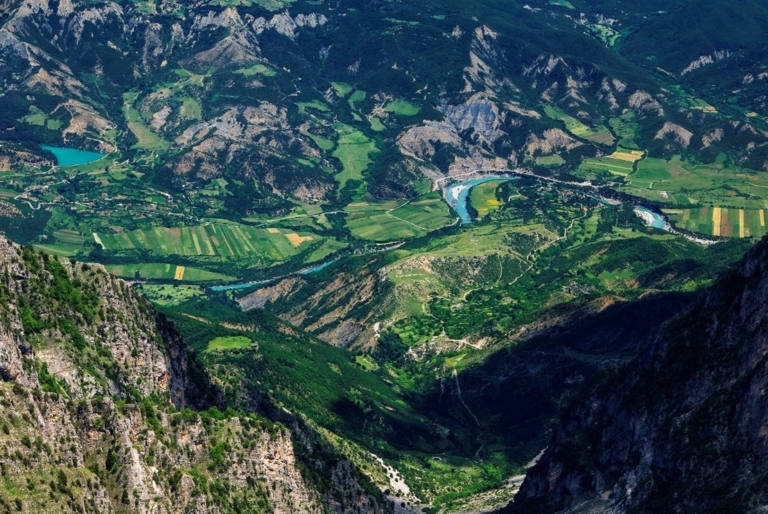 After topping out on a precarious snow cornice in approach shoes and with a single ice axe, Marko and Luka were relieved to make it back down to the base of the wall safe and sound. While not producing a classic climb to be repeated, it satiated their thirst for unknown experiences, both wild and demanding, and opened up an area for future climbers to potentially explore again.
The troubled history of this poverty stricken land was shockingly apparent all around us. Huge piles of rubbish marked the edges of the streets. The main roads were sporadically lined with people of all ages sitting with cardboard boxes containing a few potatoes to sell or maybe exchange for cabbage. The people appeared to be aged far beyond their years. As we continued our journey inland from the town of Skodhar towards the remote village of Theth and the Prokletije Mountains the mood lightened. Away from the dusty streets, luscious alpine meadows drew our eyes towards the distant, jagged limestone faces which bore a striking resemblance to the Tatra Mountains of Slovakia. We were hoping to explore the 800-meter south face of Mount Arapit.
—Jon Bracey
After repeating an already established line the first day, Jon and Luka left behind their grassy meadow camp—graciously offered free of charge by a local Albanian farmer—at 3:30 am in hopes of tracing a new, pristine line up the face of the mountain.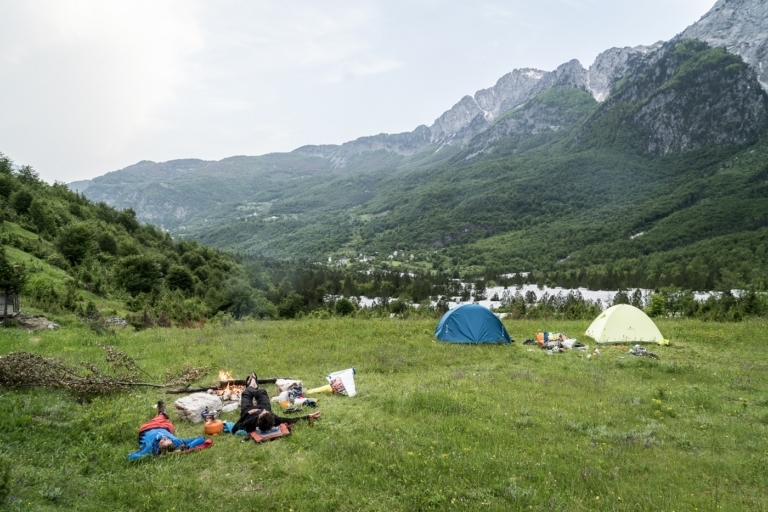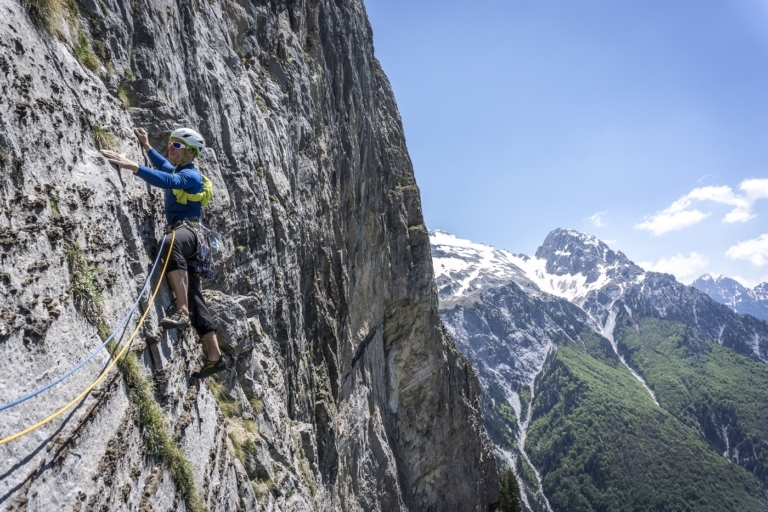 The passages kept opening up in front of us. It was one of those days when things run smooth and climbing seems effortless. The last few pitches spiced up the route with some technical climbing on very good rock, just enough to test our determination, and in the early afternoon we stood on top of the wall with smiling faces and satisfied minds.
—Luka Krajnc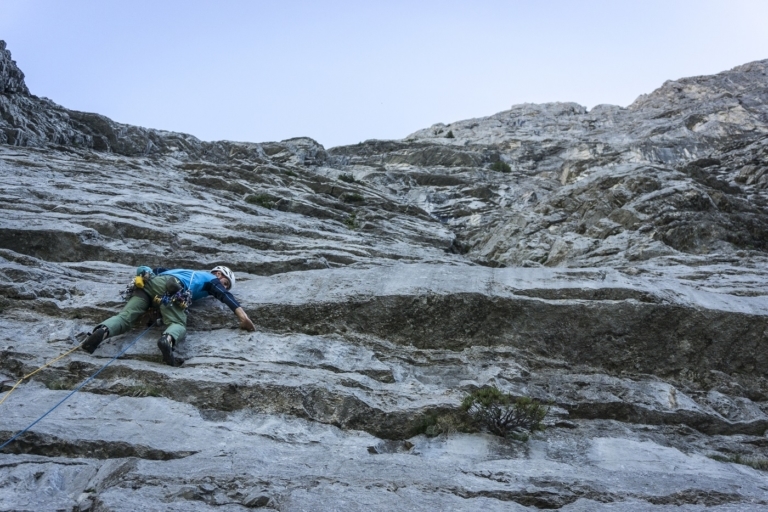 From the top we had spectacular views all around with untouched limestone cliffs spanning the landscape as far as our eyes could see. Across this region of Albania and into neighboring Montenegro there is vast potential for alpine rock climbing adventures.
—Jon Bracey

Jon, Mikey and Luka, the last of the teams, packed up their rental car and bounced along the rutted road back to the capital to go their separate ways. Luka packed back into his car for the long journey back to his Slovenian home.
In one month, after 4000 kilometers of driving, 10 border crossings and endless moments spent with similarly minded people, I concluded my trip at the starting point. This trip provided a great experience in an almost forgotten country that still hides many treasures that call for discovery, on and off the walls.
—Luka Krajnc
Seven climbers joining forces with a team of passionate kayakers to explore and carry stories back to the eyes and ears of readers like you, in hopes of spreading the importance of this battle to Save the Blue Heart of Europe, to stop the development of more than 2,700 dams in the wild lands of the Balkans. These stories, adventures, moments of friendships both new and old, the challenges, obstacles, successes and failures, were compiled in less than a month by less than 10 people. Imagine what still lies out there for the rest of us, young and old, to explore on bike, foot, boat or parapont. Imagine the possibility of it being lost.