Save the Chuitna: Watch the Trailer and Join the Fight Against Coal Mining on Salmon Streams
There is something intensely visceral and awe-inspiring about the Chuitna Watershed. Deep pools teeming with wild Pacific salmon pervade the vast landscape. Oversized tracks from grizzlies and moose are omnipresent, creating an eerie feeling as you navigate through fields of fireweed. And the spirit of the native Tyonek people, who have called this land home for millennia, resonates with every flight of an eagle and leap of a salmon.
For the media team privileged to visit this remote Alaskan paradise, the harsh reality that we were experiencing a wilderness slated for destruction proved incomprehensible. Even still, it seems unfathomable that the river we waded could soon be bulldozed to make way for one of the United States' largest open-pit coal mines and Alaska's largest coal export terminal.
Above: Chuitna – More Than Salmon On The Line (Trailer). Video: Trip Jennings and Save the Chuitna.
But for the native Tyonek people, hardy homesteaders such as Judy and Larry Heilman, and commercial fishermen like Terry Jorgensen, it is an unfortunate reality they face every day. By a cruel twist of fate, these warm-hearted, frontier Alaskans have been thrust into a fight to protect their homes, livelihood, and salmon from the proposed Chuitna Mine.
Even in this unfortunate era of megaprojects, Chuitna stands out as particularly egregious. Alaska is no stranger to mines, but never has a company had the audacity to propose mining directly through 13.7 miles of a salmon stream. Doing so would not only wipe out some of the world's best salmon spawning grounds, but it would also establish a dangerous precedent that would endanger hundreds of Alaskan rivers that course through untapped coal fields.
As dire as this news sounds, we have the power and ability to prevent this pristine Alaskan wilderness from being transformed into an industrial wasteland and the coal source powering Asian countries. With a few keystrokes and mouse clicks, you can support the incredible work being done by local groups and residents on the front lines of the fight.  Together we can help save the Chuitna.
Join the effort to save the Chuitna by visiting SaveTheChuitna.org, liking the Facebook page or texting "Salmon" to 313131. As the campaign unfolds, you will be notified when it is time to speak up and help save the Chuitna.
Check out some photos from the making of the film, Chuitna: More Than Salmon on the Line.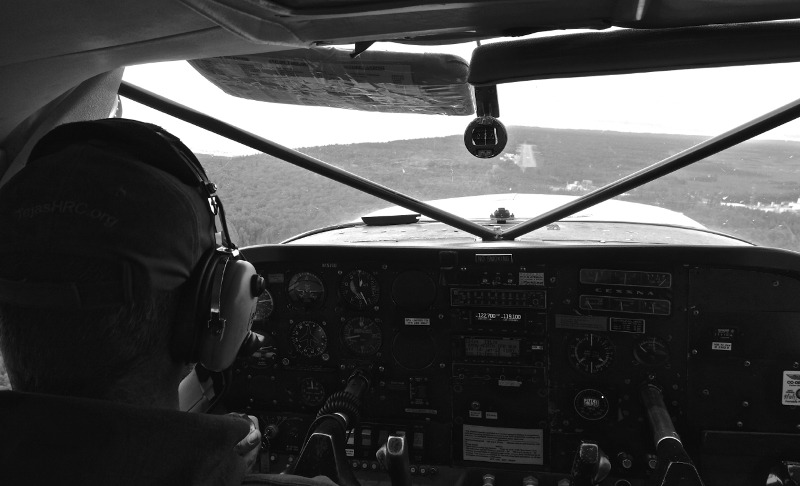 The approach to the landing strip in Beluga, Alaska. Photo: Paul Moinester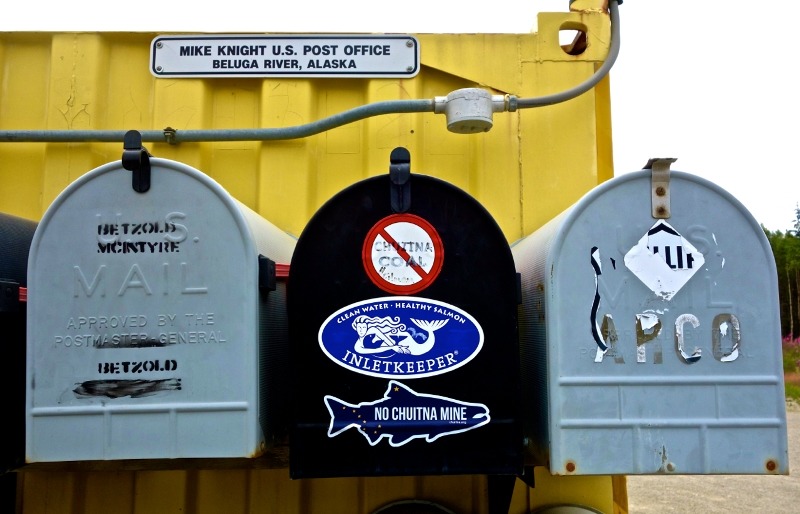 The Beluga River Post Office. Photo: Paul Moinester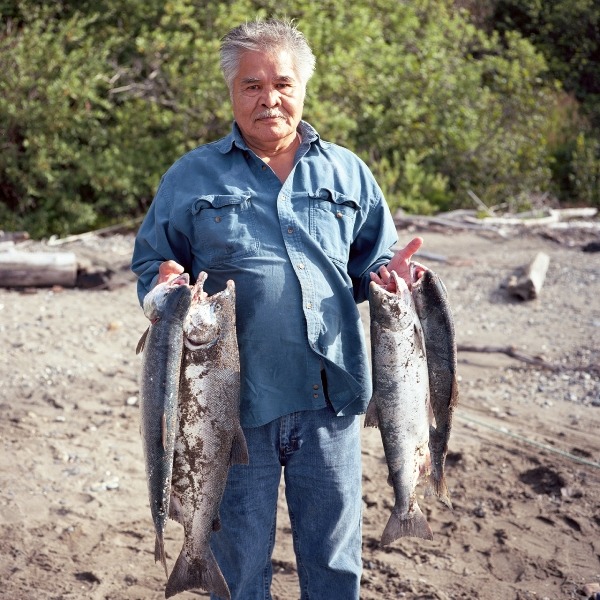 Al Goozmer, Native Village of Tyonek President, poses with several salmon he caught subsistence fishing. Photo: Sara Quinn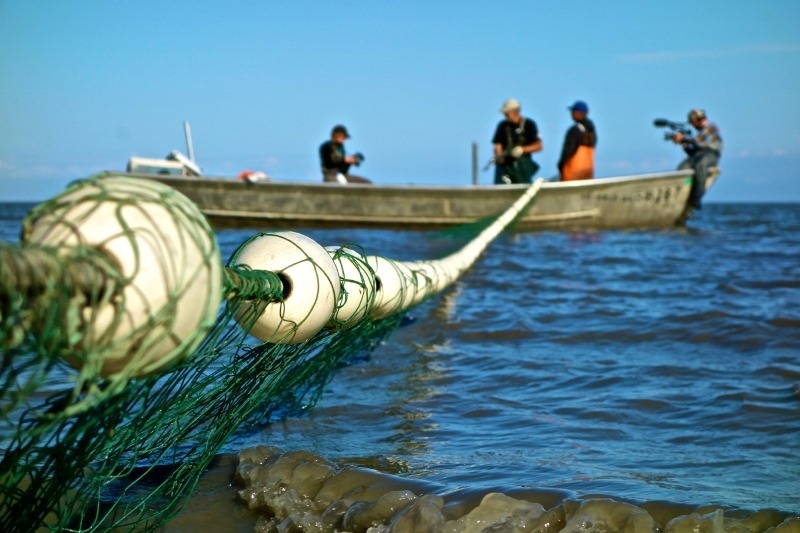 Trip Jennings and Sara Quinn filming Terry Jorgensen's commercial setnet fishing operation. Photo: Paul Moinester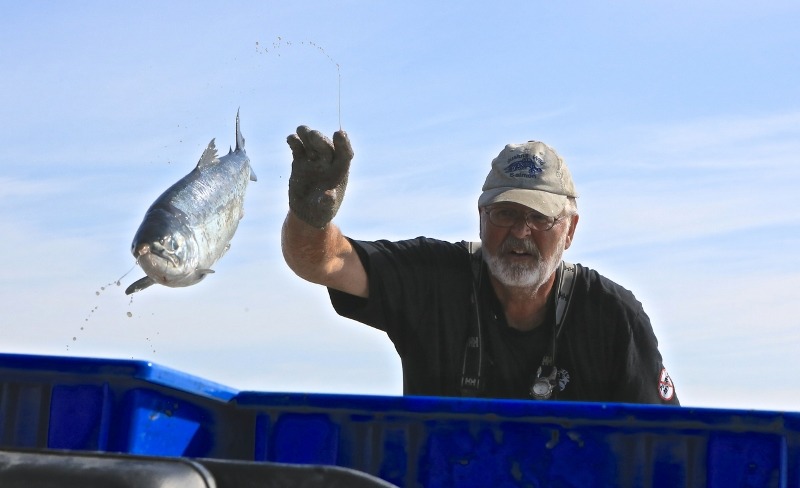 Commercial fisherman Terry Jorgensen loads a crate of salmon bound for a grocery store near you. Photo: Dave McCoy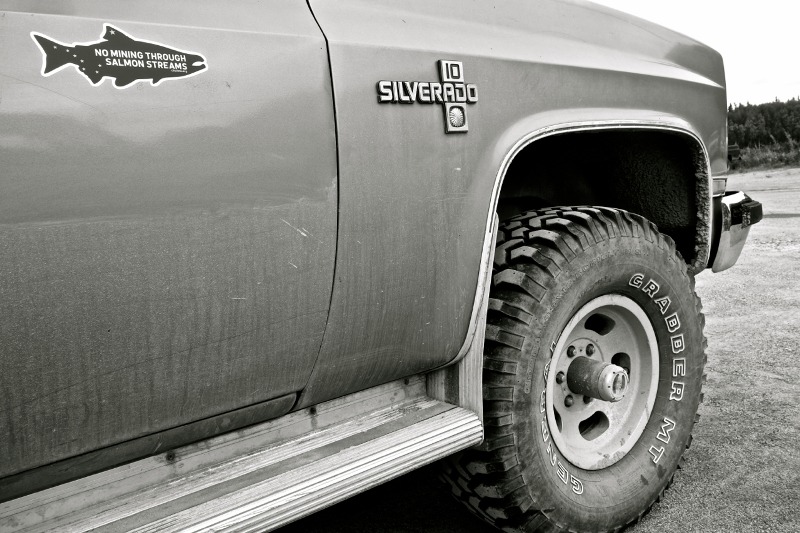 Judy and Larry Heilman's truck displays a clear message: No mining through salmon streams. Photo: Paul Moinester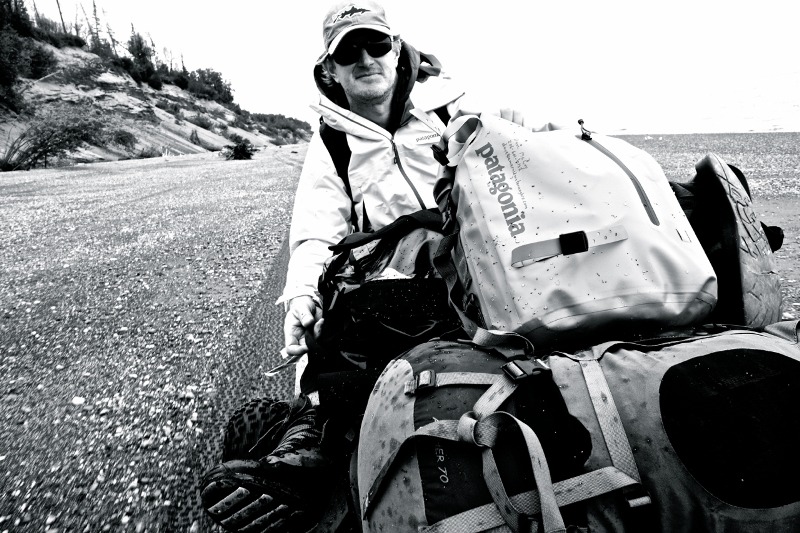 Patagonia's Dave McCoy rides along the shores of the Cook Inlet on a loaded down trailer towed by a four wheeler. Photo: Paul Moinester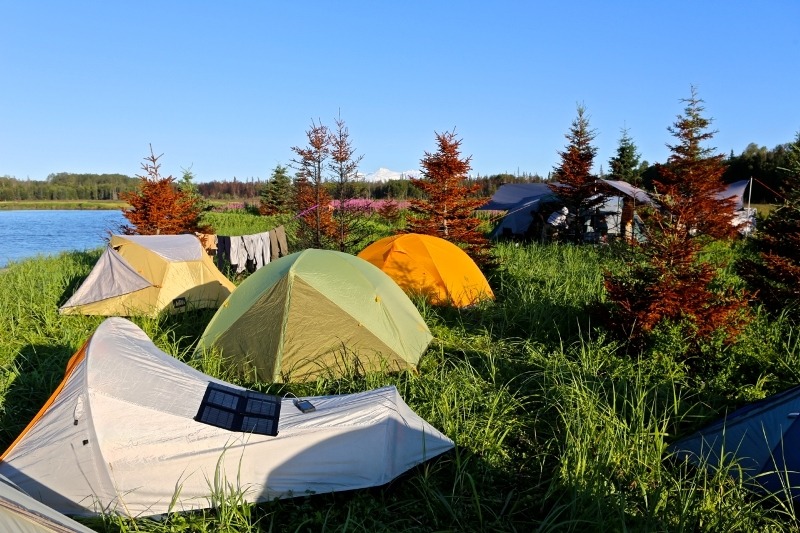 Our camp on the banks of the Chuitna. Photo: Dave McCoy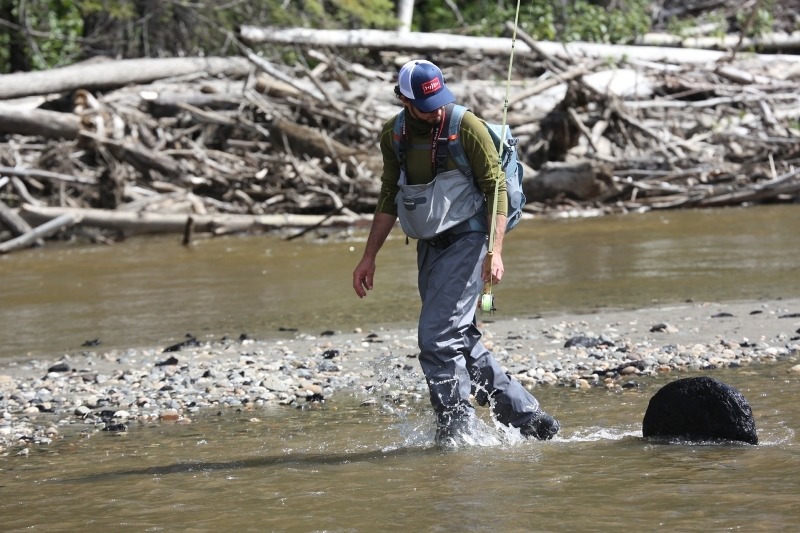 With rod in hand, Josh Prestin strolls by a chunk of coal in the Chuitna. Photo: Dave McCoy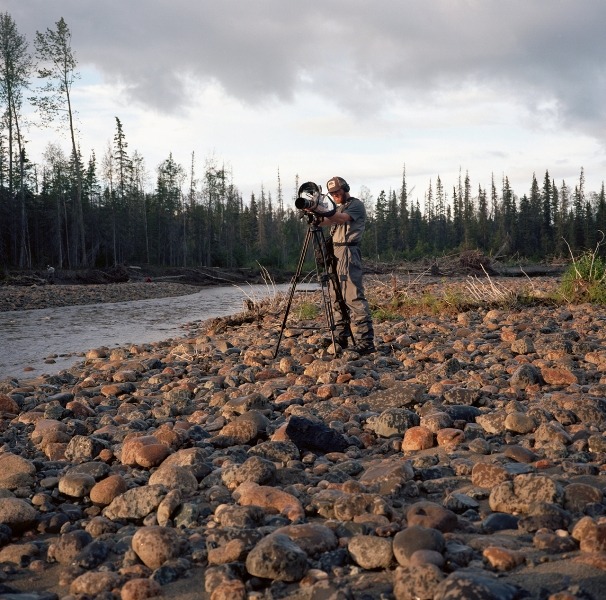 Trip Jennings capturing some silver salmon magic during the golden hour. Photo: Sara Quinn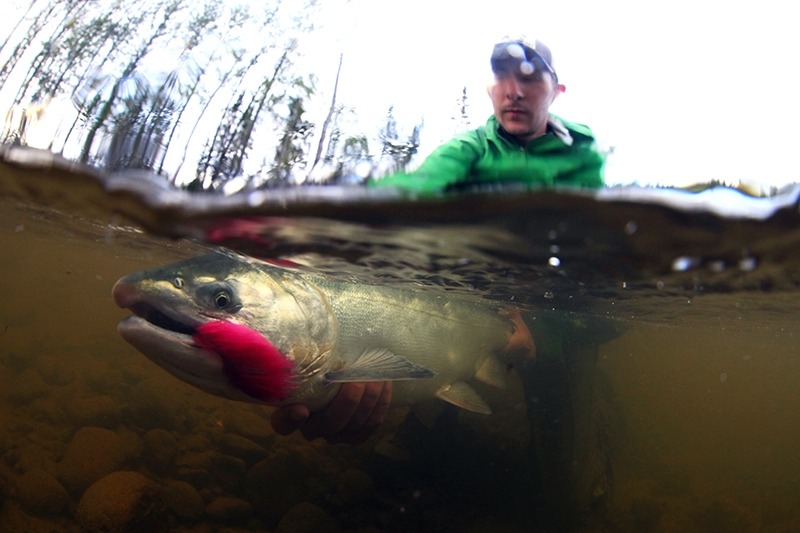 Sam Weis displaying the beauty of Chuitna's silver salmon. Photo: Dave McCoy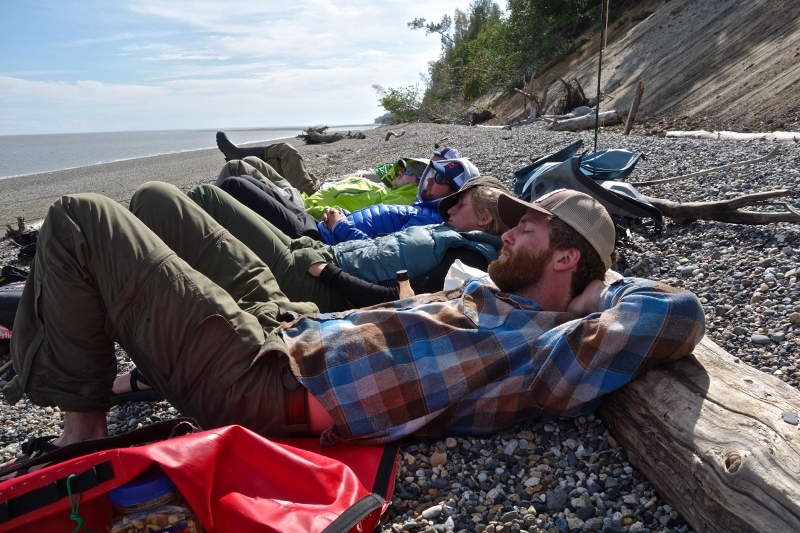 A surprisingly comfortable log provides a bit of a respite for a worn-out film crew. Photo: Paul Moinester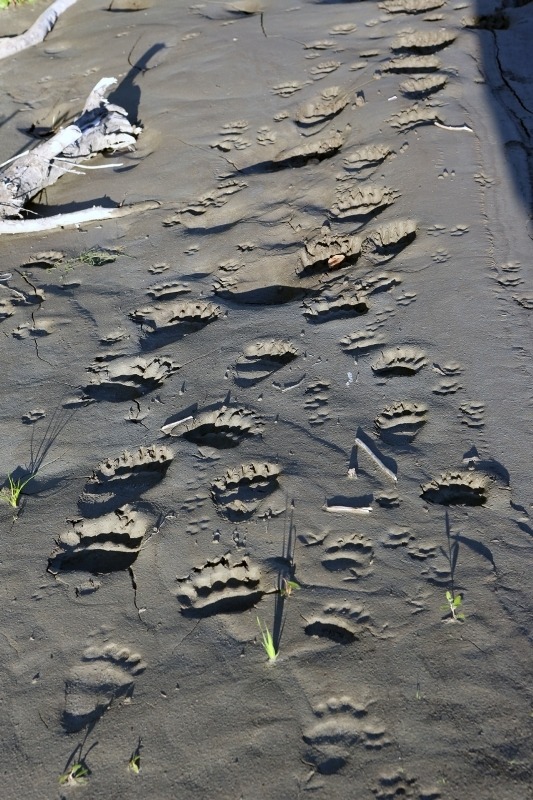 It was hard to walk more than 100 feet on the Chuitna without seeing bear tracks. Photo: Dave McCoy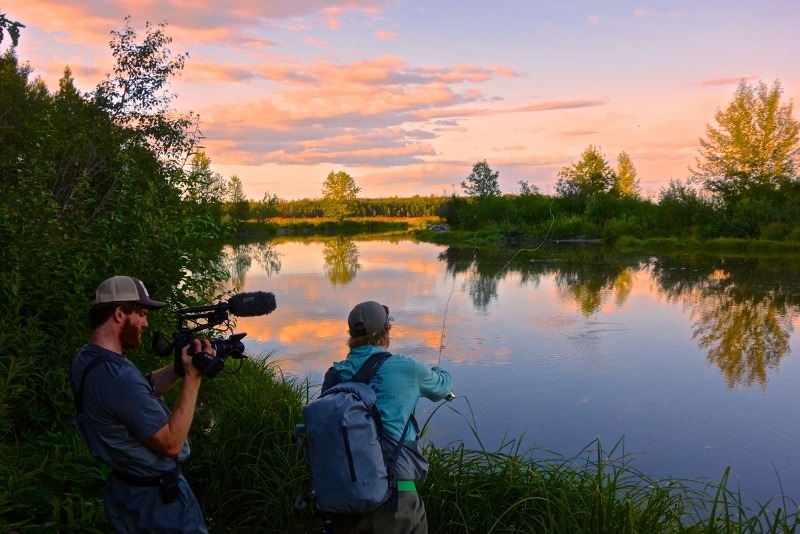 Trip Jennings films as Dave McCoy casts to a pod of salmon smashing the Chuitna's otherwise placid surface. Photo: Paul Moinester
After a long day of filming and fishing, our waders and wetsuit are hung up to dry. Photo: Paul Moinester
Join the fight against coal mining on the Chuitna. Sign up for email alerts and check the film tour dates at savethechuitna.org.
For more on this issue, check out Paul's previous post "Chuitna Mine – Pebble is Not the Only Mine Endangering Salmon."
For more great fly fishing content, visit the Patagonia Fly Fishing blog on Tumblr.