She's Taking Out the Trash
Patrolling the picket line during a protest, Zulene Mayfield shouts orders for the marchers to stay together, keep their signs raised and, most importantly, to not allow any trucks to pass their line. It's a hot, humid summer day as a few dozen demonstrators gather outside a trash incinerator plant in Chester, Pennsylvania, a city of around 33,000 people less than 20 miles downriver from Center City Philadelphia. Zulene's voice carries clearly over the din of diesel engines, passing traffic and arguing truck drivers and sirens, and she orders protestors to stand their ground even as a trash truck threateningly turns toward the plant's gate in a bit of false bravado meant to send the crowd of picketers scurrying. Zulene's orders prove more powerful, and the protestors remain in place—the chastened driver slams on his brakes.
Scenes like this—and similar ones at protests outside city halls, courthouses and corporate headquarters—have become a familiar part of the middle-aged mother and healthcare worker's life for most of the last three decades. Unafraid to speak her mind, Zulene will confront truck drivers, security guards, police chiefs and city lawmakers—anyone who stands in her way. Zulene never sought out to be an activist. She didn't intend to become the face of the environmental justice movement for her community. But, she says, that wasn't her choice to make.
"We didn't go looking for a problem, the problem came looking for us," Zulene says in her own take of Malcolm X's famous "Plymouth Rock" axiom.
Home Front
It was sometime in 1992 when Zulene first realized there was a problem.
The year before she had purchased her first house: a two-story brick and stucco rowhome on the corner of West Front and Grace Streets in Chester. By all measures, the home wasn't much. The front windows looked out onto a strip of railway used by freight trains, but it was about as far as you could get in Chester from a major highway. But to a woman in her late-20s from Chester, owning a house—especially in an established neighborhood where homeownership was the norm, not the outlier—was like a dream. Zulene was young, employed, healthy and, to all extents, living a good life.
Reality sank in shortly after with the noise from an almost endless stream of garbage trucks and tractor trailers rolling down Front Street before turning down Harwick toward the newly opened trash incinerator. In a short time, Zulene's quiet block turned into what seemed to be a superhighway leading to the incinerator. Twenty-ton trucks barreled down her street 24 hours a day with loose trash flying off and leaving a filthy trail. And then there was the smell. Rotting trash seemed to permeate the air—made worse in the summer by the Northeast's oppressive heat and humidity.
"You react to things you can see, smell and taste," Zulene said. "And when you're living among the trash, you begin to feel like trash yourself."
The Delaware Valley Resource Recovery Facility, a trash incinerator located in Chester, processes around 1.3 million tons of waste a year and—according to several studies and firsthand accounts—has caused a major public health crisis in Chester. Research conducted over the last 30 years indicates that Chester's residents suffer from heart disease, asthma and other chronic illnesses at levels far higher than the national average.
First opened by Westinghouse Electric Corporation in 1992, since 2012 the incinerator has been owned and operated by Covanta Energy, one of the biggest waste management companies in the United States. The Chester facility is the largest of its kind in the country and can process the approximately 3,500 tons of trash that arrives in Chester every day from as far away as Puerto Rico and Canada. Environmental justice activists and public health researchers say that over the last three decades Chester has become a dumping ground for incinerators, oil refineries, coal-fired power plants, sewage treatment plants and other big industrial polluters.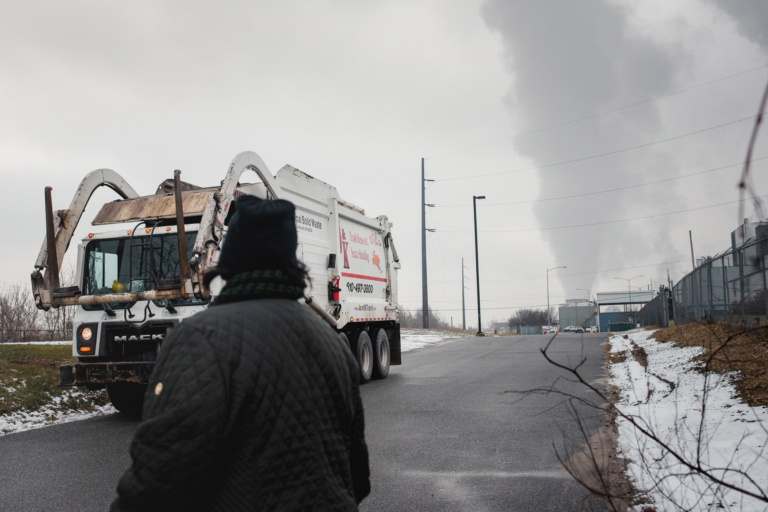 Building a Movement
Shortly after her first protest at the trash incinerator plant, Zulene met Mike Ewall, the present-day director of the Energy Justice Network and a Pennsylvania native who was then a local college student. Since then, Zulene and Mike have formed a close bond over decades of fighting on the front lines against the injustices heaped on Chester and other poor communities of color where lawmakers and business leaders have decided to bring trash incinerators, refineries and pipelines. "Across the country, Black people are unevenly living near trash incinerators," Mike says. "And it leading to all kinds of health problems, including cancers and lung diseases."
Though it hasn't been studied well enough, the data that does exist is damning—the most recent available statistics for Chester are from the 1990s, but the known particulate matter from them has been investigated and, paired with the astonishing high levels of cancers and lung diseases affecting Chester and other environmental justice communities across the United States, is enough to connect the dots, activists and researchers say.
Research conducted by the Environmental Protection Agency found particulate matter in the air can lead to health problems ranging from aggravated asthma and an irregular heartbeat to decreased lung function, heart attacks and premature death in people with preexisting conditions. A 2019 study conducted by The New School in New York City added to this body of research and found that incinerators have been known to emit mercury, lead, particulate matter 2.5 and 10, sulfur dioxide, nitrous oxide and carbon monoxide. The study also notes that these pollutants can extend far beyond the area around the incinerator and these toxins can build up in the human body over time.
Zulene puts it more bluntly: "You see a slow death happening to people here."
The problem is bigger than one mega-incinerator. Chester has faced its share of racial injustices long before the incinerator started burning trash in 1992. The once-thriving industrial town fell victim to white flight and urban decay in the 1960s and 1970s when the factories and plants that once dotted the shores of the Delaware River closed shop. In the following decades, the remaining largely African-American residents of Chester bore witness to the worst postindustrial America doled out: 37 percent of Chester residents live at or below the poverty line, the city has one of the highest per-capita murder rates in the country, with residents having a one in 37 chance of becoming a victim of violent crime, and corruption in local politics runs rampant. Given all this, it quickly becomes apparent that Chester residents already have a full plate of issues to deal with even before factoring in the pollutants being spewed into their air.
The nearby Delcora sewage treatment facility, a paper mill owned by Kimberly-Clark and the Monroe Energy oil refinery just over Chester city limits in nearby Marcus Hook all contribute to residents' health concerns. In 2015, Delcora was forced to pay $1.375 million in a settlement for releasing untreated sewage into the Delaware River and nearby Ridley and Chester creeks after the Environmental Protection Agency found the company releases 740 million gallons of untreated sewage into nearby water sources annually. Kimberly-Clark's paper mill plant has been found to release large amounts of nitrous oxide, sulfur dioxide and other pollutants.
"The problem is the accumulation of everything," says John Butler, a conservation committee co-chair of the Sierra Club of Southeastern Pennsylvania.
Taking on such larger, powerful corporations, Zulene has sought allies, but she's been frequently disappointed when her clean air battles don't seem to resonate with the large, established environmental groups she thought would support her. "We are ground zero, but it's hard to get people to listen and care if they don't see it every day," she says. "It's really sad that somebody will climb a tree to save some damn bird, but won't work to save a little Black baby."
After striking out with larger groups, and with the help of Mike and a dedicated core of local volunteers, Zulene decided to take matters into her own hands. She founded the Chester Residents Concerned for Quality Living and has been the leading voice in opposition to the incinerator for almost 30 years now. Westinghouse, the owners of the plant in the 1990s and aughts, did not stand by and watch the mounting resistance from the sidelines. In response, Zulene has been hit by intimidation tactics—she has had her organization's office scrawled with racist graffiti, her tires slashed, windows busted and even had her home set on fire under what authorities deemed "suspicious" circumstances.
The intimidation didn't work; it just made Zulene angry.
"This is personal for me," she says. "I have people in my family who have died from cancer due to what's in the air. It makes me pissed off."
By 2001, the constant battle was taking its toll on Zulene both physically and mentally. Zulene had had enough. She was tired of working a fulltime job on top of leading the fight against the incinerator. Burnt-out and having trouble sleeping, she packed her bags and left town. "I just needed to get as far away from Chester and this incinerator as I possibly could," she says.
Getting Her Cry On
Fifteen years later, all it took was a simple photograph to bring the fighter in her out of retirement. Among the smiling faces in a Chester family portrait was a newborn baby—hooked up to a breathing machine. "A baby can't even make choices, but has to endure this," Zulene says, choking up. "It was after looking at that photo that I got my cry on and then I got mad. I made the decision to get back into it."
Things had changed in Chester since Zulene moved away. The incinerator—along with other polluters in the region—had not gone away, but the air quality in Chester does seem to be improving—albeit slowly. Changes in the Clean Air Act meant that Covanta and other waste management companies operating incinerators in the US were forced to implement retrofits and install pollution control devices on their facilities. The result has been a 94 percent reduction in pollutants like mercury, cadmium, lead, particulate matter, hydrogen chloride, sulfur dioxide, and nitrogen oxides from 1990 to 2005, according to a study by the Environmental Protection Agency.
Covanta's own studies claim that 99.9 percent of what comes out of their facility's stack are normal components of air, including water vapor, nitrogen, oxygen and CO2, and that they are operating well below allowable limits set by state and federal regulators. The company also says that it's trying to build a better relationship with the community of Chester. Covanta has joined the Chester Environmental Partnership, which it says is working with residents to address health concerns and ring in pollution.
"Covanta wants to make clear that our facility in Chester, PA operates in a manner that is protective of human health and the environment," the company said in a statement last year in response to an article on Chester in the Guardian newspaper. "We care about the communities where we operate and have voluntarily gone well beyond already strict emissions limits to ensure the safety of the communities in which our employees live and work."
Zulene, Mike and other activists scoff at Covanta's claims and say that the members of the Chester Environmental Partnership are just being paid off by the company to play nice. The argue that the Chester Environmental Partnership—set up in part by Covanta and run by a former ally of Zulene's, Rev. Horace Strand—is just a front that allows Covanta to operate freely. Covanta does fund a number of programs in Chester, however, including school breakfasts, internships, beautification projects and health screenings at the University of Pennsylvania.
Activists dismiss these gestures as window dressing and point to The New School study, which labels Covanta's Chester plant—along with another plant they own in nearby Camden, New Jersey—as on the "the dirty dozen" of the 73 trash-to-steam plants in the US.
"The Dirty Dozen lists illustrate the incinerators, among the 73 in the country, that emit the largest amounts of air pollutants for PM2.5, NOx, Lead, and Mercury," the study says. "Approximately 1.6 million people live within a three-mile radius of these facilities." The study concludes: "Ten of the twelve  incinerators that emit the greatest total amount of lead emissions (annually), are in environmental justice communities."
Covanta's Chester incinerator remains "the largest trash incinerator in the country and it still has the least amount of pollution controls in the country," says Mike.
The situation in communities that suffer environmental injustices across the country has intensified since the Trump administration began its massive rollback of environmental regulations. Since taking office in 2017, the current White House administration has gutted the Clean Power Plan, which included a program that encouraged investment in energy efficiency improvements in economically disadvantaged areas. The Trump administration has lowered the standards that industrial facilities use to monitor nitrogen oxide emissions, worked to massively deregulate petroleum refineries, eased health and environmental regulations surrounding the disposal of coal ash, and slashed protections under the Clean Water Act despite the specter of the Flint drinking water crisis still fresh in our minds.
Most recently, with the world's attention focused almost solely on the pandemic, the administration weakened regulations on the release of mercury and other toxic metals, which in effect could allow fossil fuel companies to forgo regulating emissions on any substance it deems too costly to control.
Zulene is realistic about the opposition and knows that she's an underdog, but now that she's back in the fight, she want to expand her efforts beyond the Covanta incinerator. Zulene's big push now is gathering the disparate groups around the city working to effect change—cut down crime, raise people out of poverty, root out corruption, rework city schools, shut down other polluters—and bringing them together. It's power in numbers. And Zulene knows that just fixing one problem isn't going to alleviate the others, as all the issues facing people in Chester are interconnected.
"We have fought off many other polluting entities and have had some major and minor victories.  A testament of our will to survive and save the children of our community is that we will continue this struggle," she says. "The children and residents of this community deserve nothing less than our determined will to survive."
Justice for Chester
Chester Residents Concerned for Quality Living is building a broad based coalition to help with projects aimed at shutting the incinerator down. Sign up to support Zulene's three-decade long efforts to protect people from polluters.
Act Now