Six Months Here … Six Months Gone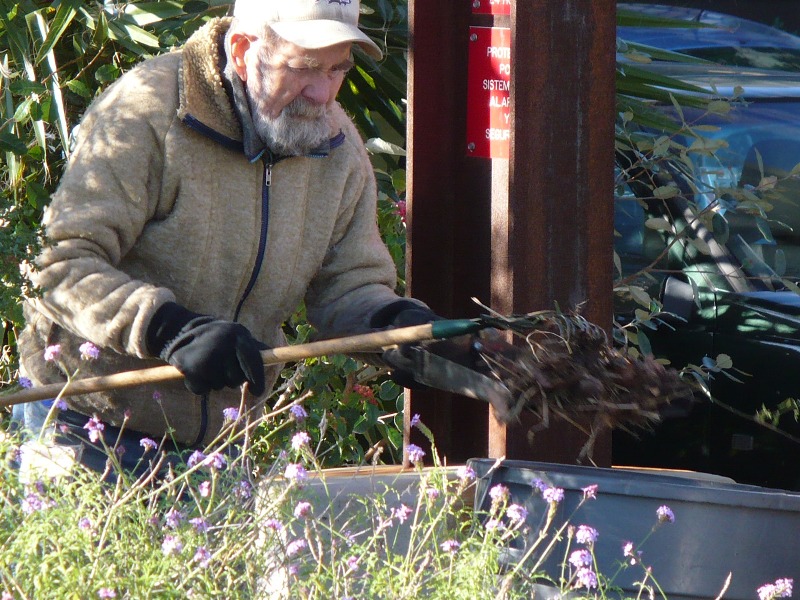 Last month Uncle Dave returned to the Patagonia campus. Like a bird he migrates back to Ventura for a spell then flies off to New England or Greece for self-rejuvenation. In the six months that he spends on campus he tends the grounds with meticulous precision. The windblown leaves are swept clean from the parking lot. The flowerbeds near the front entrance are tidy. The stone walkways beneath the solar panels are weed-free, even the nooks and crannies are spick and span. His gardening tools are simple in design, effective in their use and not electric or gasoline powered. They are neatly situated in a large gray receptacle, its bottom fitted with wheels for easier maneuverability. The receptacle's wheels squeak loudly, announcing Uncle Dave's presence. Each workday starts and ends with his trusted canvas bag in tow, its handles frayed but still functional; the bag might be filled with café leftovers, last Sunday's New York Times or a paperback copy of The Gates of Fire: 300 Spartan warriors who fought the invading Persian Empire in the legendary Battle of Thermopylae.
Many Patagonia employees have known Uncle Dave for years and have already welcomed him back. And he will let his friends know how good it is to see them, and let them know how good he feels to be back.
Uncle Dave's stay in Ventura is now longer than it used to be. Even in his mid-eighties he continues to travel back home for New England's crisp fall and unforgiving winter. For now it's February and everyone is glad to have him back.
Top: Uncle Dave (David Wilkin) hard at work in one of the original Patagonia fleece jackets. Yvon Chouinard met Dave in the '60s when he was getting the famous Grand Teton Climbers' Ranch up and running. He's been working seasonally at Patagonia HQ since the early '70s. Photo: Kasey Kersnowski