Summer Reading: "My Favorite Place on Earth"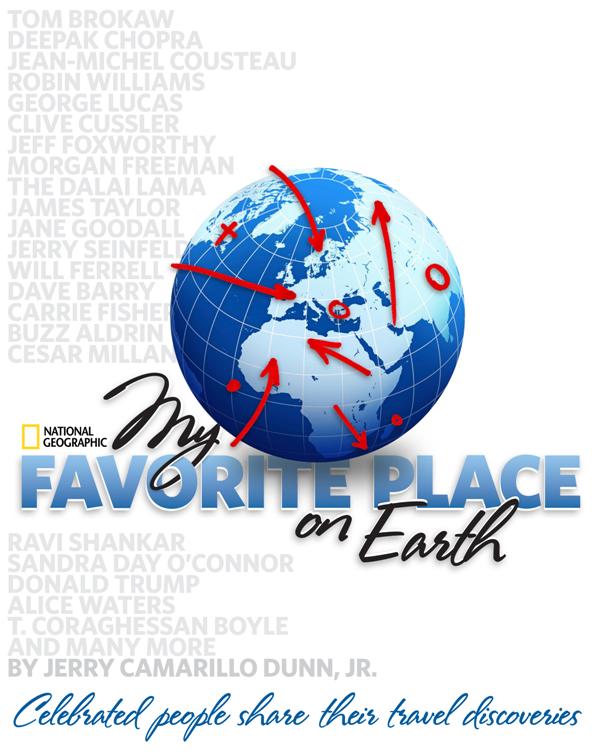 In a new book from National Geographic called My Favorite Place on Earth, Yvon Chouinard talks about Wyoming's Wind River Range, where he started climbing at age 18. For the book, award-winning writer Jerry Camarillo Dunn rounded up 75 remarkable people – ranging from the Dalai Lama to Jack Johnson to Jane Goodall – and asked them a simple question: What place do you love most in the world?
Jerry was kind enough to share Yvon's section from the book which gives a good idea of what you can expect from the rest of the polled personalities.
Yvon Chouinard
Wind River Range, Wyoming

I'm not the kind of traveler who only goes and looks at stuff. I go places to do something. I'm there to fish or climb or kayak. And one of my favorite places is the Wind River Range, where I started climbing when I was 18.

I grew up in Burbank, California, where I learned to hunt with hawks and falcons. An adult in our little falconry club was a climber who taught us to rappel down the cliffs to the falcon aeries. In 1956, we all decided to meet up in Wyoming – I drove out by myself in my old car – to go into the Wind Rivers together to climb Gannett Peak, the highest one there. That was my first mountain climb.
I've spent years in that range. I love it much more than the Sierra. It's more remote, and it's easier to get around. In the Sierra, you have to go up and down to get from one valley to the next. But once you gain your elevation in the Wind Rivers, you can stay at 10,000 or 11,000 feet. You walk around the peaks, instead of having to go over passes. You're in high meadows, with peaks sticking up all over.

The Wind River Range runs parallel to the Tetons. And it's such a big range – 225 million acres – that I almost always go to new places. Now I go there mostly to fish; there are lakes and streams everywhere. The world record golden trout came out of there. Goldens were introduced to lakes that had no fish, so they grew very big, very fast. They also have rainbows, browns, cutthroats, brookies, and various hybrids.

It takes a few days in the Wind Rivers to get used to the altitude. But once you do, it feels great to be camping at 10,000 feet and breathing that brisk, clear air. The nights are cool, and the days are warm. But you have to be careful about going in there too early in the season, because the mosquitoes are unbelievable. It's like being in the Arctic at the end of June, when you can't even breathe without inhaling gobs of them. In the Wind Rivers, the first two weeks in July are like that. It's impossible – you can't concentrate on anything because of the deerflies, the horseflies, and the mosquitoes. But, you know, some of the best places in the world are guarded by insects.

If you go up there in September, you could have snow dump on you. Once I got caught and had to walk out in 15 inches of snow – in my running shoes! The Wind Rivers aren't wild like the Alps, which are the best climbing mountains in the world. These aren't serious mountains; there's an easy way up every peak. You do see people up there, but ten years ago it was much more crowded. I think it's due to the softening of America; the visitation in national parks is way down, too.

Also, if you climb in the Tetons – where I taught myself to climb and tie knots and everything after that first trip to Gannett Peak in 1956 – you find that everybody is climbing the Grand Teton. The other peaks are empty. It's like Mount Everest – and it's the opposite of what climbing really is about. Climbing is about the process of climbing, and these people are just focused on the end result. It's kind of the opposite of Zen. They all want to get up the highest peak and put a notch on their belt.

I don't mind, though. I love it that I can go into the Wind Rivers and not see a lot of people. To me, those mountains are just a paradise.

Compass Points

Where: Located in western Wyoming, the Wind River Range is part of the Rocky Mountains. Backdrop: The crest of the Wind River Range forms part of the Continental Divide. Gannett Peak, Wyoming's highest point, reaches 13,804 feet; the range has 35 other named peaks taller than 13,000 feet. The granite rock of the mountains was formed more than one billion years ago; the lakes and valleys were carved by glaciers during the ice ages. Visitor Information: www.wyomingtourism.org

Mountaineer, surfer, and environmentalist Yvon Chouinard founded the clothing and outdoor gear company Patagonia. He was a leading figure in the golden age of Yosemite climbing in the 1960s and began making his own climbing tools to save money. His first company's steel pitons helped enable big-wall climbing in Yosemite, but when Chouinard learned that they were causing damaging cracks in Yosemite's rock, he introduced new tools and started the "clean climbing" style. His 1978 book Climbing Ice launched the modern sport of ice climbing. Patagonia is known as a socially responsible company, giving 1 percent of its sales to environmental causes, a total of over $30 million so far. Chouinard supports the Atlantic Salmon Federation.
In My Favorite Place on Earth, Yvon Chouinard is joined by such fascinating people as singer James Taylor, ocean explorer Jean-Michel Cousteau, U.S. Supreme Court Justice Sandra Day O'Connor, actors Morgan Freeman and Natalie Portman, comic Jerry Seinfeld, astronaut Buzz Aldrin, sitar master Ravi Shankar, climber and adventurer Rick Ridgeway, chef Alice Waters, newsman Tom Brokaw, "The Simpsons" creator Matt Groening, mind-body medicine pioneer Deepak Chopra, writer Ray Bradbury, filmmaker George Lucas, and many others. For the complete list and more information, go to www.myfavoriteplacenatgeo.com.
For more summer book suggestions, visit our Recommended Reading section on Patagonia.com.