Excerpt from "No Bad Waves: Talking Story" by Mickey Muñoz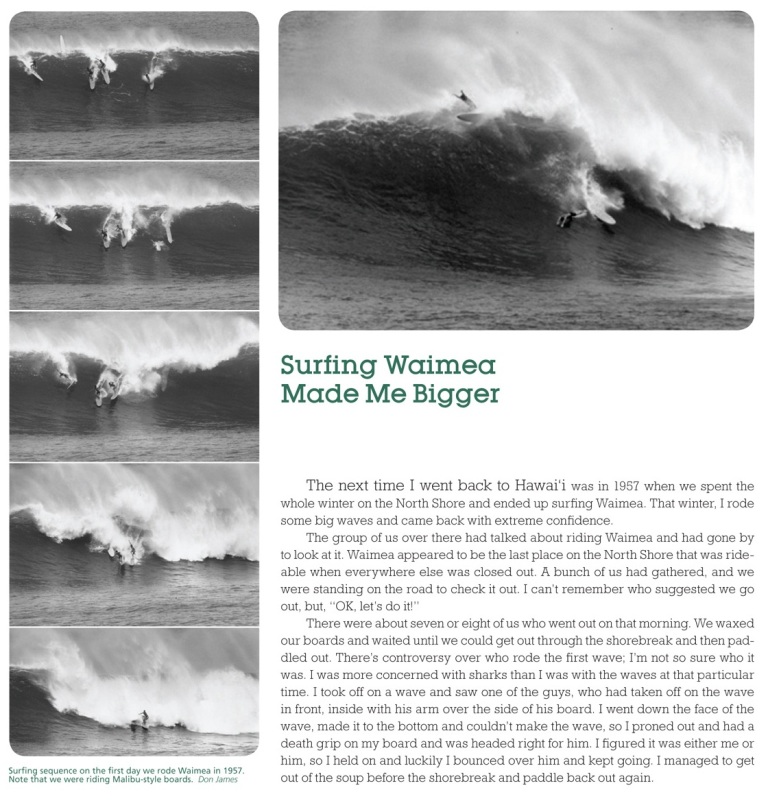 Our friends on the Patagonia Books team are proud to announce a new title by Mickey Muñoz called No Bad Waves. The book was a collaboration between Mickey, who recorded the stories in a series of interviews, Jeff Divine, who culled through Mickey's extensive photo archives, John Dutton, who massaged the transcripts into shape, and Peter McBride, who combined the words and images into what we think is one of our best books to date.
Today we're happy to give you a taste of the the book. Instead of a long narrative, No Bad Waves features a collection of short stories like this one about Mickey and the first group of West Coast surfers to ride Waimea Bay.
Surfing Waimea Made Me Bigger
The next time I went back to Hawai'i was in 1957 when we spent the whole winter on the North Shore and ended up surfing Waimea. That winter, I rode some big waves and came back with extreme confidence.
The group of us over there had talked about riding Waimea and had gone by to look at it. Waimea appeared to be the last place on the North Shore that was rideable when everywhere else was closed out. A bunch of us had gathered, and we were standing on the road to check it out. I can't remember who suggested we go out, but, "OK, let's do it!"
There were about seven or eight of us who went out on that morning. We waxed our boards and waited until we could get out through the shorebreak and then paddled out. There's controversy over who rode the first wave; I'm not so sure who it was. I was more concerned with sharks than I was with the waves at that particular time. I took off on a wave and saw one of the guys, who had taken off on the wave in front, inside with his arm over the side of his board. I went down the face of the wave, made it to the bottom and couldn't make the wave, so I proned out and had a death grip on my board and was headed right for him. I figured it was either me or him, so I held on and luckily I bounced over him and kept going. I managed to get out of the soup before the shorebreak and paddle back out again.
I didn't even realize how gnarly it was until I got back on shore after the session. We went in the water about 8:30 in the morning, and I got in around noon. I got back up on the beach and joined a bunch of people who were watching the surf. A set came, and I jumped up and down and yelled, "Gee, look at the size of that wave."
Somebody nearby said that I was in a lot of waves that big, that was an average set. It shocked me because when I was out there I didn't realize how big it was – I guess my adrenaline was pumping and I was caught up in the excitement of the whole thing.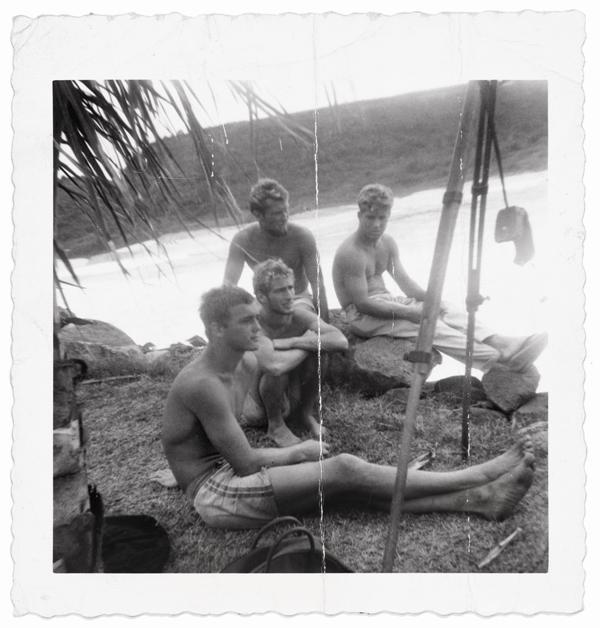 [Relaxing after the morning surf: Greg Noll in the foreground, then me; behind is Bob Bermel and to the right, Mike Stang. Waimea Bay. Photo: Mickey Muñoz Collection]
It started to get blown out, and in the meantime someone on the beach opened up the Waimea river mouth with a tractor, which compounded the bad rip already there. Later that afternoon, Greg Noll had his camera and was filming, so he tried to pump Mike Stang and me to go out again, "Oh, you guys, you gotta go out, you gotta go out." So Mike and I paddled out. It had gotten bigger and gnarlier; the rip was really wild and there was a lot of bump on it.
Mike had taken a drama course in school where he had read a little Shakespeare, and I was into that stuff too. Mike with his long curly hair and bushlike beard started to quote Othello, "I took by the throat the circumcised dog and smote him thus," and he fell off his board.
We were both screaming and wild-eyed, rain squalls were coming through, the conditions were gnarly, and then this huge set came up, and Mike and I both paddled for it. We took off on this giant wave after getting pumped up with Shakespeare's Othello. I think we both got wiped out, but what an experience.
Maybe that was a significant day in the history of surfing; at the time we didn't know it. In retrospect, though, after I got back from Hawai'i that winter, having ridden Waimea and Sunset, and after taking on whatever the North Shore offered, I felt bigger. Being small going through junior high school and high school is tough. You are always being compared to the football and basketball players. They seemed to get the best-looking girls. After that winter surfing in Hawai'i, my stature grew – at least in my own mind.
That winter also proved to me that if you put your mind to it and you think positive, you can do about anything you set your mind to. I realized that my only limitations were my own limited thinking. All I had to do was set my mind to doing a thing, put enough effort into it, and I could do it. That was a big leap of growth in my early life.
–Mickey Muñoz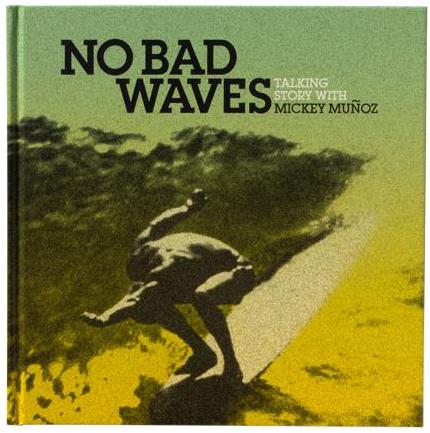 No Bad Waves: Talking Story with Mickey Muñoz is available now from Patagonia Books.
Also, check out Mickey's shape from FCD Surfboards — "ideal for surfers who want longboard glide and flow out of an easy-to-surf shorter board."