Sonnie Trotter on Climbing the Totem Pole in Tasmania
"Great climb, eh?" said a voice from up and over my right shoulder.
"Yeah," I replied, while clipping the anchor on After Midnight one of Mount Wellington's most prized pitches and no giveaway at 24 (or 5.11d in Yosemite terms), "incredible, actually."
"Where you from?" the voice asked.
"Canada!" I said.
I looked up to see the young man, hanging from a pillar another 15 meters above and across from me. He was barefoot, no more than 25 and slung to the side of the cliff with nothing for his feet to stand on. Clearly, he was enjoying the exposure. I gave a friendly wave between pulling up armfuls of slack and looked down noticing his partner climbing up behind me. They were on an equally high quality route, perhaps a grade harder."How long are you staying for?" the guy continued.
"Two more weeks or so," I replied while threading my belay device. "We just arrived yesterday." I clipped the locking biner into the anchor and screwed it shut. "On belay, Willy!" I yelled down.
"Oh, well then, I hope you have a dry place to stay. This whole island is going to be underwater by tomorrow. Forecast is calling for heavy rain the next few days."
And with that, the first water droplets fell from the sky. I rolled my collar up and turned my hat around to cover my face. My partner, Will Stanhope, who I was now belaying up to meet me, began struggling as the holds got wetter and wetter. The rain fell harder, the wind blew stronger and whatever was coming in, was coming in fast. Will began pulling on bolts just to get to the top of this 50-meter classic. He made it up and we made our way back down the slippery ropes without too much trouble. Sadly, for our new local friends, their ropes had gotten stuck as they made a mad dash for the forest floor. We tried to help them but our attempts were unsuccessful. It seems there was a knot stuck in the rope somewhere.
"Don't worry about it," they assured us. "We live in Hobart. We'll come get them after the storm."
"Okay. Nice to meet you guys."
And we all went our separate ways.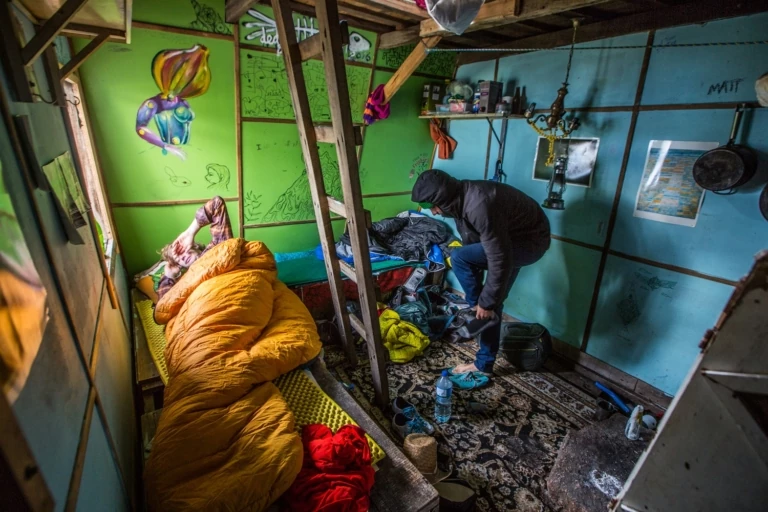 Tasmania is notorious for its fickle weather, and for the next two-and-a-half days the rain fell like I had only seen in the movies—streets looked like rivers. In the northern parts of the island, thousands of people were stranded without water and hydro. We bunked up in a cozy little hostel in downtown Hobart on the third floor. It's a small, quaint little city: dry, yet tropical, and with all the urban amenities one might expect. We drank good coffee, shared pizza and took the time to shake off the ol' jet lag. I don't care who you are, an 18-hour push of connecting flights is not easy, but it's definitely worth it.
On the third day, along with our friend and handy lensman, Cameron Maier, we made a group decision to move base camp closer to the climbing we hoped to do. Our first, and most important objective was to try the iconic Totem Pole in Fortescue Bay, Tasman National Park.
On day four, we hucked heavy packs over our shoulders and began the arduous hour-and-a-half hike to the base of the "Tote" as it's often called. However, there really is no base in the traditional sense, more like a couple of bolts and that's it. You see, the Totem Pole is a single pillar of rock jutting out of the ocean in the center of a giant rocky corridor. It's sheltered on two sides, but the other two are exposed to crashing waves and high winds. It's quite an exhilarating place to spend the day, and an absolute phenomenal geological formation. The pencil-like pillar is only four meters wide at the base, and perhaps 65 meters tall. It's highly improbable looking.
We scrambled our way down to the cliff's edge and found the rappel bolts which we needed to use to get down to the bottom of the climb. With sweaty backs, we slumped down off of our tired legs, took in the view, and made a few tasty fish sandwiches.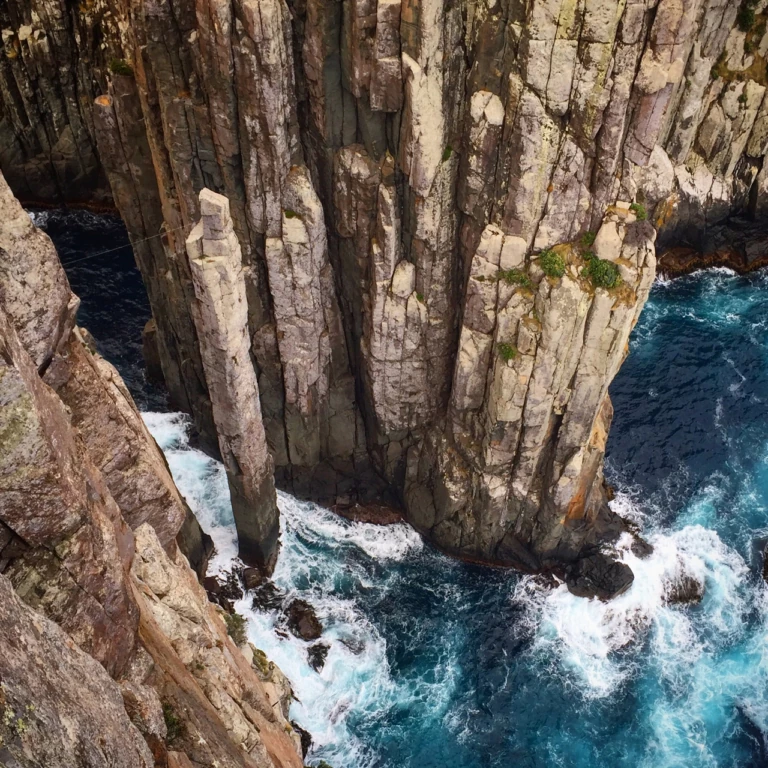 "Off rappel!" I yelled up to Will as loud as I possibly could. I waited, then felt the rope tug a few times knowing he had heard me. When you're at the base of the Tote, there's very little conversation. The wind is hitting you at 25 kph, the waves are exploding into the pillar behind you and the seals are barking up a storm from all sides. You are truly entering a world unto itself.
Moments later, Will was down the rope and by my side. After a quick bit of guiding trickery, he was off and leading the first pitch above my head. Twenty years of dreaming about this climb and I was finally fastened to the almighty Tote. As expected, my legs and approach shoes were getting wet from the mist and occasional ocean spray. Everything I stepped on was slimy and slippery, but I knew the rock was dry and sticky just above my head, out of reach. I couldn't wait to get off the anchor and onto my feet.
Will demonstrated his two decades of granite mastery and climbed with a dash of caution and mounds of precision to the second belay. He promptly pulled up the rope for me. With a quick dip of chalk, I was soon on belay and reaching for small edges and perfect finger locks. The climbing was impeccable, the rock solid and the friction unbeatable. It was even better than I had expected. A giant "Whoop!" emerged from my lungs and past my smiling lips. It echoed throughout the corridor and disappeared down the hallway of stone, out to the deep blue sea.
The second pitch goes all the way to the top and Will gave me the special honor of leading it. The first three bolts were easy climbing up a fairly sizable crack, but suddenly the fissure ends and the face looks sheer and blank above. I glanced down to Will and said, "5.12b my ass." Laughing, I cast off up the arête on tiny crimps and insecure feet. But to my amazement, every time I needed a new hold, one would appear, and every time I felt like I would lose my balance and wobble off, a shift in my position would allow me to regain my composure.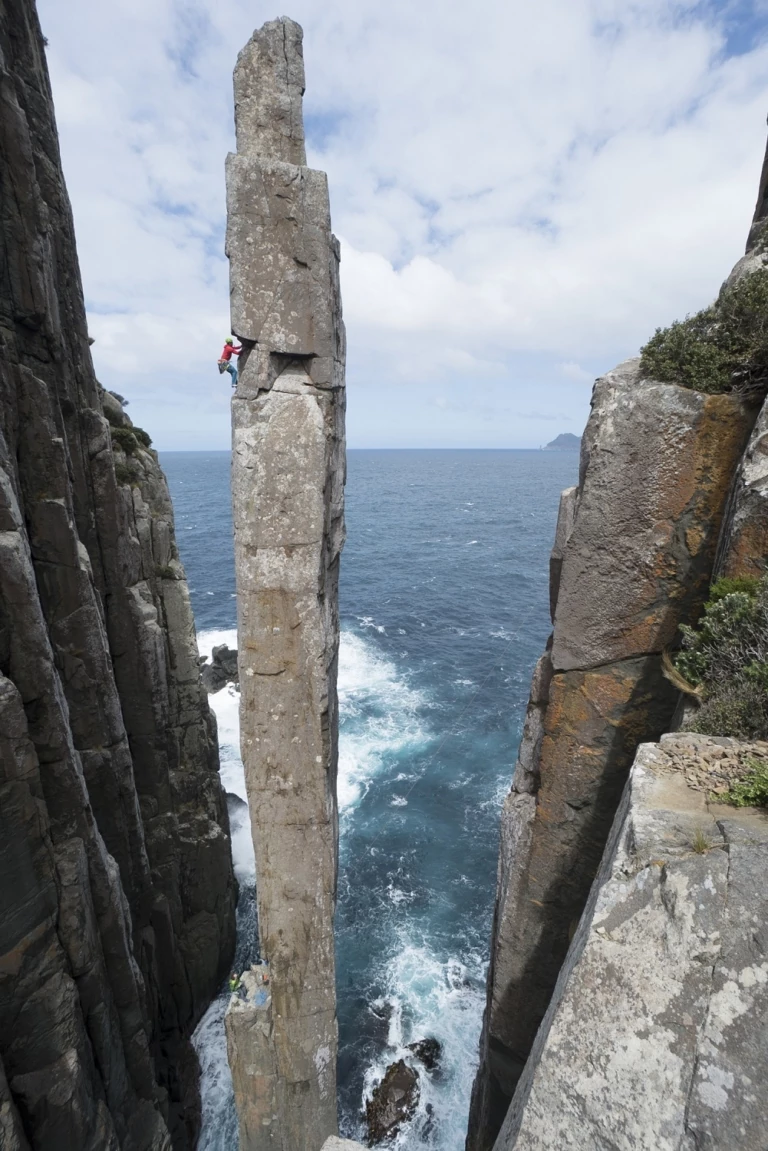 I squinted from the bright afternoon sun and inched my way up the 40-meter pitch. When the bolts ran out, I found gear and when the gear ran out, I found bolts. It was a perfect climb, a meandering quest from face to corner and back again, until finally you throw a heel over the lip and mantle on top. The surface area at the belay is no larger than what you'd expect, like sitting on top of a modest-sized dinner table. When a strong gust of wind collides with the Tote, I swear you can almost feel it sway.
Even while towing a 60-meter tag line beside him, Will easily made it up to the top to meet me. I say "beside" because the wind is so strong. It doesn't hang like we all think it should. It arcs forcefully out into space, and back up to the anchor on the mainland. This is no easy stretch of seconding.
We rigged the tyrolean and I made sure to tie a couple of secure "dad's knots" as Will would refer to them—since becoming a father, I have increased my awareness of my anchors and systems. Safely on the other side, Cameron greeted us with a couple of high fives and a half litre of water to share. We guzzled the bottle, had a few laughs, and made our way back to the car for a few cold VBs. We were tired, dirty and satisfied, for the time being at least. We had another 10 days and more adventures would surely come our way.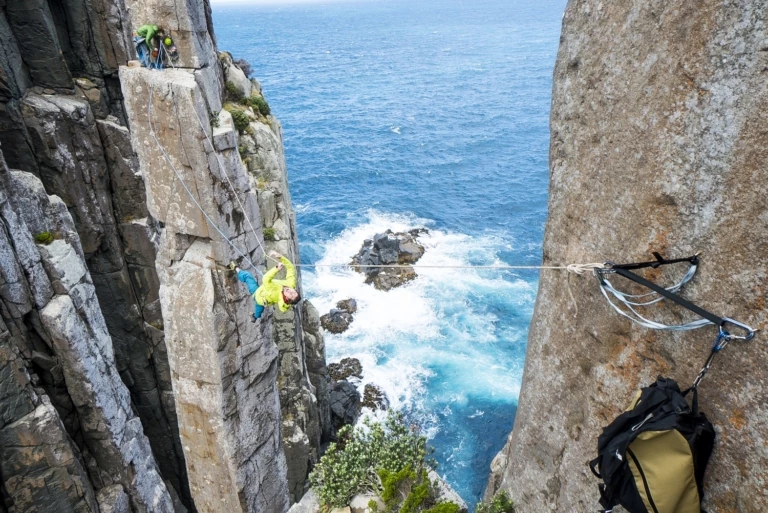 Looking back now, I still feel like we got away with something on that second day of climbing. The clouds parted just long enough for us to sneak in and we turned what may have been another rest day into one of the more memorable climbing days of my life. The Tote is not particularly hard or challenging, it's not even that tall, but it is out there, all by itself, still standing proud, strong and undeniably beautiful. It has history and character and even a pinch of personality. It's certainly a long way to travel from most places, but for a climber, it's not just a rock, like any rock, it's the Totem Pole of Tasmania, and for us, that was enough.