Listen to "The Adventurer's Parable" Dirtbag Diaries Podcast Episode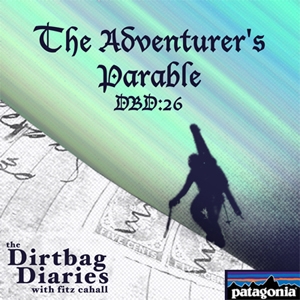 Wow, thank you to everyone who commented on the two-year anniversary of The Dirtbag Diaries. I too think Fitz has created something really special and it warms my heart to know there are so many of you out there who feel the same way. Your outpouring of support means a lot, really. Here's Fitz with the beta on today's new podcast:
Today's episode has it all. Steep descents. A battle to save South America's pristine rivers. Backyard adventure. Eye candy. Photographers and activists Brian Mohr and Emily Johnson present stories and photos from wild ski terrain and their struggle to become a piece of the conservation puzzle rather than a cog in the problem. If adventure is the reflection of the human spirit, do we need to travel half a world away to find it in distant ranges, wild rivers and unpaved roads? And if the very act of traveling harms the places you hold dear, is going justifiable? The answers to those head jarring questions don't always come easy.

Listen to The Adventurer's Parable (mp3 – 28:00 – right-click to download) 

Watch The Adventurer's Parable (Photo-enhanced Quicktime movie – 28:00)
Action Alert: The Rio Baker needs your help if it's going to remain wild and free. Please take a moment to visit International Rivers and make your voice heard. For more on the issue, check out Don't Dam Patagonia at Patagonia.com.
Thanks to Fitz for another great episode and to Brian and Emily for sharing their pictures for the photo-enhanced version. As always, you can find the music for today's episode at www.dirtbagdiaries.com. Keep those comments coming and not just here. Share your love of the Dirtbag Diaries across the Internet – blog it, email it, tweet it, add the teaser trailer to your Facebook profile or on a forum. Each of us is an "antenna" for this one-of-a-kind show. Rock on.