Matt Helliker and Jon Bracey Establish The Cartwright Connection on The Moonflower Buttress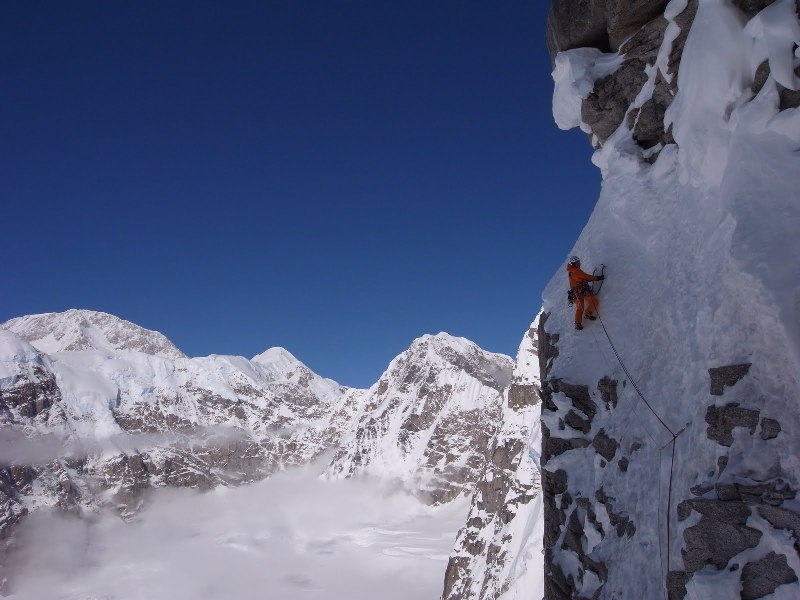 Unrelenting spindrift avalanches and gusty winds constantly blasted and buffeted our portaledge. Our small cocoon of safety on this harsh and hostile mountain was slowly being engulfed, as we nervously watched the snow level rise up the fly walls. Five of the toughest days climbing of our lives it had taken to get to this point and our chances of reaching the top of the North Buttress were quickly diminishing. There was nothing we could do about it and the forecast was for more snow and stronger winds over the upcoming days… 
Editor's note: On Wednesday, May 18, 2011, Patagonia ambassador Matt Helliker and his partner Jon Bracey established a new route up the North Buttress of Mount Hunter (aka The Moonflower Buttress). The entire trip was well-documented on their blog, British Moonflower Buttress Expedition 2011. Today, we're pleased to share reports from the boys describing their new route, The Cartwright Connection. First up is Jon, then we'll hear from Matt.

[An amazing pitch. Matt Helliker space walking on the 'Moon…….' Photo: Jon Bracey]
After our previous recce, the first day on the wall went smoothly and things were going to plan. That night was less so as we realised the perils of hanging our portaledge on a 60 degree ice slope. We were awakened by the bang of the ledge as it suddenly collapsed and transformed into a hammock!
On day two, we faced many uncertainties with finding a way through some very complex and steep terrain full of overhanging snow mushrooms. Matt fought hard leading all day and finally got us in position below the steepest rock band of the climb at about 2am. By overcoming these difficulties our confidence grew and for the first time ever I started to think that we might have a small chance of getting up this climb!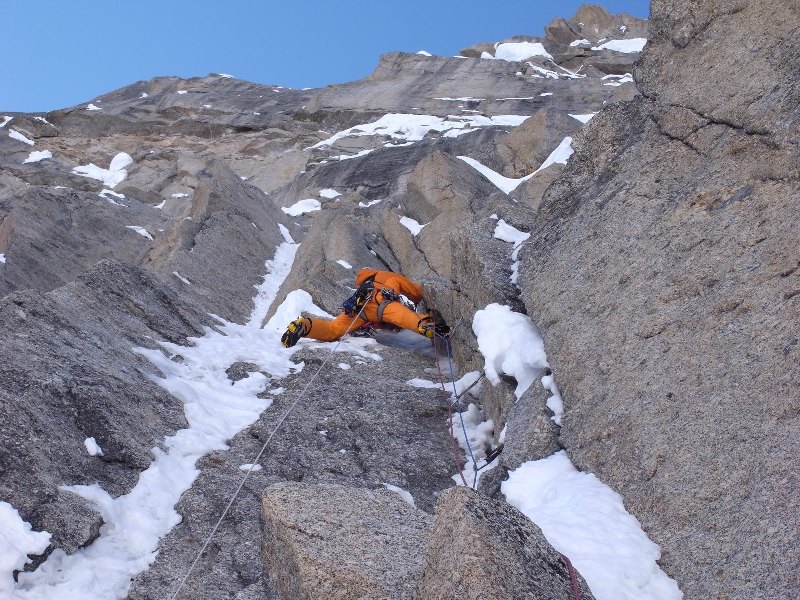 [Matt gets a tough wake up call on pitch one, day two. Photo: Jon Bracey]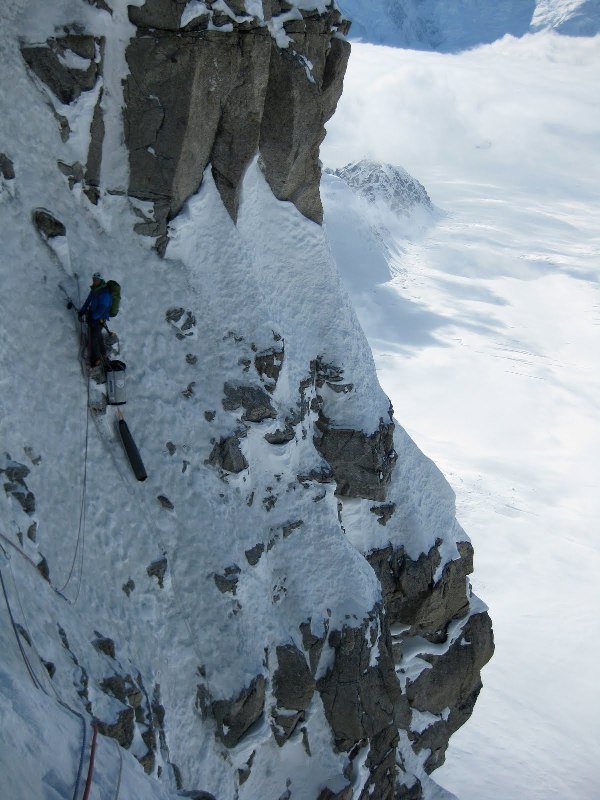 [Jon hanging out with the haul bag. Photo: Matt Helliker]
Day three was steep and scary: thinly iced slabs, overhanging cracks, loose rock to aid climb up, a pitch of vertical ice and more. We finally got to bed at 6am!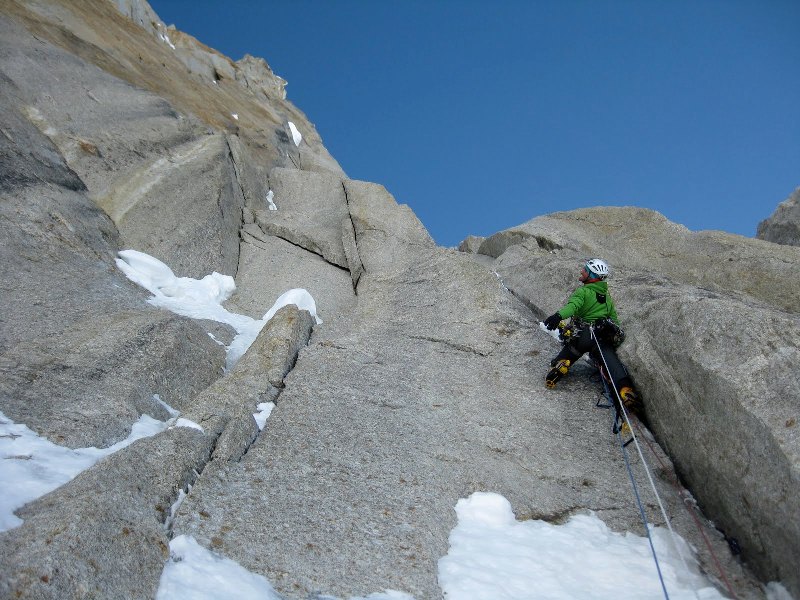 [Jon battling steep mixed terrain, day three. Photo: Matt Helliker]
Day four we joined the Moonflower route and our new route was on, we just needed a little luck with the weather.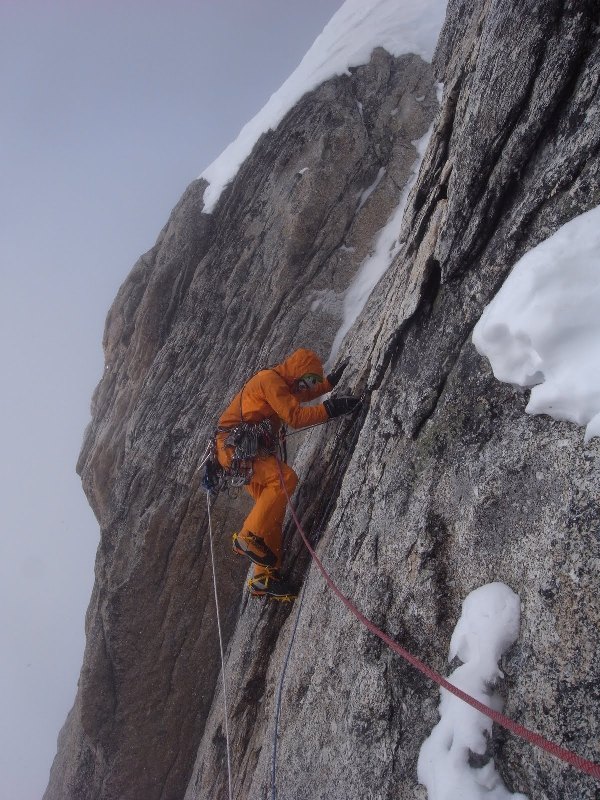 [Day four, Matt enjoying the 'Vision' pitch. Photo: Jon Bracey]
Day five it snowed and wind blew…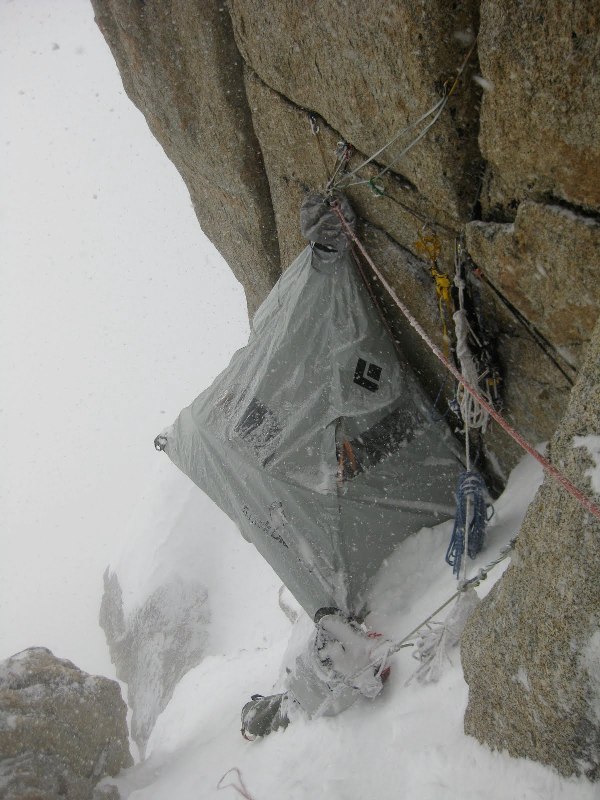 [The portaledge before the storm hit. Photo: Jon Bracey]
After being trapped in the 'ledge all day, at 9 pm we sensed a slight lull in the storm and could see glimpses of the sun through the clouds. We were both thinking exactly the same thought: this might be our one and only chance so let's take it. With no food left there was no point in playing a waiting game. We quickly packed a stove, spare gloves, warm jackets and a minimal rack. Our goal: to reach the top of the Buttress, 500m and 13 pitches of climbing above us, in reality, knowing the chances of success were negligible.
Two pitches later the snow started up again and we were battling hard against forceful spindrift. The cold was almost unbearable but somehow our optimism and unwillingness to give-in was winning through. In a dream-like state of exhaustion we stood at the top of the face at 5am. Few words were said, with no comprehension of what we had just achieved. We just knew we had to start abseiling with haste. 38 abseils and 14 hours later we were back on the glacier and collapsed, having been awake for 36 hours.
We have named the route 'The Cartwright Connection' in memory of my good friend Jules as it was his vision to attempt this line.
–Jon Bracey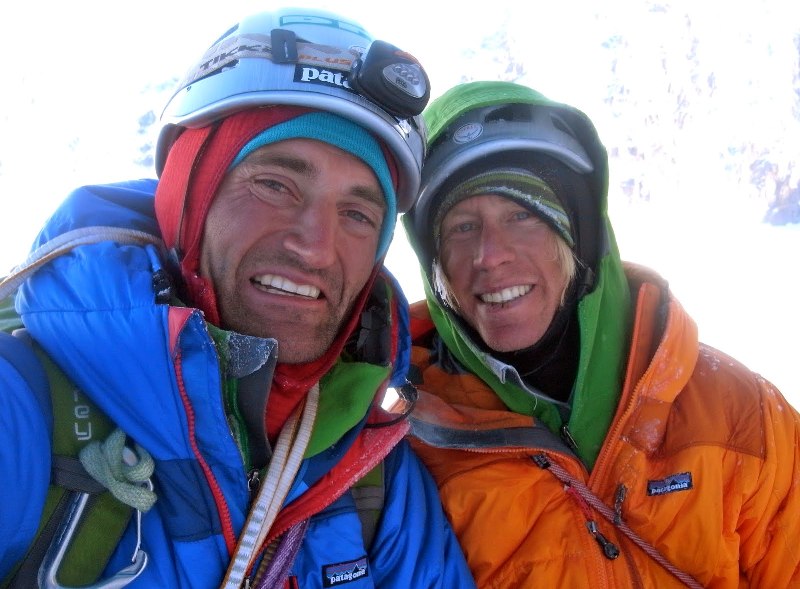 [Finally at the Cornice Bivi, 5am on day six. Photo: Jon Bracey]
My View
It takes me a while to write down how the six days on the wall made, and now makes me feel, but I will start, and as it sinks in I will write more. The most important thing for our success was that both myself and Jon where in the same head space — the dream, the commitment, the vision, the drive to succeed on a new route of this scale and the ability to know totally what each other were needing and feeling. We didn't need to communicate this by word, just by the friendship we have and by the pull of the rope.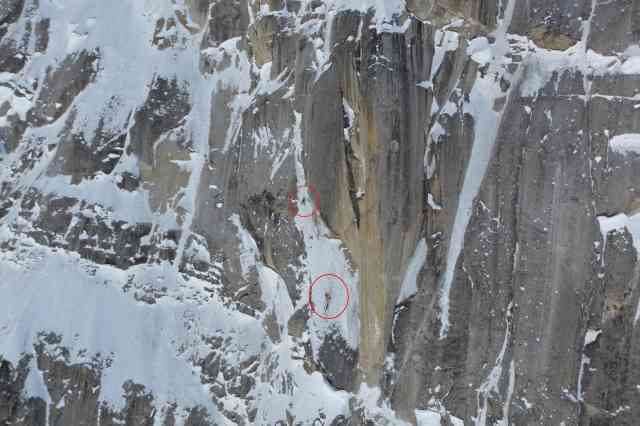 [Finally spotting the boys after four passes in the TAT (Talkeetna Air Taxi). Photo: Dave Reeves]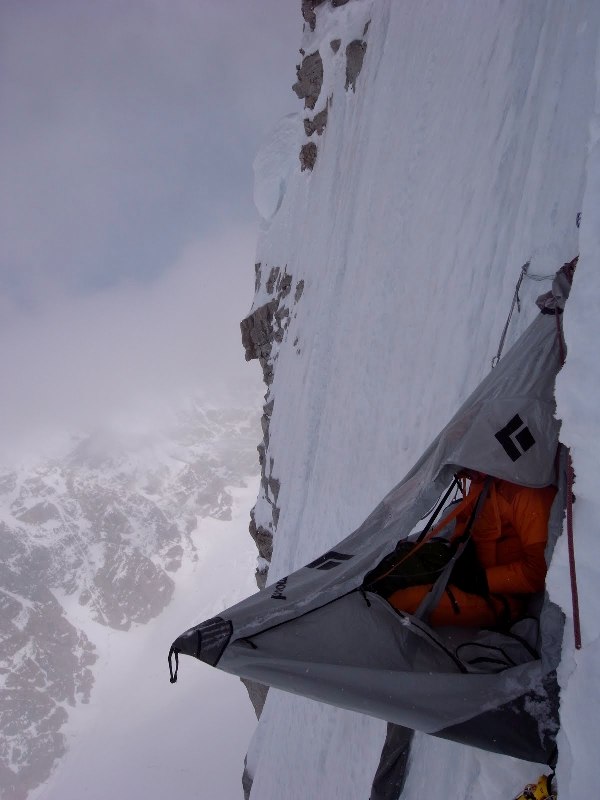 [Loving the ledge! Photo: Jon Bracey]
The climbing was hard, dangerous, scary, but beautiful and it took everything we had in our minds and arms to be successful. The last 36-hour push to the top off the North Buttress and the 38 abseils later to the base off the wall were like an out-of-body experience I have never witnessed before. Pushing through the super-bad weather, it felt like we were always in complete control but at the same time fully wasted. We were not on our own. Not like some "God" looking over us, or anything like that, I don't believe, but just that: we were not on our own. I can't explain it. 'Nuff said!
The route is the hardest and longest climb of my life so far, and there are many stories which I will tell you about over the next few days and weeks from our six days on the wall. But for now, one stands out. After descending back to the glacier, we were both wasted at the base, hardly able to move after poor food for five days and 36 hours with no food at the end. As our body systems shut down, knowing now that we were safe, we could see Dave (Pap) in the distance skinning as hard and as fast as he could towards us with a big rucksack and towing a sled. "Thank God," we thought. He's bringing us a warm drink and a load of food from base camp — cheese, bagels, salt crackers, beef jerky, fruit bars, peanut butter, all the things we had been craving on the route and needed to eat to get us back on our feet and down the 1.5km to base camp. He showed up smiling, as always, and handed us one tiny fun-size Snickers bar each –- oh, and one for himself — and a cold icy half litre of dirty water. Thanks Pap.
–Matt Helliker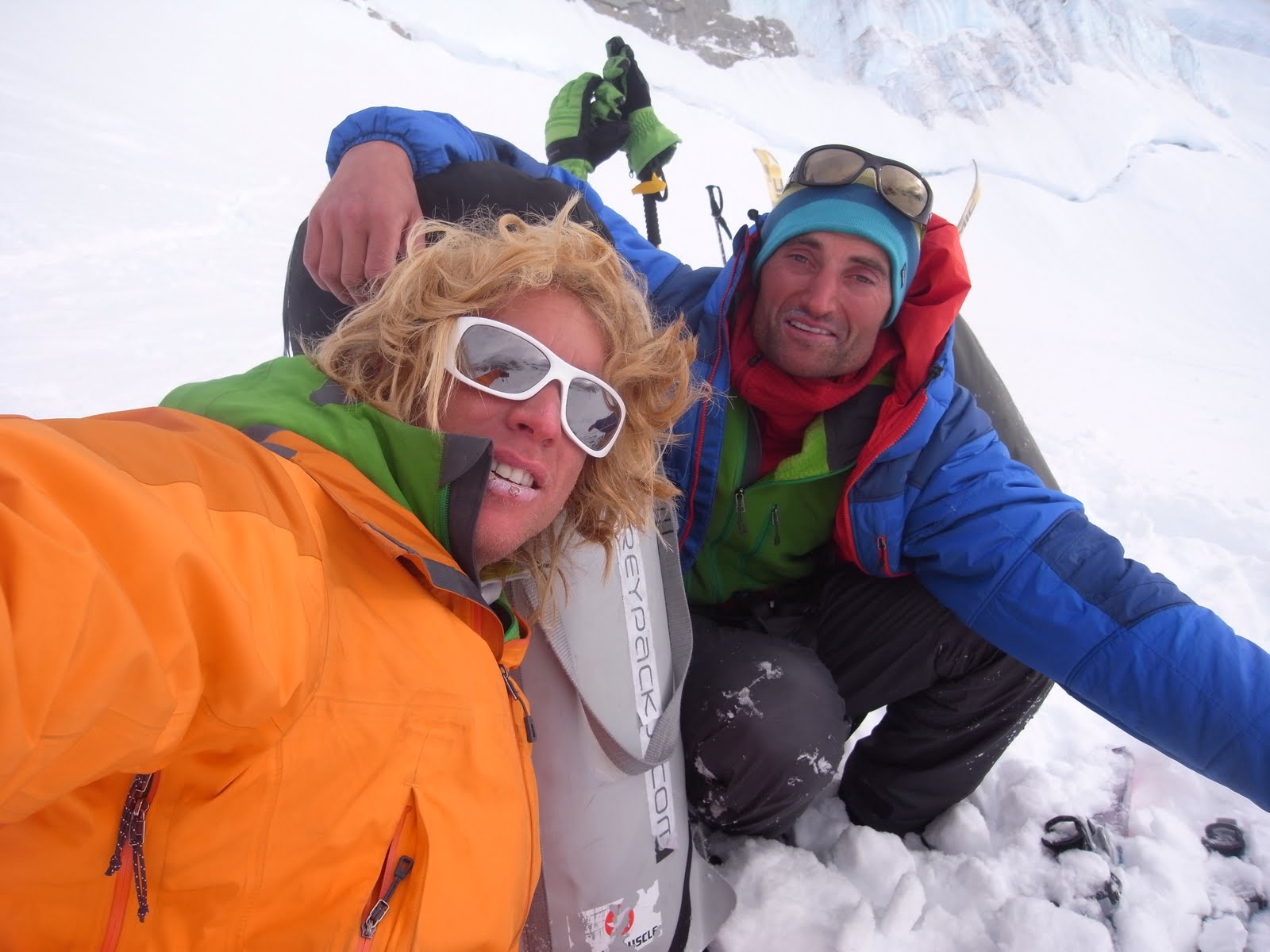 [Matt and Jon happy to be back on terra-firma. Photo: Matt Helliker]
Here are the route details from Jon:
Alaskan Grade 6 (M6, AI6, 5.8, A2). Although the climbing is significantly harder and more sustained than the French Route and the 'Moonflower Buttress'. It would be great if a strong team were to repeat our line and eliminate the aid in the future. Bivouacs are hard to find and I expect it would go all free at hard M7 and 5.9.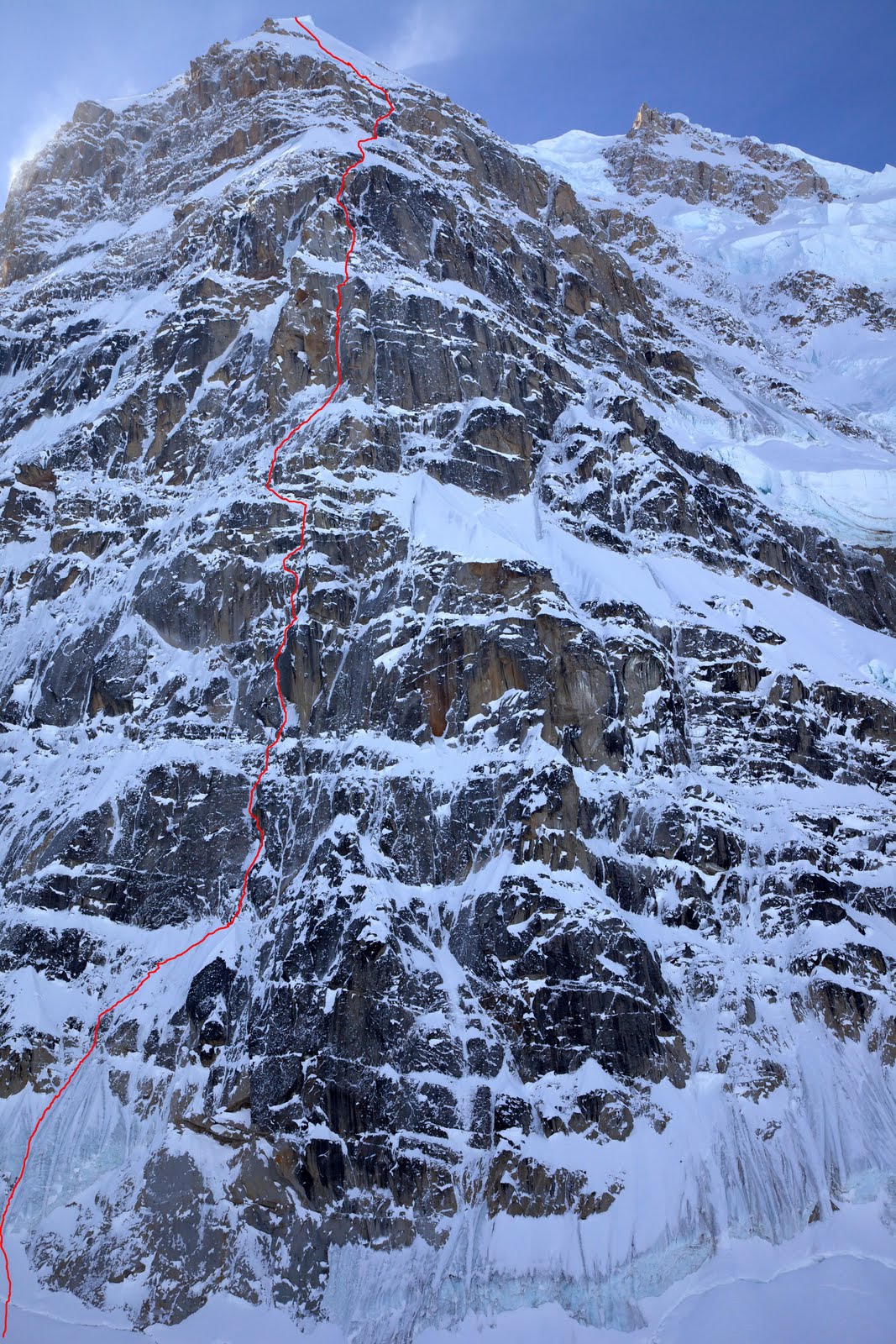 [The Cartwright Connection. Photo: Bracey/Helliker Collection]
Keep an eye on their blog for news about the upcoming film from Pap and Posing Productions.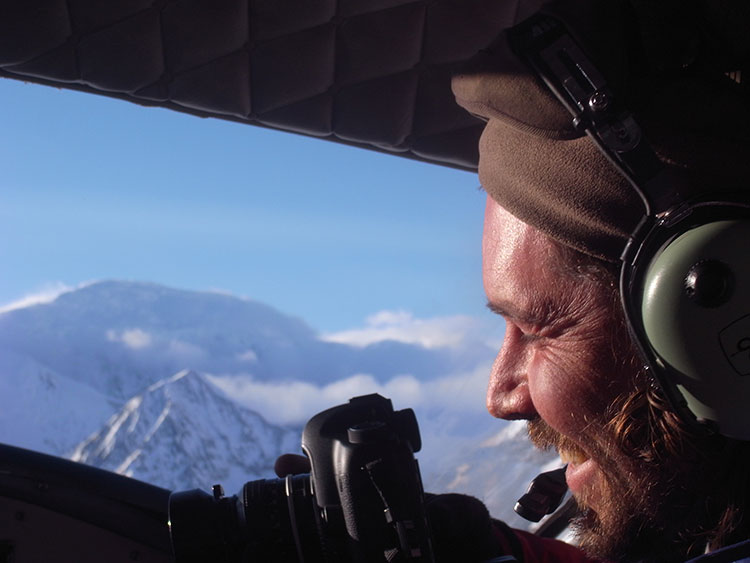 [Photographer, Dave Reeves (Pap). Photo: Dave Reeves Collection]
Matt and Jon would like to thank their sponsors: Patagonia, Osprey Packs, Scarpa, DMM, Adidas Eyewear and Maximuscle, along with the British Mountaineering Council for the grant they received.
If you ever plan on visiting the Alps, Jon and Matt offer guiding services for climbers and skiers through their Chamonix-based venture, Vertigo Guides.