Listen to "The Golden Hour" Dirtbag Diaries Podcast Episode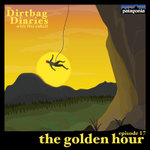 Today we present a special weekend edition of The Dirtbag Diaries with Fitz Cahall. You might recognize the Tom Broxson from a previous episode.
In spring of 1991, Tom Broxson survived a 200-foot fall – a full rope length – off the top of Yosemite Valley's Washington Column. To this day, Tom, his climbing partner Pat and the rescuers who saved his life aren't exactly sure what happened. There are guesses and conjectures, but the exact moment that changed Tom's life will always remain a mystery.

Dr. R. Adams Cowley, the physician who pioneered our modern Emergency Medicine System, once said, "There is a golden hour between life and death." His theory that a patient who survives a grave trauma has 60 minutes to reach the operating table was the guiding axiom in emergency medicine for decades.

In these precarious, defining minutes between life and death, patients fight to live, rescuers put themselves in harm's way and decisions are made in an instant. Sometimes rescues don't go all that smoothly. Today, with the help of Yosemite's first responders, we bring you Tom Broxson's story of survival, recovery and will. It turns out an hour can last a lifetime.
Listen to The Dirtbag Diaries:
Episode 17 – The Golden Hour (mp3)
Like what you heard? The RSS feed, subscription link to iTunes, and contact information for future story ideas are all available at www.dirtbagdiaries.com.
Thanks to Fitz Cahall for his help with the new promo.