The Klabona Keepers
Edonamē (Carolyn Doody) & Tamo Campos
/
11 Min Read
An Indigenous community's 15-year struggle to successfully protect their Sacred Headwaters from industrial development.
This story was written in collaboration between Edonamē (Carolyn Doody), a Tāhłtān land defender, teacher and therapist, and myself, a professional snowboarder turned documentary filmmaker, and one of the creators behind the film The Klabona Keepers. 
The Klabona Keepers tells the story of the Indigenous families that successfully protected the Klabona, a region in northwest British Columbia known as the Sacred Headwaters, from industrial development. Spanning 15 years of matriarchal-led resistance, the film follows a small group of determined Elders in the village of Iskut as they push back against law enforcement, the government and some of the world's largest multinational companies.
Ten years ago, while driving north to the Yukon, a few friends and I pulled off at the Iskut village gas station. What was meant to be a pit stop turned into an invitation to join a Klabona Keepers blockade against a company called Fortune Minerals Limited. Members of the community asked us to use our cameras to document the blockades and get the story out to media. We ended up camping at the blockade for two months, during which community members also asked us to join them as they took over and occupied drill pads to prevent mineral exploration in the sacred area.
At times we were nervous, but also deeply empowered to stand alongside families fighting for their land, and who'd been standing up to companies like Fortune Minerals and Shell Canada since 2005. I laugh thinking back on how we arrived as vegetarians, but soon filled our bellies with dishes of moose, bear and groundhog prepared by the grandmothers. All of it came from the very mountains we were working to protect … and where Fortune Minerals wanted to put its open-pit coal mine.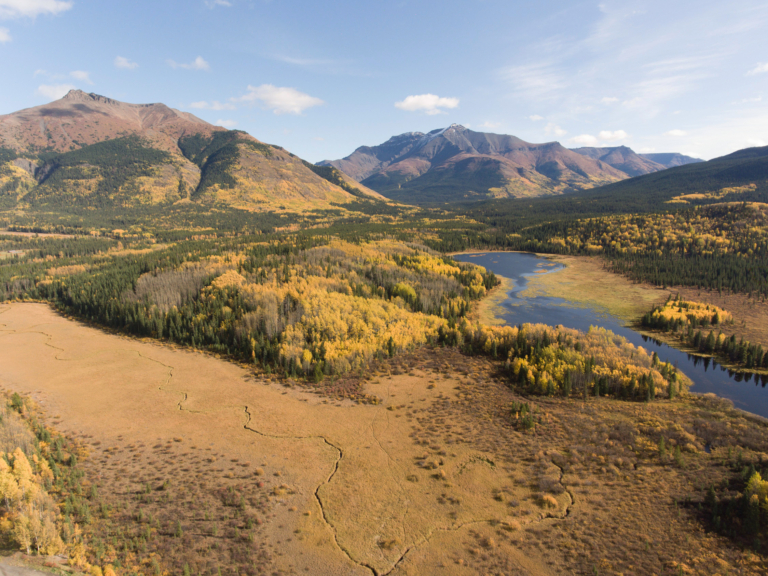 The Iskut community's tactic of taking direct action and blockading, as well as demonstrations of solidarity from neighboring communities, led to Fortune Minerals pulling out of the Klabona.
We became fast friends with many community members, and my good friend Jasper Snow Rosen and I began returning to the region for several months every year to connect with the community. The Elders and their families would take us out on their land, and even inspired us to start volunteering on their outdoor youth trips. All the while, we continued to film experiences and moments of the Klabona Keepers standing up for their land.
As time passed our friendships grew stronger, and in 2016, the Elders suggested we make a longer, feature-length film. We were honored to put it together and agreed to do it if they helped us craft the storyline. It was important the Elders have control over how the story was told, and the film spotlights the many different families and voices that stood up for Klabona over the years.
In 2022, a decade after we first pulled into the Iskut gas station, The Klabona Keepers was released.
—Tamo Campos
"It readies us, the next generation, to carry on those responsibilities and to pass on that knowledge, to pass on the torch of taking care of everything they fought to preserve."
Land and Responsibility:
My uncle Peter said protecting our land is a responsibility. These words were profound for me to hear because this responsibility resonates through each generation of Tāhłtān people. Responsibility. We hear the voices of our Elders say, "We are doing this for you. We are doing this for our grandchildren. We are doing this for future generations." Responsibility. Taking care of the land because it takes care of us. Responsibility. Each generation taking care of the next.
One of the things that always touched me about the struggle for Klabona was the intergenerational nature of the campaign. There were always people from each age demographic at the blockades. In the cities, it's easy to get caught up spending time with only your age group, but on the blockades, there were always Elders, kids and families. When I think about standing up for the land, I think about the sacrifices it takes, the courage and the determination. I think about how much it helps to have those you are fighting for right there in front of you, on the front lines.
With multigenerational involvement in mind, we spent time reflecting on the memories and events of the film with two powerful young Tāhłtān men: Brendan Ducharme and Robert Jakesta. Robert was an elementary school student and Brendan was a toddler when the struggle with Shell and Fortune began. They stood on the front lines with their parents and grandparents. To this day, they feel the power and the trauma in their hearts and their bodies when they speak of the uncertainty of the times, when our people were up against multiple corporate giants in defense of our land, water, plants, animals and, ultimately, our lives.

"They've always been taking care of the land, and it being untouched is a testament to them taking care of the land," Robert says of those defenders that came before him. "I know when my time comes, I will be ready to protect the land just as generations before me have. I'm willing to put up just as many sacrifices as them because I know our land is worth it for our future generations. You know that their ability to enjoy the land is worth fighting for, that the future of our people is worth fighting for. It is a testament to how much the land is worth fighting for when I see our Elders, our most sacred beings, fighting for it."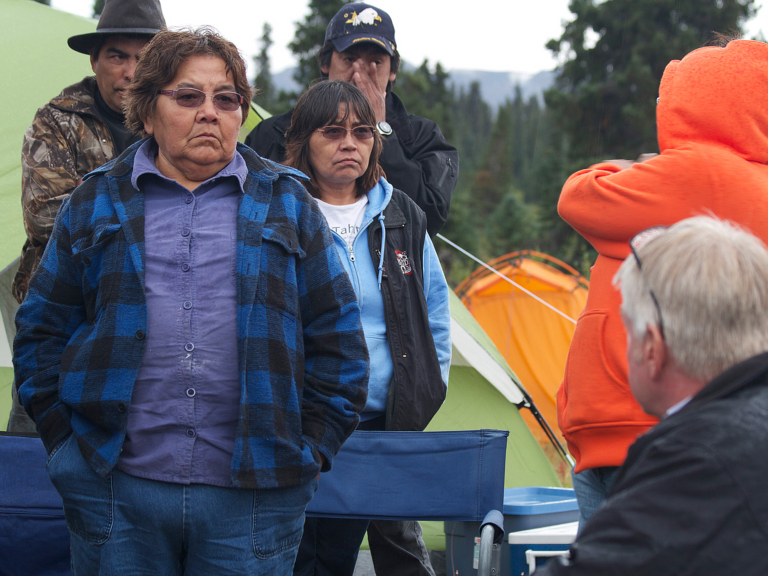 We have the responsibility to care and to act because of our caring. We sacrifice because of our caring; we have been blessed by our ancestors and our creator with this responsibility. Brendan spoke to the importance of this:
"People can be materialistic over things, but when it really comes down to it, our ability to stay alive and live in our environment is really what matters," he says. "It was their turn to fight for it, just as our ancestors since time immemorial have been fighting to preserve our land. To hear them talking about how at some point that responsibility, that torch, will have to be carried on and that they did it for us—they're inspiring us and teaching us these things, you know? It readies us, the next generation, to carry on those responsibilities and to pass on that knowledge, to pass on the torch of taking care of everything they fought to preserve."
What we value is that which sustained our ancestors and that which now sustains us: the land, the water, the plants and the animals. These are what we have the responsibility to protect. Our land is life. Our land has given life to our people for thousands of years. Our love of the land and our responsibility to protect it is in the blood that runs through our veins. It is ingrained in our DNA and is passed on to our descendants, the next generations, as a responsibility and a life force. "Whenever we go out on the land," says Brendan, "I wonder to myself how many times we've stepped in the same footprints as our ancestors."
—Edonamē
"When our fight for the Klabona began, we didn't know how we were going to win. We just knew we weren't going to lose."
Klabona Keepers Legacy:
Whether it's speaking out at consultation meetings, preventing drill equipment from moving into the area, going to jail together or supporting each other, the Klabona Keepers embody showing up for each other. Through their stories, resilience and good humor, these Elders remind us of the power of collective action to serve future generations. "They used to take the children away from the land," says Klabona Keepers spokesperson Rhoda Quock. "Now they take the land from the children. When our fight for the Klabona began, we didn't know how we were going to win. We just knew we weren't going to lose."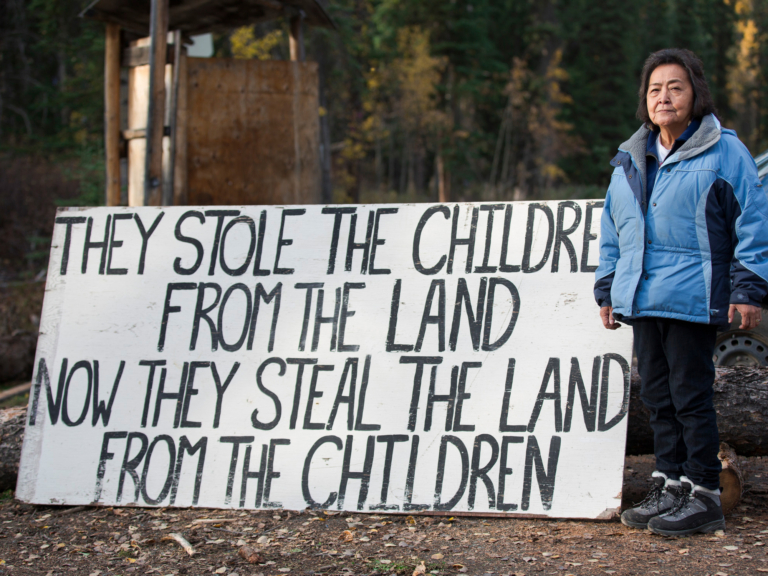 We are one with the land. We are interconnected with the water, the plants and the animals that give us life. Our bodies gather the energy of the land and, in return, we give our energy to the land in the form of respect and protection. Brendan articulated this clearly and powerfully:
"Our land is so important," he says. "It's such a core aspect of who we are as a people, where we live and how we live. Our personal health is very much tied to the health of our environment, mentally, physically and spiritually."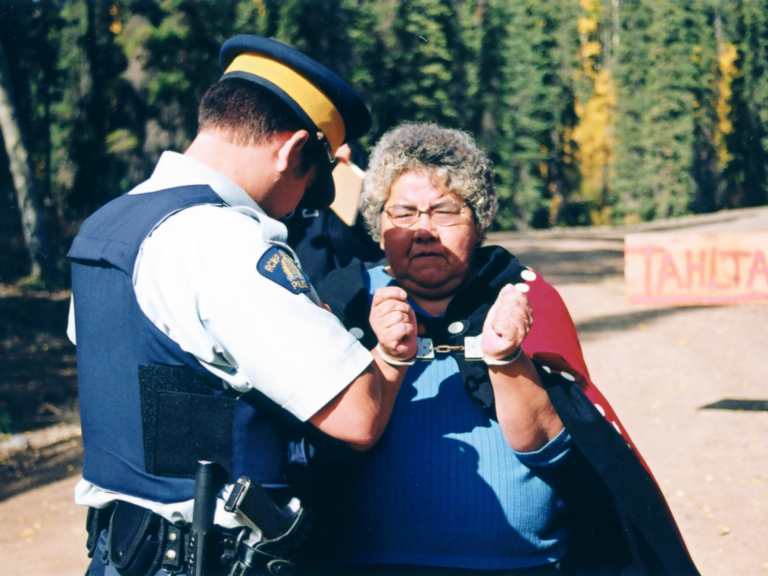 Our very lives are guided by a gratitude that roots us into the soil, carries us on the water and elevates us high into the mountains. We are surrounded by our ancestors when we are on the land. They are everywhere. They come to us when we pray: They give us answers, they give us direction and they give us strength. When reminiscing about the blockades and the arrests, Robert spoke of the power of our people's spirits: "Watching it again, it just brings a sense of inspiration. Seeing my Grandma Jenny stand up to them and just being so fierce … it makes me very proud. When we watched the film in the theater I was overcome with emotion."
The film includes footage of multiple arrests, including Robert's late cousin Dempsey and he and Brendan's Grandpa Jerry, who was in a wheelchair. "His spirit must have been overflowing," Robert says of Dempsey. "I could feel my spirit rise. I imagine it's how my ancestors used to feel going to war, you know? When you're faced with a sense of adversity, it inspires me and fills me with so much spirit."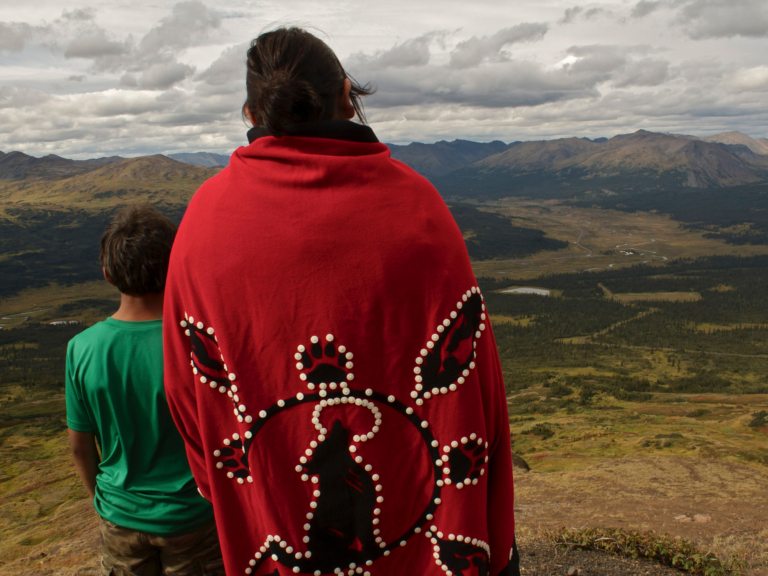 Grandpa Jerry's arrest was equally impactful. "I was so touched by that moment that I couldn't just stay in the crowd anymore," Robert says. "I had to step away by myself and start crying because I just couldn't believe how much strength that took."
I feel the power of our Elders and ancestors speaking through Brendan when he recalls his childhood memories of the threats our people were facing. He shared memories of being comfortable around other land defenders but feeling threatened by land exploiters in their white SUVs, which represented industry, government and police.
"The memories that come back for me are not really understanding what was happening but knowing there was something on its way to us," Brendan says. "I remember there being a lot of people. I didn't recognize many of them, but I felt comfortable around them. Until I saw the white SUVs and trucks coming in, and that's when I remember—even watching the clip now—feeling my heartbeat go faster … I remember the feeling of having a lot to lose at that moment, even being so young."
Our people continue to feel the dread brought by an influx of strangers, there for only extraction. But our people also continue to feel the love and connection to the land that we are responsible for defending and protecting.
—Edonamē
"We can show generations down the road and tell them, 'This is what your grandmother fought for. This is what your great-grandfather fought for.'"
Solidarity, Allyship and Collaborative Activism:
Reflecting on this unique relationship with Tamo and Jasper, I think about how they told our story our way, collaborating with our people at every step of the way. They really did become family to a lot of us. They are very well known in our territory and are very much adored by many Tāhłtān people in every generation. When they are home, you will find them visiting the Elders, spending time with the children and youth, or out on adventures that call for a lot of prayers … it took some of us a while to get used to their risk-taking endeavors—crazy snowboarders!
They hunt and fish with us and eat the food that we eat alongside us. They listen to the Elders and are carrying on the teachings in their hearts and in their lives. They stay with us in our homes, and they mentor our children through joys and adversities. They share meals with us and joy with us, and they grieve with us. They are family. How do you describe years and years of dedication to a community?
"They put it in a form that we can hold on to forever," Robert says, reflecting about the film and the fight. "We can show generations down the road and tell them, 'This is what your grandmother fought for. This is what your great-grandfather fought for.' It's not just memories. We can look at this to teach our next generations."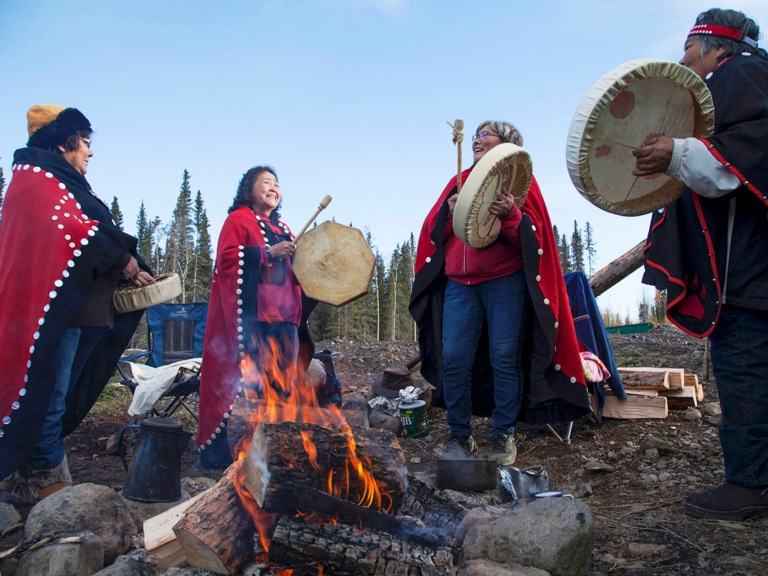 My daughter and I were talking one evening about Tamo and Jasper, reminiscing on our family's friendship with them and their connection to our people. I asked my daughter what makes them good helpers in our efforts to protect our land, and my daughter replied, "They cared. And they used their own resources to help us. They took direction from the Elders. They accepted our gifts. And that's a big one."
Puzzled by this, I asked why she considered accepting our gifts to be "a big one," and my daughter responded, "Because our people, that's how we show our love." Yes! I thought. They accepted the love of our people and we accepted theirs, in solidarity.
—Edonamē
Closing
The film was made with direction from Klabona Keeper Elders, and in constant collaboration with them. Creating films is as much about process as it is about accomplishing political and artistic goals, and we wanted to show the beauty and intricacies of a long fight to inspire the next generation growing up in Iskut—and beyond.
From my perspective, it is not an honor to have your story told by someone, but rather, it is an honor and privilege to tell someone else's story. We volunteered our labor and time to make this documentary as a gift to the Elders, and—because of these relationships and responsibility to their story—we structured the film's intellectual property to be owned by the Elders featured in it. It is not enough for us to simply say that this is Indigenous land. We need to act like it is Indigenous land. As Indigenous writer Leanne Betasamosake Simpson explains, "The alternative to extractivism is responsibility, relationship and deep reciprocity."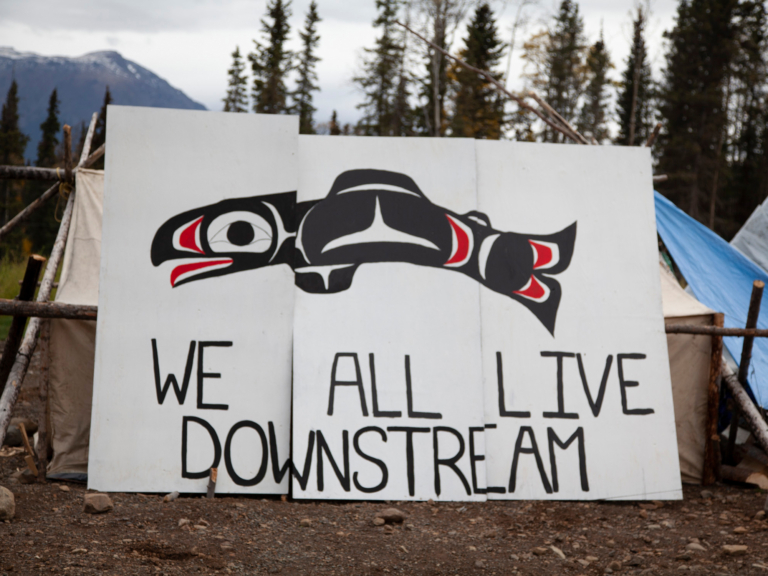 For me, The Klabona Keepers is a gift and love letter to the community that changed my life and continues to hold many of my deepest relationships. My intention is that this film continues to spark stewardship while inspiring the next generation inheriting the Klabona. As Elder Bertha Louie put it, "This film is going to do really great for us. It's going to give our kids courage to continue to do this fight. Our grandchildren and great-grandchildren will be able to stand up for the land we love and know that we fought hard for it."
—Tamo Campos
The Klabona Keepers film is now available for screenings at community centers, workplaces, theaters and schools. We depend on people like you to get this film out into the world. Please visit our website to learn more and host a screening www.klabonakeepers.com  
---