The Long, Happy March of Barefoot Dave
Dave Murray lives in a wooded mountain valley in western Montana with his wife, Connie; a labradoodle rightly named Loki, after the Norse god of mischief; and a bunch of mules. I live 140 miles north near Glacier National Park. He and I met on a float trip down a wild river in northern British Columbia. Back in Montana, we often got together to hike in Glacier, where I was volunteering on a wolverine study. Like most folks, Murray had never seen these rare animals. As we followed signals my antenna picked up from radio-collared ones, and he pieced together how relentlessly they kept on the move among the park's tall, ice-carved contours, something about their lives spoke to him. Although he had yet to see a wolverine, he volunteered part-time for the project, too.
When the study wound down a few years later, Murray and I continued trekking together in Glacier every so often. On one outing, he mentioned that he'd decided to hike the Continental Divide Trail. He wasn't talking about the segment of the CDT that runs through Glacier Park. He intended to cover the entire route between Mexico and Canada.
At home, he readied his equipment.
Lightweight tent and bedding? Check.
Dried food and cooking gear? Check.
Water bottles, rain gear, bug dope … check, check, etc.
And the most essential item for any long-trail hiker: the right shoes or boots? People tackling the CDT prepare to go through three or more pairs. Murray, not so much. In fact, none at all. He planned to do the 3,100 miles along the Rockies' spine barefoot.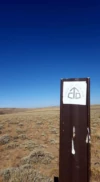 From as early as he can remember, Murray and his older brother were out hunting and foraging in the woods where they lived in the northern mountains of Idaho. Their father had worked as a miner, but lung disease forced him to quit, and food for the table was scarce. The family moved south to Idaho's Salmon River country where they tried to make a go of panning for gold. Murray's father died, though, and his mother married a man who turned out to be a violent drunk. At age 12, Murray found himself forced to work long hours salvaging auto parts in his stepfather's scrapyard. Each summer, the man would take the brothers to abandoned mine sites and leave them there for weeks with few or no supplies. They were supposed to scavenge metal from the junk lying around, but the boys spent half their time trying to catch rabbits and fish to survive.
Murray's mother eventually divorced and found work in a small-town bar/hotel. To keep her youngest son, then near 15, away from booze, drugs and trouble, she sent him and an older friend off into the Middle Fork of the Salmon's canyonlands for the summer. The idea was for Murray to visit an uncle who lived in a little cabin and ran hounds to hunt cougars for their pelts. What the two boys encountered instead was a black bear.
One day on the edge of a tributary, Murray and his companion noticed the bear trotting toward them. The two fled in different directions, Murray racing to the water and hopping from boulder to boulder to get farther from shore. When the bear drew closer, Murray jumped in and let the current sweep him away through some rapids. Afterward, he lit a fire to dry his clothes and footgear—the type of stiff, heavy leather mountaineering boots hikers favored in those days. They never fit his feet again.
"It felt like they'd shrunk about five sizes," he remembers. "I ended up going barefoot. I'd walked around that way a lot as a kid. The Salmon country is rocky as hell, and my feet got really sore. Then my soles finally toughened up, and I was good to go."
When his friend returned to town, young Murray was left solitary in the wild. He fished and scrounged plant tubers and berries and had himself a fine shoeless summer. As soon as the next summer rolled around, he went back to the Middle Fork with more fishing gear and a .22 rifle. Although his mother hoped he'd connect with his uncle this time, she was comfortable with her son going into the hinterlands by himself now. Good. Murray's only plan was to wander the canyons solo. Being on his own out in nature made him happy, or at least happier than he'd been at home.
As Murray got older, he worked as a logger in Idaho, a truck driver in Yellowstone National Park, a fisherman on a boat off Alaska's Aleutian Islands, an oil rig hand in Colorado and married Connie along the way. He eventually made his way to Missoula, Montana, where he was hired on as a roofer. After four years, Murray decided it was time to take a big chance when he quit to start a small construction outfit of his own. More often than not he slept in his truck at work sites so he could keep going late and start up again early. "Fear of failure," he explains. "I barely went through ninth grade. I wasn't going to impress anybody with my school credentials, so I made sure a job got done."
Year by year, with the help of Connie's organizational skills, he grew the company into Industrial Technologies Corporation, building bridges, schools, hospitals, office buildings and mills, employing close to 300 workers at times. Whenever he came to help collar and chase wolverines among the peaks with me, he left behind a world of giant bulldozers and towering cranes, unions and safety inspections. He'd escape all that again when he kicked off his shoes to hike the Continental Divide.
By the time Murray announced he was going for the CDT, he was 58, paring down his business and handing off more responsibilities to his son, Kyle. Though Dave still had more than enough work, he was starting to ask himself some of the questions other people contemplate after they retire: What do I really want to do now? What's most important to have tried?
At least 150 people attempt the CDT in a typical year. The number who report completing it has lately averaged around four dozen. Most thru-hikers (as border-to-border hopefuls call themselves) aim to make the journey in one four- to six-month-long push. For Murray, that was too much time away from work. Besides, people on a single-year schedule sooner or later need snowshoes or crampons and sometimes ice axes and rope, not to mention another gadget handy for crossing snowfields; namely, a pair of boots. Figuring he'd instead knock out as many miles as he could over two or three summers, Barefoot Dave started from the warm end of the trail in New Mexico during late spring of 2016.
"It was the worst part of the trip," he says. "I love hiking in the mountains. There weren't mountains. The country was hot, dry, mostly flat, dust devils spinning by. My feet were still getting into shape. And wherever I stepped off a trail—and sometimes on the trail—the ground was covered with these little bastard prickers called goatheads. I walked backroads when I could. At one point, I took a paved road but had to keep on the center white line because the heat off the black asphalt was burning my soles."
An extra disappointment at the trip's onset had been that Connie, who originally planned to trek the CDT with him (and her boots), developed back trouble. She had to stop hiking. But she didn't drop out of the venture. Her status changed to Trail Angel, a one-woman support team periodically driving to find Dave at the top end of one high-country dirt road or another and—descending from the rig amid exaltations—to resupply him with grub and affection.
Murray perked up considerably once he reached New Mexico's Gila Wilderness. In his words, "You're down in the grasslands and scrub and then, boom, there's this huge island of forests and peaks rising in the distance, waiting," he tells me. "It's a beautiful bunch of wild country, especially where the three forks of the Gila River meet, and you're crossing and recrossing the water between willows and cottonwoods with their new spring-green leaves. I saw elk in the uplands and kept seeing herds almost every day through the northern part of the state."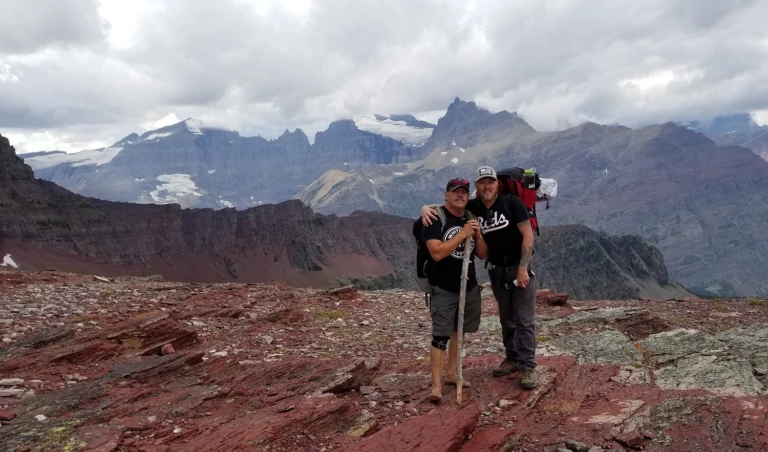 Once across the Colorado border, Murray entered the San Juan Mountains. He says, "Most of the CDT is a lot of ups and downs, but I think the southern San Juans had more of them back-to-back than anyplace. The trail runs high and steep from peak to peak. My feet had swelled up in the first weeks of the trip, and I was wondering whether I really could go the distance barefoot."
I knew about Murray's penchant for going shoeless at times because I'd watched him march free-footed for miles while shouldering a heavy pack. Dirt, forest debris, sharp stone rubble—didn't matter; he kept the same pace.
"I have more energy going barefoot," he insists. "It juices me up. You can't get that out of a pair of boots. It's a direct physical thing between the ground and the sole of your foot, like—I don't know—pressure points from rocks and sticks are activating you or something. When I step, I don't hit heel first like you do in shoes. I walk setting my whole foot flat on the ground. It's not something you have to work at. It's not even conscious. You make a solid connection."
His main purpose in completing the CDT with nothing on his feet except his skin wasn't to claim a record. Sure, accomplishing a first would be cool, but what he wanted above all was simply to hike the CDT the way he liked to travel best in the forests and mountains. Barefooting "naturally spreads your weight out and gives you better balance," he says. "I get way more out of a trail barefoot than if I were wearing boots. And it's dead quiet. I walk close to animals without bothering them much compared to clomp, clomp, clomping through their world."
By the San Juans, his feet were in better shape, but he'd reached 12,000-some feet, and he was throwing up everything he ate. "I dropped downslope to sleep, drank massive amounts of water and made myself walk real slow," he says.
That worked a cure. He went on up to 13,000 feet without any more symptoms of altitude sickness. On the other hand, the problem of having to cross snowfields got worse, turning his feet into two aching lumps. In places, drifts clinging to the sides of peaks buried the trail beneath steep, slippery sheets whose bottom ended at a sheer drop into space. Lacking the hard tread of boot soles, Murray crossed by digging his fingers into the uphill side and stomping his feet down into the tracks left by a couple of hikers who had passed him on the way up. When he ran into them later, they told him they were wondering whether he'd survive those stretches or not.
Moving on toward the central Colorado Rockies, Murray still had elk and scattered mule deer in sight most days. But he also encountered a thicker snowpack and learned about the "monsoon season" that tends to hit the region in midsummer. "Leftover snow, heavy rain, hail, lightning storms while you're up above tree line with no place to hide." He decided to leave that stretch for later. Connie shuttled him to a point just north of Wyoming's Red Desert. Continuing that direction, he climbed up and up into the Wind River Mountains.
To date, he'd seen elk, deer, moose, a curious owl that perched atop his tent to call through the wee hours, marmots and crowds of trout, but not many people. He was, however, starting to come across bear tracks.
On his way toward Two Ocean Pass in the Teton Wilderness, Murray learned of a fellow thru-hiker, Zorro from Spain, who had met his match. A bear had knocked Zorro to the ground and then jumped up and down with its forelegs on the backpack he was wearing, smooshing the man's face into the trail. Wisely, he played dead, listening to the animal's heavy breathing as it stood watch. At last, it went back to doing whatever big bears do the 99.99 percent of their lives when they aren't terrifying humans.

Murray barefooted it on to the Shoshone Lake area inside Yellowstone Park before he encountered a grizz himself. A huge one. Murray just stood in place to see what its reaction would be. "Then my mind unfroze. What the hell, Dave? Are you waiting for a giant grizzly bear to yield the right-of-way? Get off the trail, you idiot! I dropped my pack and climbed up onto a deadfall in the woods. Then I remembered my bear spray was attached to the pack. Man, I am a frickin' idiot. I decided to risk going back to grab it. As I'm unsnapping the thing, I turn around, and the grizzly is … right … there. I mean, I could have reached over and touched him. But he's just walking by, never giving me a direct stare (a clear threat, in grizzly-speak). There wasn't a quick motion in his whole body. It was like, 'I'm a big bear. I'm moseying on through. And I really don't give a shit what you think.' He let me be." So far, so gracious on the bears' part.
From Yellowstone, Murray followed the Divide where it veers almost due west defining the border between Idaho and southwestern Montana. His CDT routine was to rise very early, strike camp, hoist his pack—generally pared down to between 18 and 23 pounds—and start walking in the light from his headlamp. Aside from a few breaks, he would go all day and stop only when the sun was setting. Repeat. Then Murray marched topside along the Centennial Mountains by himself with a big sky overhead and golden eagles hunting the alpine ridges around him. Sagebrush and tall grasses covered the dry, south-facing slopes. Forests of lodgepole rose from the north-facing side, and he could see half a dozen other mountain ranges stretching away on every horizon. But Monida Pass, with Interstate 15 easing through it, waited only 50 miles distant, and when Murray reached that, he called it a summer. "I had a life to get back to, you know. And a job. Besides, it was the end of the season. The weather was turning frosty, and I don't like the black-toe look." Besides, he still had at least a thousand miles to go.
For perspective on how Murray deals with pain, there's this: He once took a fall while skiing in the dark to a baited box trap that had caught a wolverine for possible radio collaring, and that tumble snapped his leg. His partner on the trip was frantic to help get him back to a park patrol cabin and call out for help. With the temperature sinking far below zero (Fahrenheit), Murray was more concerned about the risk of leaving the wolverine confined overnight. He insisted that the other volunteer go on to the trap two miles ahead and set the animal free. Somehow, Murray got himself upright and started poling on one ski toward the patrol cabin alone. It turned out that his leg was broken in two places, but he got there. His favorite description for a wolverine, meant as a compliment, was "one badass critter." Well, it takes one to know one.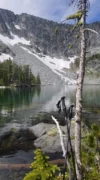 Year two of his Mexico-to-Canada-the-hard-way saw Murray start at Marias Pass on the southern edge of Glacier Park. He walked south through Montana's Bob Marshall Wilderness Complex and from there through the highest ranges leading to the old Montana mining town of Anaconda. Once again, Connie scooped him up. This time she chauffeured her husband back to Colorado so he could get through the lower 48's tallest collection of peaks when most of the snowpack had melted in late summer. As Murray put down tracks there, he came upon more elk, deer, moose, an introduced herd of mountain goats—and enough hikers, runners, horseback riders, bikers and motorcyclists to make northern Colorado's high-country trails seem a little too busy for his liking. But as soon as he crossed into Wyoming to traverse the Red Desert, he had its sweeping expanses to himself—if you didn't count all the antelope. With cold weather due soon and a satisfactory amount of mileage behind him, Murray called a halt to his second CDT summer when he reached the desert's north end.
On a route through a pass on the Continental Divide Trail in the Bitterroot Mountains during year three, a spearpoint rock pierces the center of Dave Murray's foot. He trips and catches two toes in a crevice as he topples forward. By the time he pulls them free, they're seriously bent and completely busted, fast turning purplish. That's nothing, though, compared to the gaping hole in the center of his sole.
Up on the CDT, Murray ignored his perforated foot and painfully swelling toes long enough to descend to a road, where Trail Angel could take him back home. His toes' tendons were badly strained, and the bones, though intact, were bruised, but Murray did a lousy job of staying still to recuperate. It wasn't many days until he was driving north through Montana to Chief Mountain.
This great pillar rises close to where he hoped to cross into Canada at the end of his 3,100-mile trek. However, that wasn't why he planned to limp around at its base now.
"Chief Mountain is sacred to the Blackfeet," he says. "Some tribal people were holding a vision quest on one side. I'd been invited to take part. Didn't think I could break away from the CDT that summer to join them, but now I had time to do the sweat lodge cleansing ceremonies and then go out to sit alone at a vision site."
It doesn't sound too tough on the feet, but the sitting part of the quest involves going without food and water for four days. Four days of fasting is a mental test; having no liquid for four days is at or slightly beyond the limit of a human body's tolerance. "Yeah, you hallucinate. Being alone with your thoughts during that time can be freaky. Combine it with being so damn hungry and feeling like you're going to die of thirst…  a lot of people drop out. I finished because for me the quest is another way to open up to nature, to the living things around you. It's another way to look inside too, see what you can see." Another way for Murray to test his limits.
When Murray's foot mended, he returned to the place he'd impaled his foot and followed the CDT as it bent eastward from Idaho back into Montana. It led him through a succession of mountain ranges, then into the Anaconda Pintler Wilderness, and finally down to the town of Anaconda, where he had ended his southward hike the previous year.
"The Pintlers had a lot of steep tracks, but I hardly noticed going uphill any more, and it didn't matter whether I was carrying extra water or gear," he recalls. "I'd hit the point where I felt like one of the elk or deer or other wild animals, just cruising the slopes without slowing down if I didn't want to. My heels had stopped splitting, my body was working a hundred percent. I'm in the frame of mind you find when you're alone in the backcountry – that it might as well be 10,000 or 100,000 years ago.
"What everybody calls the real world, the modern world, isn't real. You're mostly bouncing off other people's thoughts and bullshit. This, the wilderness, is the real world. You'll never lie to yourself out there. There's nobody telling you what they expect you should be or not be, do or not do; all of that. Look: I've got a face. You've got one. Everybody does. But up there in the mountains – or on a vision quest – you don't have a face. Nobody's looking. It's just you and your soul."
At that stage of his odyssey, all Barefoot had left to hike of the CDT was Glacier Park, from its south end to its border with Canada. Murray trekked about two-thirds of the way, saving the last, northernmost segment for the end of summer. Although it turned into a poor year for huckleberries at the upper elevations, a bumper crop of serviceberries ripened lower on the slopes. This was excellent news for both black and grizzly bears. But to keep hikers apart from all the fruit-gobbling bruins, the Park Service closed several Glacier trails, including the one Barefoot had chosen. Meanwhile, forest fires in both Glacier and neighboring Canadian terrain were forcing more closures, eliminating one alternative after another for him. Soon it was late enough in the year that the drought causing the fires was more likely to be put out by a snowstorm than a rainstorm.
Before the first white flurries hit, Murray, accompanied by his son Kyle, found a roundabout route over a pass into the Belly River drainage and out to the international boundary near Chief Mountain. For what it's worth, the official body of the CDT, the Continental Divide Trail Coalition, acknowledged Murray as the first person ever recorded to have completed the full length of the trail barefoot.

But that's not why he did it. Maybe the closest he came to explaining his feat—er, feet—came when a thru-hiker named Uncle Walter looked down to the naked bottoms of Barefoot's legs and pronounced, "You're crazy."
"Could be," Murray laughed. "But everybody was barefoot through most of human history, going back to our ancestors. We're built for that. Lose the shoes, and you get so you know – your bare feet somehow just know – where to step, how to touch down with each step. Besides getting more energy out of your feet, you feel so much more connected – to the little differences in the ground and to the land around you. I do, anyway. Barefoot, I feel I belong."
"A lot of it is about being in the wilderness," he explains. "Nature heals whatever is wrong with you. You can grow. There were times I'd wake up and set off hiking, and I'd start crying from joy, feeling so lucky to be alive and free. My message from doing the CDT is that all the wild land along the Rockies should stay interconnected – for the critters and for us. It needs to be kept intact. You lose nature, you lose your own connections to the real world."