Trees Do Better Standing Up
Southeast Alaskans are on the front line of the fight to protect the Tongass National Forest from logging.
My time in the Tongass began in September of 1997—ninety years almost to the day after Theodore Roosevelt designated it a national forest. I was 19 and left Columbia University to take a Greyhound west, ending up in Sitka, an Alaskan fishing village, working in a salmon hatchery.
To save money on housing, I walked about 20 minutes into the world's largest intact temperate rainforest, staking a bumble-bee yellow North Face VE 25 in a grove of Sitka spruce and stringing up a corridor of tarps. When winter came on, I'd return to my tent to find my olive oil clouded from cold. As I heated it on the camp stove, the rich, musty scent of pink salmon rotting along the riverbanks behind my tent rose up. I zipped my sleeping bag, bunched a fleece for a pillow and listened to the thick, seaborne snowflakes catching in the spruce needles as I fell asleep with a canister of industrial-strength bear spray cradled beneath an arm.
Just before Thanksgiving, in a fit of city-boy ineptitude, I burned down the vestibule of my tent while priming my stove. With the chocolate-brown tarp dragging behind me like a blanket, I relocated up Indian River, building a hut from hemlock saplings felled with a handsaw. In the evenings, I stashed my bike in a clutch of salmonberry bushes, hopscotched across river stones and learned to pick chanterelles, unearth licorice root for tea and make fires in the rain. With a pocketknife, I scraped amber spruce sap from trunks and collected old-man's beard from muskeg dwarf pines for starter. Eight months I lived like this, raising fish at the salmon hatchery and writing for the Daily Sitka Sentinel.
When I tell my daughter Haley Marie, 4, about these days, she scrunches up her nose. "What about bears?" A reasonable question on Baranof Island, where 1,500 grizzlies roam about, compared to about seven times as many people. "They had their space," I say.
A total of 16.7 million acres of it, to be exact.
When I show her a map of the Tongass, where we live—a mossy green expanse stretching across Alaska's southeastern panhandle, home to Tlingit, Haida and Tsimshian tribes for over 10,000 years—she drops a finger on Sitka, one of 32 communities spread throughout the forest.
If the Rockies and Sierra form wildlife corridors, then the Tongass is the ballroom these corridors lead to. It's an archipelago of ice fields, forest and fjords, where snow-capped mountains jut up from the sea at dizzying angles and the chortle of ravens and scritch of bald eagles careen off cliffs dappled with burrows of tufted puffins. Over half the Tongass is made up of forest—Sitka spruce, western hemlock and red and yellow cedar. Trees are knit together by a vast underground network of roots that feed on nutrients left from some of the most prolific salmon runs remaining in the world.
And this is where the Tongass really bends the mind.
We think of a forest as an ecosystem where animals eat plants. Here, it's the other way around: The trees eat the animals.
Each fall, mature salmon return to the shaded rivers, spawn and die. Just as the rivers provide a nursery for the next generation of salmon fry, the rotting carcasses of the mamas and papas create a stew of nutrients along the riverbanks, returning nitrogen-15, a particular ingredient found almost exclusively in the marine web, back to the trees. The spruce, hemlock and cedar in the valley, fed by the salmon, grow at absurd speeds, and the cedar can live up to a millenium. In fact, biologists have learned to track the density of annual fish runs by examining the growth rings of Sitka spruce. "The salmon's spawning history is literally being written in the library of the forest," writes Canadian television host Ziya Tong in her book, The Reality Bubble.
Since the arrival of Russians in the 18th century, the axe has been the preferred method of engagement with these trees. Russians cut down choice trees for construction of boats and buildings while the Americans began clear-cutting on an industrial scale in the 1950s, when the timber bonanza began in earnest. After the United States granted timber companies carte blanche in the Tongass, logging companies went up river valleys in search of "pumpkins"—behemoth giant spruce, hemlocks and cedar—that they toppled, chipped and sluiced into multistory pressure vessels. The chips were then mixed with acid, cooked, dried and pressed into sheets of pure-white pulp to be baled for export, on their way to becoming newsprint, cellophane and fluff-puff—the material used in disposable diapers. Salmon returning to native streams found their en- trances choked with soil. Bears lost their dens. The forest floor, accustomed to only 20 percent of natural light reaching the soil through the canopy of needles, broiled in the sun.
Then in 2001, largely in response to rampant clear-cutting, President Bill Clinton signed the Roadless Area Conservation Rule with just eight days of his term remaining. With a signature, he closed the Tongass, along with national forests across the country, to roadbuilding. Influenced by his knowledge from developing a previous compromise between the timber industry and environmentalists in Oregon, Clinton argued that, along with leading to increased pollution, land erosion and species loss, national forests were already webbed with enough roads: 386,000 miles of them, enough to encircle the globe 15 times. The Forest Service, charged with maintaining the roads after the timber companies completed their clear-cuts, couldn't keep up.
Timber companies were hamstrung. Without being able to bulldoze roads to the remaining 165,000 acres of old-growth forest in the Tongass, their saw blades spun to a halt. George W. Bush worked to strike down Clinton's rule as his first act as president—but in 2009, the Ninth Circuit Court of Appeals affirmed the rule. In 2012, the Supreme Court refused to hear the case, and the Tongass has been closed to roads since.
Cue Donald Trump.
Last February, Air Force One touched down in Anchorage to refuel on the way back from Vietnam. Republican Alaska governor Mike Dunleavy took advantage of the stopover to ask President Donald Trump if he would consider a full exemption of the Tongass from Clinton's rule, opening the forest to logging.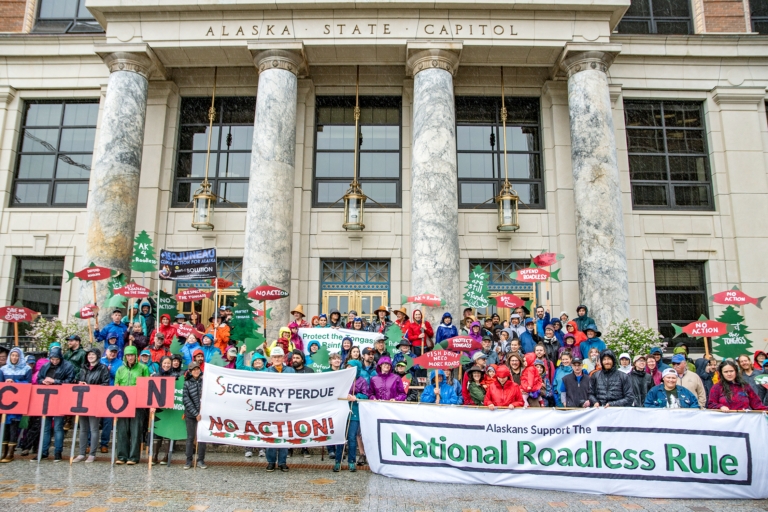 The previous fall, over 90 percent of Southeast Alaskans commenting during a Forest Service "scoping" period were in favor of keeping the Tongass roadless. Tribal leaders joined hunters and commercial fishermen to patiently explain to folks from Washington how the region's economy, after years of stagnation, was finally getting back on its feet with the help of tourism and commercial fishing—industries dependent on an intact forest. The Forest Service, which refers internally to the Tongass as its "crown jewel," needed to protect its jewels because without trees and streams, the salmon, a wickedly fickle fish, would disappear—just as it had in Scandinavia, Ireland, Scotland, France, England, Western Europe, America's Eastern Seaboard, California and the Pacific Northwest. Maybe we shouldn't let it happen in Alaska, community members said. And that meant not clear-cutting salmon habitat.
As far as tourism went, travelers to Southeast Alaska expected to witness one of the last wild landscapes on Earth—they certainly weren't paying money to come to Alaska to find moonscapes pocked with stumps. Tour- ism creates around 10,000 jobs in the region, contributing about a billion dollars annually to the region, and commercial fishing just about doubles this. Meanwhile, the logging industry provides about 200 jobs for Southeast Alaska and has cost American taxpayers about $30 million annually in government subsidies for the past 20 years.
But after his Air Force One meeting with Dunleavy (Trump affectionately calls the 6-foot-7 governor "the big guy"), the president directed Secretary of Agriculture Sonny Perdue to disregard the comments and begin work immediately on preparing the Tongass for a full exemption from the Roadless Rule. In a now-notorious video uploaded onto Twitter, Trump can be heard on speakerphone telling Republican Alaska senator Dan Sullivan how "that's moving along." Governor Dunleavy enters the frame wearing wraparound sunglasses and smiling sheepishly with his hands deep in his own pockets. A half-finished Alaskan Icy Bay IPA sits on the deck behind the men.
In October, it became official: The federal government published its Draft Environmental Impact Statement, which announced its preference for exempting the Tongass from the Roadless Rule. At the time of writing, the USDA was initiating its 60-day comment period, inviting Alaskans to once again speak out on the Tongass. (For all the good it did the first time.) The Secretary of Agriculture is expected to make a final decision in June 2020 and roadbuilding could begin in the summer.
"It's unbelievable. A throwback to the '80s and '90s," says Wanda "Kashudoha" Culp, a Tongass regional coordinator for the Women's Earth and Climate Action Network (WECAN). Culp grew up in Juneau but moved in 2009 to the largely Tlingit village of Hoonah, about 70 miles to the southwest of Juneau, on Chichagof Island. "It's history repeating itself in a way that harms Native villages and the forest we have depended on for millennia."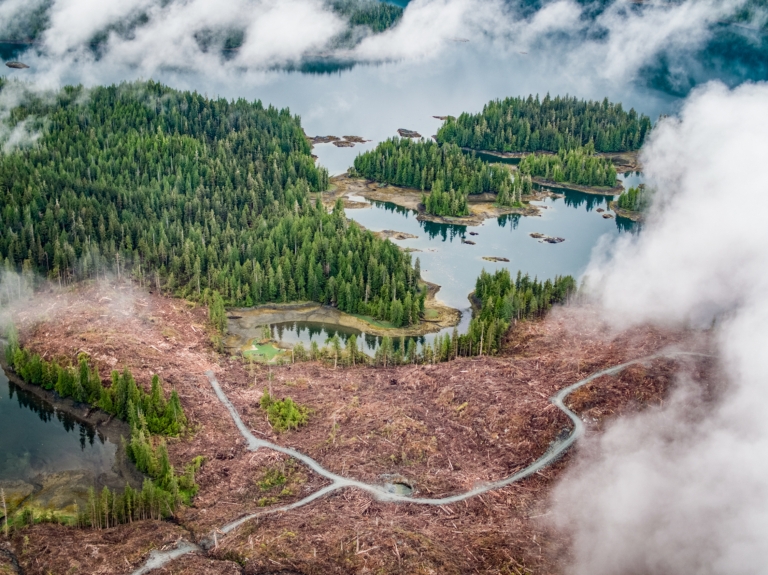 Roads connect a patchwork of clear-cuts above Culp's town. Each summer, Rebekah Sawers, Adrien Lee and Culp—all members of WECAN—use one of these roads to drive out to Freshwater Bay to help put on Culture Camp, a weeklong experience where children and teenagers learn to dig for clams and cockles, pick wild strawberries and smoke salmon. The camp is supported in part by the Sustainable Southeast Partnership (SSP), a network of organizations committed to the economy, ecology and culture of Southeast Alaska. "We're bringing kids out to do this work in a place that was cut once," Lee said. "The forest is just beginning to heal. And now we have this."
Brent Cole, who spent nine seasons on Alaska logging crews before starting Alaska Specialty Woods, a company that uses salvaged timber to make soundboards for guitar tops, depends on Sitka spruce for his business. "We have wood in the Southeast, good wood," Cole said. "It's the type of high grade you want for the mast of your sailboat, the wing spars for your airplane or your guitar soundboard. What we set out to do is add value locally. It just has to be used right."
Dawn Jackson, whose Tlingit name is Kaaxwaan, lives in the Tlingit village of Kake. She agrees with Cole that a certain amount of logging makes sense. "I mean, it's important to our community. We don't hate loggers. It's more about just not taking everything."
Jackson's son Shawaan, 22, studies at Canada's Western University and works with the Keex' Kwaan Community Forest Partnership, also part of SSP. The Keex' Kwaan partnership protects hundreds of active salmon watersheds and encourages small-scale logging. "It's all about responsible use of the resources," Shawaan said. "It's performing rotational forestry, thinning and habitat restoration. Just treating the land right."
People in favor of completely opening the Tongass, such as Alaska's former governor Frank Murkowski, argue that it's possible to treat the land right while also building roads that could provide access for renewable energy projects as well as timber and mining exploration. As Murkowski pointed out in his September opinion piece in the Anchorage Daily News, there are so few timber jobs in the region because of the Roadless Rule that lifting it would be a boom to the local economy.
Andrew Thoms, executive editor of the Sitka Conservation Society, disagrees.
"There's this idea floating around that building roads and logging has brought prosperity. In fact, it's done just the opposite. It's the boom-and-bust economy, money going out of state. Liquor stores, short-term profit. It's not sustainable."
As it happens, when she's not working summers with Culp at Culture Camp, Lee has a job at the liquor store in Hoonah. With the number of fishermen and tourists buying liquor, she can't see how logging would make anything better. "It makes no sense. The forest provides more resources by just being here than by logging it. The Roadless Rule is working for us. It's working for Alaska."
Last April, Sawers, Lee, Culp and Kari Ames, all members of WECAN, traveled to Washington, DC, to visit congressional offices and testify about the importance of keeping the Tongass roadless. They spoke about the forest in terms of a cultural legacy but also as the Lower 48's most substantial method of carbon sequestration—the forest is a robust set of lungs holding an estimated 8 percent of all the carbon stored in US national forests.
"It's just difficult for people to imagine a forest like that," Culp said. "So we did our best to bring it to them." The four Indigenous women played drums, dressed in ceremonial capes and told stories reflecting millennia of knowledge of the Tongass—compared to fewer than 300 years of colonial presence. "Our purpose was to let the official authorities know that our senator Lisa Murkowski was lying when she avowed to her colleagues that Alaskans want the Roadless Rule weakened."
After building my hut along Indian River, I finished college, then returned to Southeast Alaska to fish commercially. I joined Alaska Carpenters Local 1281 and worked reroofing schools and building forms for shopping malls. I met my wife in a Cuban salsa class in Sitka. My fishing captain married us, and my wife and I raised our daughter on the World War II tugboat where I had been living, built from old-growth Douglas fir and heated by two woodstoves I installed. At night, I'd sing "You Are My Sunshine" to Haley while Rachel fed the woodstoves with hemlock I bucked up, orange splits we called "night wood" because it burned so slow and hot.
We have a second daughter now, and Haley's old enough to have her own deer-skinning knife. Sometimes when I'm out walking the overgrown logging roads hunting for Sitka black-tailed deer, I run my hands over the veins of hemlock bark and the violet chips of Sitka spruce. I swear if you set a palm on the trunk, you can feel the salmon, luminescent in the sapwood, swimming inside those trees. Hunter, prey, life, death—the distinctions recede. For a moment, the fish, the trees, the deer and me standing there—we're all part of the same extended family.
When I explain to Haley the concept of salmon forests, she tips her head at me the way she does when she's giving something serious consideration. We're building bookshelves in our house from a Tongass yellow cedar that was struck by lightning and I flitched up with a chainsaw. She's hard at work with the orbital sander, running the pad over the surface.
Finally, creasing her brow, she tells me, "Dad, I think the trees do better standing up."
Update January 2023: In October 2020, the Trump administration removed Roadless Rule protections from the Tongass National Forest. Since then, the US Forest Service (USFS) under the Biden administration has taken steps toward restoring protections to the Tongass. During a public comment period required for reinstatement, over a quarter million comments were submitted, with 96 percent in favor of keeping the Roadless Rule. Though the Roadless Rule has yet to be officially reinstated, the USFS is expected to release their final decision in early 2023.
Add your name to help defend old-growth forests and stay involved in the fight ahead. Act Now