To Swim or Not to Swim with Dolphins
Enviro editor
/
Jun 21, 2010
/
2 Min Read
/
Activism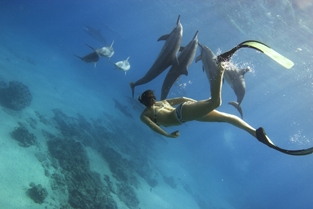 We've received some phone calls and emails from concerned readers regarding a photograph Patagonia published in our Summer catalog, page 50. The photo by Morgan Hoesterey (shown here) is of Sanja du Plessis freediving off Oahu. Near her, are several spinner dolphins. The people who wrote and called were worried that the photograph might encourage people to "swim with dolphins." Local Hawaiians wrote to us to tell us that the phenomena is offensive to their tradition and has disrupted dolphins in their native habitat. They told us that tour boats dump their customers near dolphin habitat so they can swim with the mammals. We asked the photographer to give us more information:
"We are out on the ocean under our own power. We swim from shore, and comparatively speaking have a very low impact on the environment. We don't go out in boats, jet skis, and are always aware of our environment. When I am in the ocean I am in the sea creatures' home not the other way around. We have full respect for our surroundings as visitors.

"The dolphins in the photo are avoiding something in their line of swimming. This would have been the case if we were rocks, mooring buoys, etc. Sanja Du Plessis and I are avid freedivers and we frequently dive a wreck that happens to be next to a spinner dolphin resting ground. More times than not, we are approached by the spinners, and not the other way around."
The National Oceanic and Atmospheric Administration, Office of Protected Resources has released guidelines for responsible dolphin viewing, for use especially in the Hawaiian Islands:
Remain at least 50 yards away from dolphins.
Limit your time observing an animal to 1/2 hour.
Do not encircle or trap dolphins between boats or the shore.
If approached by dolphins while boating, put the engine in neutral and allow them to pass.
Never attempt to swim with a dolphin. Leave the water if approached by an animal while swimming.
For more information go to:
http://www.nmfs.noaa.gov/pr/laws/mmpa/
Thank you to everyone who wrote and called. We certainly know much more than we ever did about dolphins, swimming with them and human encounters. We appreciate the education.