Transplanting Traditions
Jonnah Perkins
/
Dec 18, 2020
/
8 Min Read
/
Workwear
On a small farm outside Minneapolis, Minnesota, a farmer takes a regenerative approach to keeping his community fed.
"I have a memory of my mom touching the ground. She told me, 'This is alive, you can touch it, you can see it, you can smell it, you can feel it is alive.' I always remember her when I touch my hands to the soil." Rodrigo Cala has had his hands in the dirt since he was a child, growing up in a small-scale agricultural community near Mexico City. He learned from a young age that the viability of his mother's produce was dependent on the soil. "The way she treated the soil was a very important lesson for me," he says.
After coming to the United States as an adult, Cala worked jobs in food service and manufacturing, ultimately settling in the Minneapolis area to be closer to the wide-open spaces that reminded him of home. "I worked in a horseshoe factory for 10 years," he says. "Every day was the same day. I made horseshoes all day, every day." Though he was able to make a living to support his family, he was missing the palpable connection to land and food that he had grown up with in Mexico. Unable to find quality produce in grocery stores, he and his brother put in a garden to grow their own food. "That's when I began to see the opportunity to start our own farm," he says. "On small farms in Mexico, we just grow in the way our ancestors grew. It's something that is taught to us through our family."
In 2005, Cala walked into a bank and asked for a loan to start his farm. With no equity, zero credit and no generational wealth, he was told to open a credit card to start building his credit score. His first three purchases were a computer, a rototiller and a greenhouse—and he promptly paid off the balance. "I wanted to show that immigrants are not just hard workers, we have skills," he says. "We are smart enough to run businesses, to run farms, to run other enterprises."
In a sea of commodity field corn and soybeans in northwest Wisconsin, Cala felt inspired to bring the wisdom of his mother's approach to his own farm. "Conventional [not organic] farms don't value soil, don't value pollinators, don't value water," he says. "Sometimes I talked to my mom about weeds, insects and bees. She said, 'Everything in this field has something to do.' As soon as we focus more on the soil and bugs, we can find a way to utilize everything the field gives to us." From this approach—growing food that is responsive to the biology of his microclimate and that will produce long-term growth—Cala Farm was born.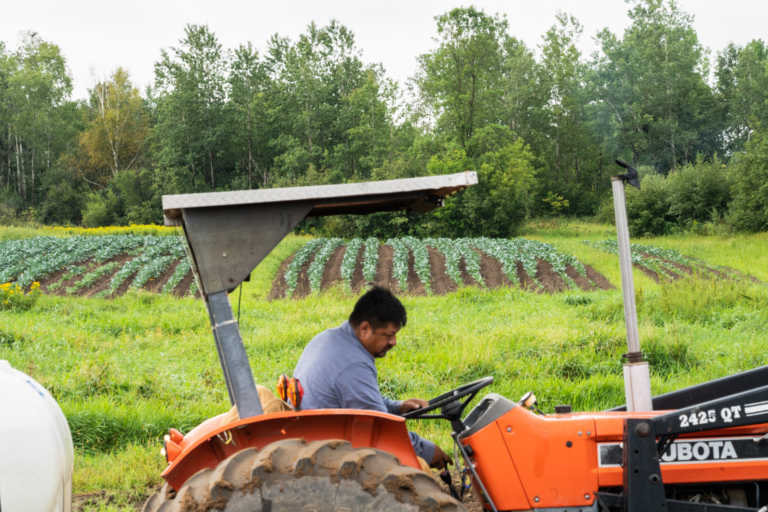 The agriculture landscape of the Midwest incentivizes locking land into monocultures through a complex web of government subsidies, futures market speculators and vertically integrated seed and biocide input companies. Farms that operate outside the industrial machine, that produce food ready for human consumption, are working against a constant headwind to be valued in our current agricultural paradigm.
Through the community supported agriculture model (CSA)—a direct relationship of harvest deliveries between the farmer and the consumer—Cala saw a path forward that didn't involve a middleman. "When I started growing produce here, I grew 30 different kinds of vegetables," he says. "Every year I focused on my recordkeeping. Through my input costs and harvest records I could see that we were most profitable with just a few vegetables on this land." That is when Cala decided to join forces with other organic vegetable farmers that serve the Minneapolis market to found Shared Ground Farmers' Cooperative. With two "Anglo" farms and four Latino farms, including Cala's, the co-op created a collaborative business that allowed each farmer to grow crops that are most productive on their farms, then come together in a robust CSA delivery program for the Minneapolis community. Cala Farm now specializes in broccoli, tomato, pepper, garlic, onion and corn production.
In a field along the farm property line is a stand of corn that towers more than 12 feet. "I started growing corn for my kids and my brother," Cala says. "When people heard that we had this indigenous corn, they asked me to bring some for their tortillas and tamales. It's because it's our traditional food. If you try to find this kind of corn on the market, it's not there." He opens his fist and shows a handful of dried corn kernels that he had poured out of a jar like rare gemstones. Cala speaks in a reverent tone when he talks about his corn. "What I remember from my mom is seeds," he says. "One of my first lessons from her was 'This is your origin. If someone else has these seeds, they have control. If you have these seeds, you have everything.' When she told me that I was very young. When I started growing food, I saw the reality of the seed industry and how they want to control all seeds. I got this corn seed from Mexico and I save it every year. I can share this seed with others, but I wouldn't sell them. This is very important to teach the next generation."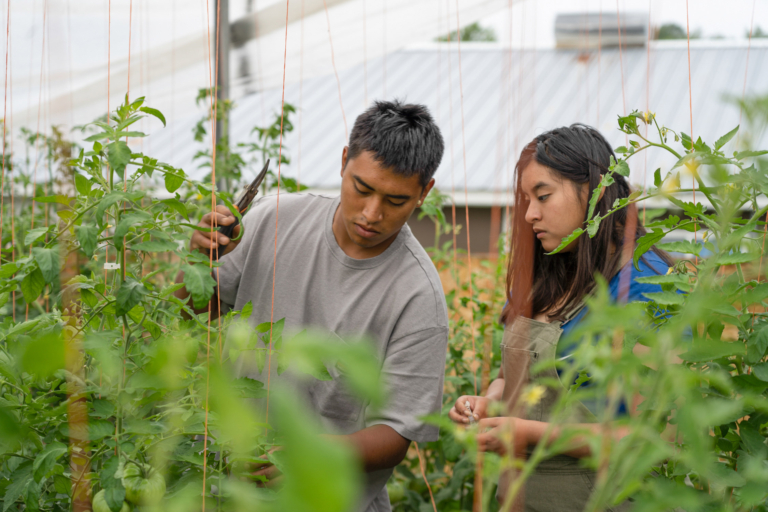 As with so many farmers working to bring land back from commodity extraction, Cala was tasked with not only building a profitable business, but simultaneously managing depleted soil. His approach has been utilizing holistic grazing methods he grew up with in Mexico. He added sheep to his field rotations two years ago. "How I see my farm as a system, the sheep fit into the cycle of the farm," he says. "I use the sheep to deal with weeds while improving the soil. When I started seeing the benefit of the sheep, I saw how nicely they clean the fields and build fertility in the soil." Not only do his sheep manage weeds and reestablish biodiversity, they also provide another revenue stream for his business through meat and wool. What the commodity agriculture model took from the rural landscape, Cala is building back, one enterprise at a time.
In 2011, Cala began mentoring and supporting other immigrant and minority farmers through the Latino Economic Development Center, an organization that provides business resources, legal support and education opportunities for underserved groups. He now works in rural communities six months of the year on issues around building agricultural independence as well as economic justice for farmers working under the centralized food system. "I work with farmers in Florida and Texas on these huge conventional farms where every crop is harvested by hand," he says. "It has taken a pandemic for these farmers to get the recognition they deserve. But we need to keep pushing for farmers to be paid fair wages and benefits for their work. I just don't see that happening right now."
Through his work within the Latino Economic Development Center, Cala has created opportunities to push through to the top of the decision-making strata. "I was talking with Senator Tina Smith [D-Minnesota] about the needs of small farms," he says. "I told her we need more diversity and more inclusion." Cala's work within not only the Latino population but also the Hmong and Black communities has shown him that there is a general distrust of leadership because of historic disenfranchisement. "I work in different communities," he says. "There needs to be a lot more diversity in leadership because there isn't a lot of trust when most of the decision-makers are white guys. That's what I'm here for, to help underserved communities have a voice. The Hispanic community is the backbone of our agriculture system yet has very little autonomy."
Of the up to 2 million farmworkers in the country, it's estimated that at least half of those workers are undocumented immigrants. Latino workers are often underpaid, underrecognized and are subject to poor working conditions. "It's about power," Cala says. "It's not because I want to say that I'm better than someone else, but I want to make my own choices. I share this with other immigrant communities, people from Africa, Asia and Latin America, and I tell them 'We have the skills, and we are valuable in this economy.' And for the people who don't want to support immigrant farmers, I say 'Just stop eating.'"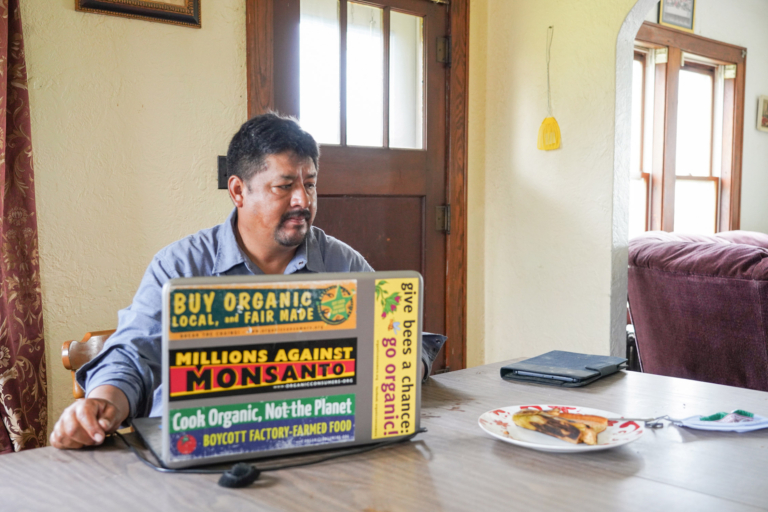 The Latino Economic Development Center offers legal support for immigrant and underserved groups who have been mistreated and targeted by predatory lenders. Getting a bank loan, buying farm equipment and speaking up against abusive work environments are risks that many farmers from marginalized populations are not willing to take on their own. Cala's message is that through strength in numbers and by utilizing support networks, marginalized communities no longer need to suffer silently. "I see the power of the Black community with what happened to George Floyd here in Minneapolis," he says. "I don't see that power in the Latino community because we're afraid. The only person who is going to change our future is us. When I talk to Latino farmworkers about how they are being treated unfairly, I say 'Speak, don't be afraid. Talk to us and we will help you.'"
On an overcast summer morning, Cala pulls a transplantor behind his tractor. His two grown children plant neat rows of broccoli. "Farming is really hard work," he says. "You're in the heat, in the rain, in the mud, in the cold. But when I see the benefits of this food for my kids and for my community, it's all worth it." This succession, or staggered planting of a crop, will be ready for harvest in two months. At the end of the row, Cala turns the tractor around then gets off and gestures for his daughter to climb into the driver's seat. He explains why he has his children do the work he could do faster himself: "When you see the average age of farmers [is] in [the] 50s, who's going to be the next generation of farmers in this country? We need more farmers with regenerative ideology and more diversity to bring in traditional farming methods. The market is so big, we just need more people owning their own farms. I want my kids to have these skills if this is what they want to do. What I am doing is making leaders."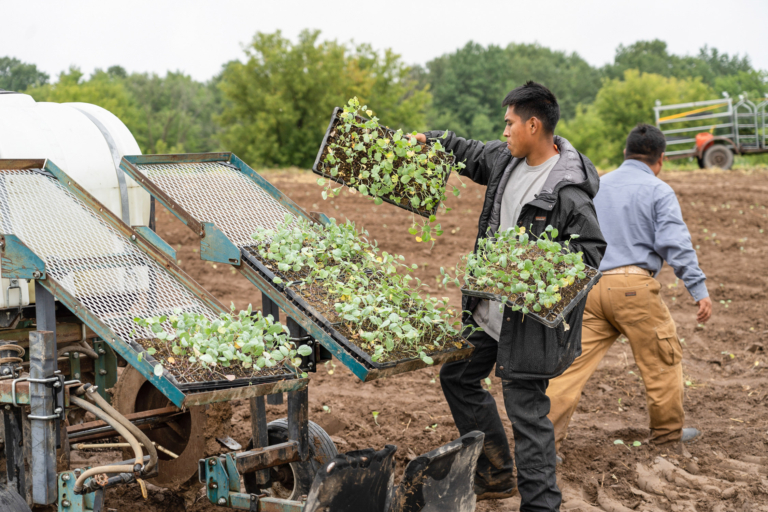 On a whiteboard in the mudroom of the farmhouse, Cala makes notes about tasks for the week. Multiple lists in a combination of English and Spanish lay out chores, errands, supplies needed and long-term plans that have not yet come to fruition. The stream-of-consciousness notes of an entrepreneur who believes that we can bring justice to humans, repair our health and save our planet are sketched out in dry-erase markers. "Something that my mom told me," he recalls, "Is that we are hard workers, but we are more than hard workers; we can own our farms. I always remember that. I can talk poetically about the way we love farming but at the end of the day, we need to make a living. I'm very honest with people, this is not an easy task. You need to be very smart. You need to work smart first, then hard."