Trying to Be Responsible – Patagonia Environmental & Social Initiatives 2014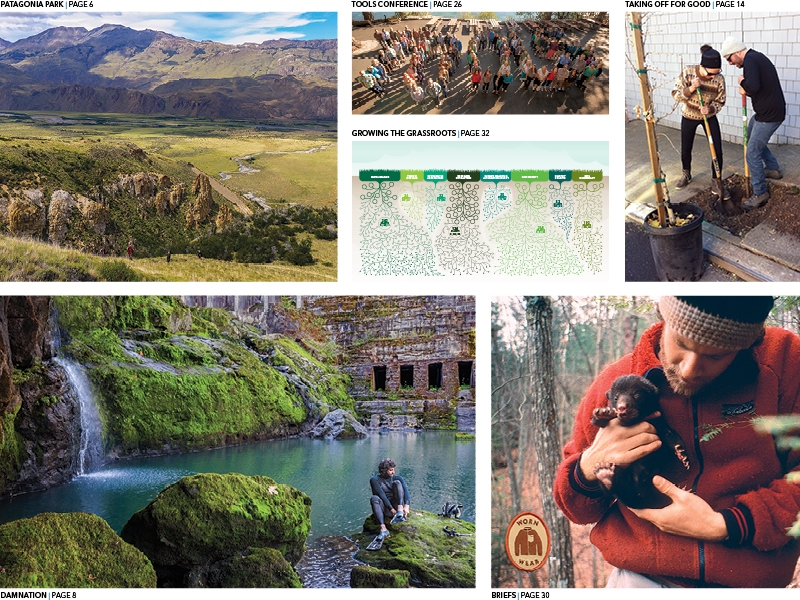 We just finished our 2014 Environmental & Social Initiatives booklet and would love to share it with you. In it you'll find a pretty comprehensive accounting of everything Patagonia did this year to conduct ourselves in an environmentally and socially conscious manner. The booklet includes stories about our efforts as a business and as individuals, and a list of all the environmental groups (770 of them working in 16 countries) we helped to support.
IT ALL ADDS UP
QUANTIFYING SOME OF OUR ENVIRONMENTAL & SOCIAL WORK
61 MILLION: Dollars and in-kind services we've donated since tithing program began in 1985
6.6 MILLION: Dollars we donated this fiscal year to fund environmental work
10: Fair Trade Certified™ styles now in the Patagonia line
15 MILLION: Acres of degraded grassland we hope to restore in the Patagonia region of South America, by buying and supporting the purchase of sustainably grazed merino wool
$98,185.11: Amount given to nonprofits this year through our Employee Charity Match program
1,711: Hours this year employees at our Ventura and Reno campuses worked through company's volunteer program
100: Percentage of Traceable Down (traceable to birds that were never live-plucked, never force-fed) we now use in our down products
7,162: Volunteer hours worked this year through the internship program
136: Number of employees who volunteered this year through our environmental internship program
20 MILLION & CHANGE: Dollars we've allocated to invest in environmentally and socially responsible companies
74: Number of activists and employees who received skills training this year at Patagonia's bi-annual Tools for Grassroots Activists conference
770: Number of environmental groups that received a grant this year
100: Percentage of Patagonia products we take back for recycling
726,404: Single-driver car trip miles avoided this year through our Drive-Less program
100 MILLION: Dollars 1% for the Planet® has donated to nonprofit environmental groups since it was founded in 2002 by Patagonia founder Yvon Chouinard and Craig Mathews
1996: Year we switched to the exclusive use of organically grown cotton

2014 Environmental & Social Initiatives booklet on Issuu. Download the PDF.