Twenty Four – and so much more . . . [Updated with video]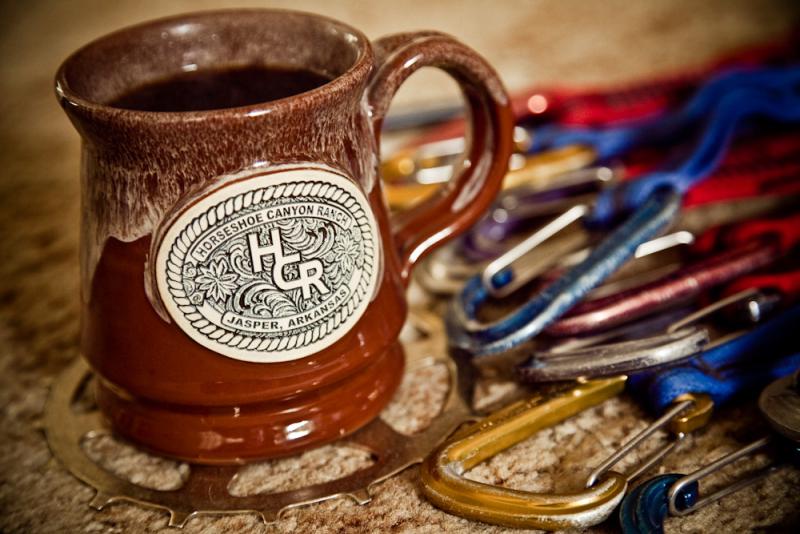 Today's post comes from Patagonia's Athlete Liaison and Grassroots Event Coordinator, Kristo Torgerson. Kristo's the brains and sweat behind Patagonia's involvement in what has become one of the rock climbing community's coolest events, the 24 Hours of Horseshoe Hell. We announced this year's event back in July. For a complete recount of last year's event from the eyes of competitor and Patagonia Rock Climbing Ambassador Sonnie Trotter, click here.
This year, Kristo joined story-telling forces with Patagonia Climbing Ambassadors Kate Rutherford, Brittany Griffith, Mikey Shafer, and Colin Haley in a mad-lib-style trip report tour-de-force. Enjoy . . .
________________
"24 Hours of Horseshoe Hell." To mention it by name elicits one of two responses, depending on your familiarity with this one-of-a-kind climbing event – head scratching and furrowed brows or big grins and stuttering excitement. If you didn't make it to the event a couple weeks ago, then you're likely still scratching your head, so let me ask you this: You're a climber, yea? You've done some hard pitches in your time and spent some long days out, right? Good for you. Seriously though, how many hard pitches …

[Drink up and rack up, it's go time at 24 Hours of Horseshoe Hell. All photos: Lucas Marshall Photography, captions courtesy Kristo Torgersen.] 
… could you climb in 24 hours? Single pitch, sport and trad, how many?  …because until you try it, you'll just be wrestling your ego over it …  50? 100? 150!? At 24 Hours of Horseshoe Hell you can test your mettle and find out. And if you just wanna have a good ol' time with some good ol' boys and gals, then we invite YOU out as well.The 4th Annual 24 Hours of Horseshoe Hell endurance climbing event was held at the Horseshoe Canyon Ranch in Jasper, AR September 25-27th. As title sponsor, Patagonia brought a crew of hardmen and hardwomen down to the ranch once again to laugh, play, party, and climb. Brittany Griffith and Kate Rutherford teamed up to show the locals some sass, and the self-proclaimed "alpinistos gordos," Colin Haley and Mikey Schaefer, used the event to jumpstart their training for this winter's Patagonia season. Our experiences at the ranch were rich and varied, and so I've gathered them here in a fill-in-the-blank Trip Report with a little help from our team that was there.
24 and So Much More


We arrived at the Horseshoe Canyon Ranch the Tuesday before the event feeling carsick (Brittany). We were greeted by Andy Chasteen, sporting an exquisite mullet (Colin), and his posse of little men(Mikey). We trusted them as tour guides on this trip because as seasoned veterans, only they could show us the wily ways of the ranch (Kate).

For the first couple days we settled into our surrounds. We had many great meals, including hushpuppies and texas toast (Mikey) and saw such sights as "help yourself" junk sales (Mikey). In the evenings we'd settle in with the locals and try our hand at "speleo-box" time trials, night zip-line rides, and cattle-guard electro-shock therapy (Colin). I was really surprised to see Colin (Brittany) and find out that he didn't know what Texas Toast was (Brittany). To prepare for the event we sussed out some routes (Kate) and made certain we stashed water, talked trash, and prepared food (Kate) so that we would have a better chance of winning. Ultimately, we'd all have to rely on our partners' skill (Mikey) to get us through the event.

I woke the morning of the event to stuff food down my throat, make a last-minute "pre-send dump," and mingle with hundreds of excited rock junkies (Colin). All was put to rest when the starting shotgun fired and we were underway. During the first couple hours we felt super stoked (Brittany), and as the day went on we got rashes from our dime-store costume wings (Brittany). One of the high points during the 24 hours was when the gray of dawn allowed us to turn off our head lamps (Kate). One of the low points would be when we fell (Mikey). We climbed through all of it though, only ever breaking to snack, hydrate, and re-energize with Swedish pop music (Colin) because we are basically useless without a dose of Ace of Base (Colin).

230 people climbing through the night, laughing, and suffering together (Kate). I would totally do it again next year, so long as Colin promises to climb twice as many routes so I only have to climb half as many (mikey) and Kristo carries more PBR (Brittany).

We want to thank Lucas Marshall, aka Big Daddy Paparazzi Onsight (Colin) for donating his top shelf images here, and also Andy Chasteen for being the hostest with the mostest (Kate). We also want to give a big shout out to Wig, Bronco, Maury, Caz, Jamie, Caryn, Jeremy, Tommy, and all the other kind friends we met and made there. Without you, we wouldn't have gotten out of bed (Brittany).
[Photos, this page: Top, Friday night's festivities included 2 live bands, speleo box races and a slackline comp in the barn.Middle, What was that one called? Mikey and Colin confirming their scorecard after 24 hours of madness. Bottom, The angels and their wings – Costumes aren't mandatory, but highly encouraged. All photos: Lucas Marshall Photography, captions courtesy Kristo Torgersen.]
Scroll down for more event photos from Big Daddy Paparaz . . . errr, event photographer nonpareil, Lucas Marshall.]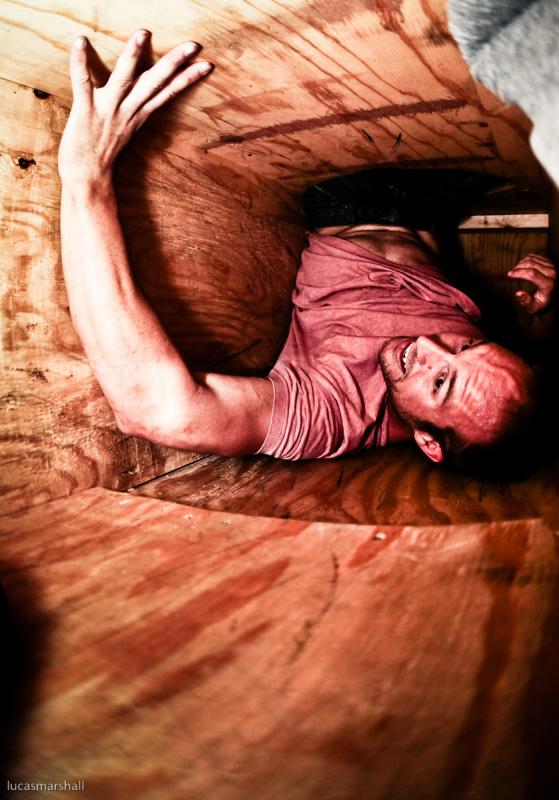 Maury takes a lap in the Speleo Box, a too-tight caving simulator.

[Video: Kristo Torgersen, Brittany Griffith. Edit: Justin Rowe, 10 Toes Over]