Two in the Tsaranoro Valley: A report from the rock walls of Madagascar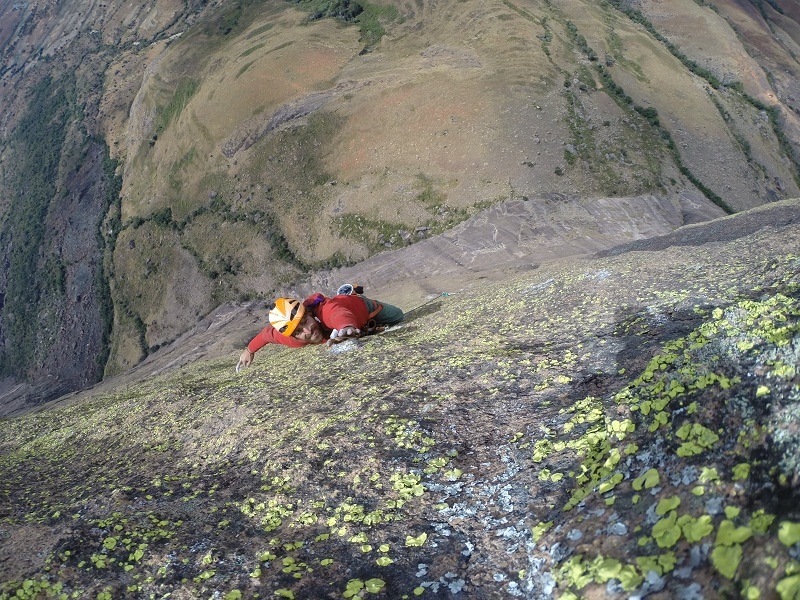 Fire in the Belly
What were we thinking? Was it arrogant of us to go straight up this blank-looking headwall? The chances that this line would go free were pretty slim. Was it the aesthetics of the blankness and steepness that had attracted us? Why didn't we choose to follow more obvious features that were more likely to go?
After having climbed some of the classics in Madagascar's Tsaranoro Valley with Argyro Papathanasiou from Greece in July, I was joined in August by Siebe Vanhee from Belgium, who immediately spotted a major unclimbed line on Tsaranoro Atsimo, to the right of Mora Mora (a line freed by Adam Ondra in 2010 at 8c).
We took turns fighting our way upwards, putting together the puzzle of micro-crimpers and sharp crystals. We fought hard, taking fall after fall and returning into the unknown like obsessed and enraged maniacs. We had to find an edge good enough to place a sketchy skyhook so we could pull up the drill to place a bolt. But we were forced to run it out because the edges were so bad and the climbing so difficult. Each meter we managed to decipher was an enormous victory. But it seemed to me we were just forcing ourselves deeper into a cul-de-sac.
After six days on the wall, lots of aches, hesitations and doubts, we somehow groveled our way to the summit of Tsaranoro Atsimo. We stood there in euphoria, with smiles and a satisfaction that was impossible to wipe off of our faces. We had just opened a major king line! But it had taken so much effort, and the climbing had been so difficult, it seemed there was no hope for us ever to link it together into a free climb.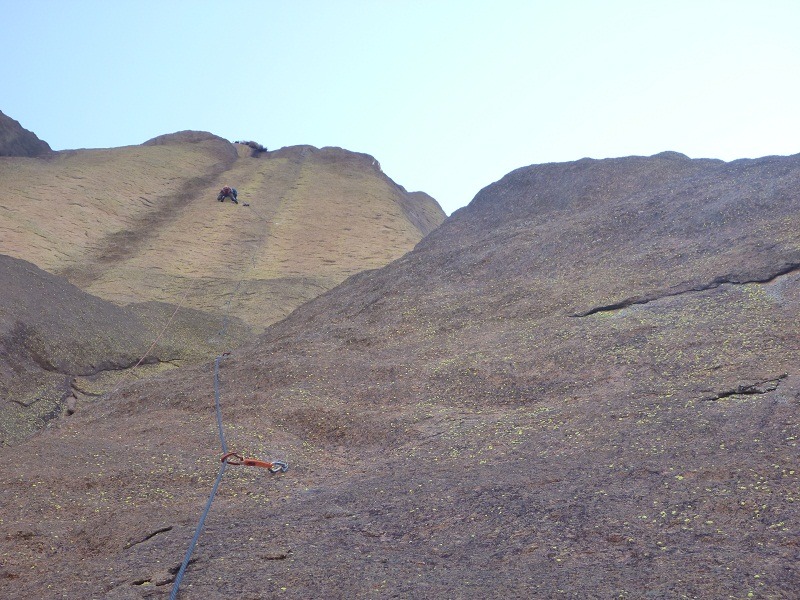 The improbable blank headwall of what was to become Fire In the Belly. Sean climbing into the unknown. Photo: Siebe Vanhee

Sean pulling on razor blade edges on Fire In The Belly. Photo: Siebe Vanhee
We thought about trying to find an easier variation, but hesitated at the thought of leaving the impossible headwall for future generations. We couldn't give up without trying, even if it was going to be a fight without hope. We spent two days lazing around on the ground, then roped up again. The free-climbing challenge is to link each belay station without falling, using the bolts we had placed only for protection. The realistic objective was to climb free as much as we could, just for the pleasure of the fight.
To our great surprise, the evening of the first night, we arrived at the big ledge under the improbable headwall, pitch 11, having free-climbed all the pitches below!
With enough food and water for four more days, we had a good margin to work out the moves and give it a proper attempt. We were fresher than before and, without the weight of the hammer and the worry of the drill, we hoped it would feel easier. But the climbing was so demanding, so technical, and the holds so sharp, we couldn't possibly try it in the sun. So we waited for the shade at 2pm before stepping into the ring. With darkness falling at 6pm (it's winter there in August), we had limited time.
The second day we each managed to give it one try. Siebe did most of the moves, but I couldn't reach the anchor even when pulling on the bolts; there were moves I just could not do. At least there was hope Siebe would redpoint the pitch, and I had to support him any way I could.
The third day we woke up at 5am. Again I tried desperately to work out the moves before the sun hit the wall, but I was incapable of getting to the top.
As the sun hit, we hunkered down for the long wait. I lay in my portal edge, visualizing the moves in my mind, trying to convince myself that I could do them. I thought about Tommy and Kevin, who had put in 6-7 years of effort, focus and determination to do the impossible Dawn Wall. Our challenge seemed so ridiculously small in comparison.
Shade arrived when the sun went around the corner. Siebe was up first. He put up a mighty effort, fighting like a lion, barely sticking the hard moves. On the last crux, surprised that he had gotten that far and afraid of not succeeding, he hesitated, then fell. "So close!" he shouted in frustration.
At least now we knew it was possible.
I started climbing. I had no suppositions, no expectations, no ambitions, just hunger: hunger for enjoyment, hunger to give myself to the fullest, hunger to fight hard. When my fingers touched the sharp crystals I felt no pain, I just felt the desire to pull on them. I flowed upwards, the moves felt easy. Arriving at the last crux I had no idea which method I would use, as I had never even gotten close to doing this move. I didn't care if I fell. I just wanted to give it my best. I was willing to fight, regardless of the outcome.
Then suddenly I found myself clipping the anchor. It had been like a dream. I couldn't even remember doing the moves. It felt so easy. I shook my head in disbelief.
"Where did that come from?" Siebe asked me.
"I have no idea."
"As soon as you left the belay station, I knew you would do it. There was so much conviction in your movement," he said.
On his second attempt, I could see Siebe was tired. His muscles were trembling and he managed the moves with even less skin on his teeth. But there was more conviction, and less fear of failing. "Don't let go!" I shouted. He didn't.
We couldn't believe it. We had succeeded at the impossible. A few days earlier we thought it wasn't even worth trying. But now we couldn't have dreamed of a better outcome. We had both free-climbed the pitch. We high-five and bear-hugged on the summit: an unforgettable experience.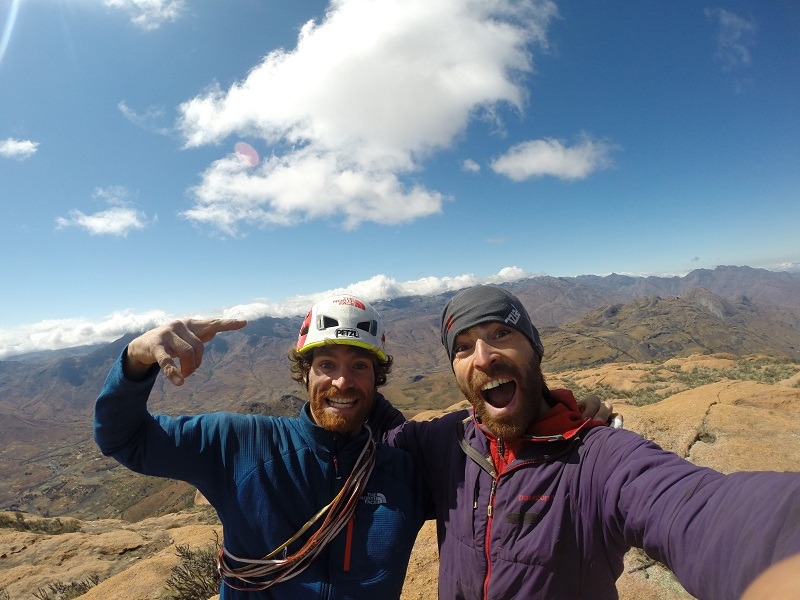 Sean and Siebe Vanhee on the summit of Tsaranoro Atsimo after the first ascent of Fire In the Belly (8a+, 5.13c), 700m, 12 pitches, Tsaranoro Atsimo, Madagascar. Photo: Sean Villanueva
Imahagaga
It's not surprising that Madagascar's Tsaranoro Valley is a popular destination for big-wall climbing. The huge black and fluorescent green walls that shoot straight up into the sky from the grassy plains would ignite any climber's imagination. Over the last 10-20 years, most of the obvious lines have been climbed. So Siebe and I felt extremely privileged to have found a major unclimbed plumb line for the picking. It's an exceptional experience to be the first to venture into the unknown.
While traveling towards Tsaranoro Valley, you can see many other big rock faces scattered on the landscape, but none are as impressive as those in Tsaranoro. It does make one wonder though, if there are other major walls to be found on Madagascar.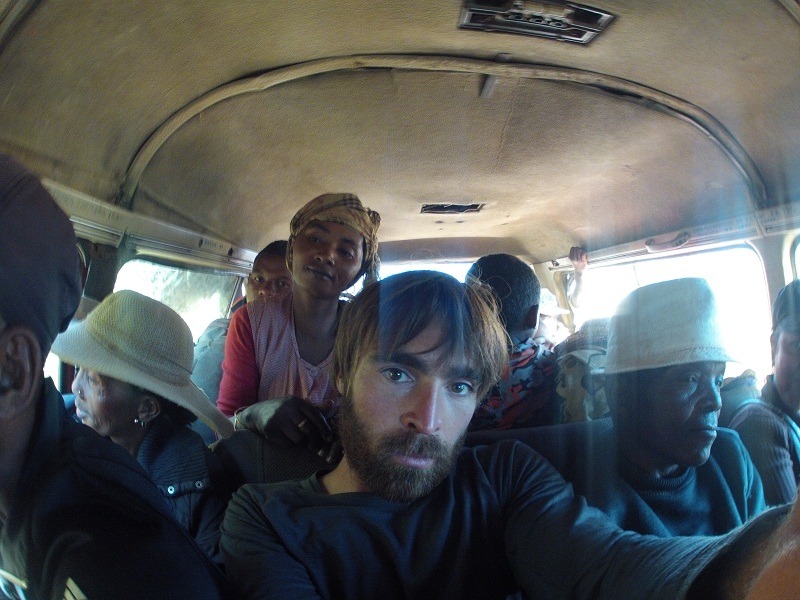 Traveling in Madagascar, stuffed like sardines in the taxibrousse (jungle taxi). Room for one more? Sure! Photo: Sean Villanueva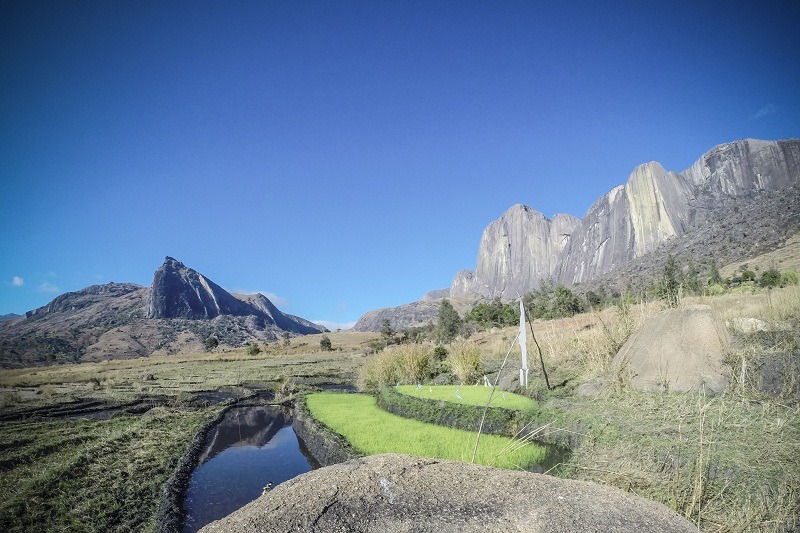 Tsaranoro Valley with its famous big walls. Photo: Siebe Vanhee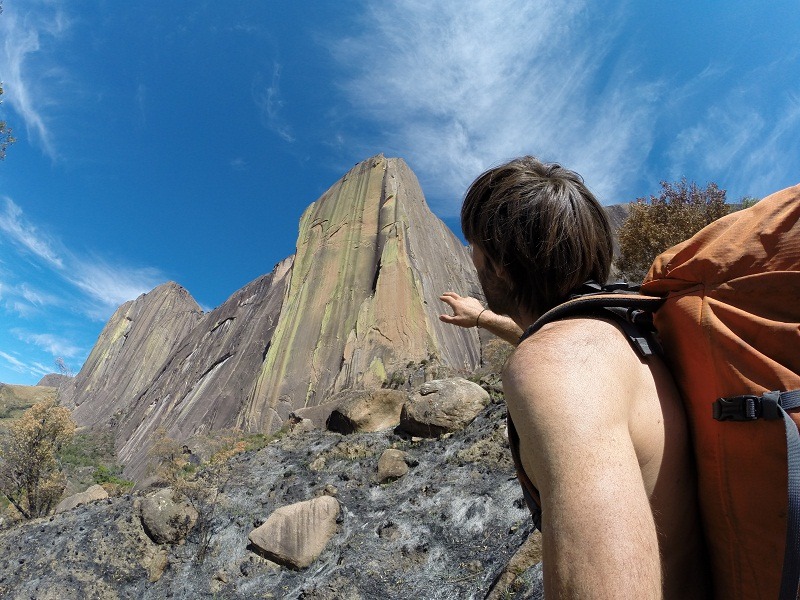 Sean pointing out Karambony Tower, home to infamous route Tough Enough. The fluorescent green color of the wall is from lichen. Photo: Siebe Vanhee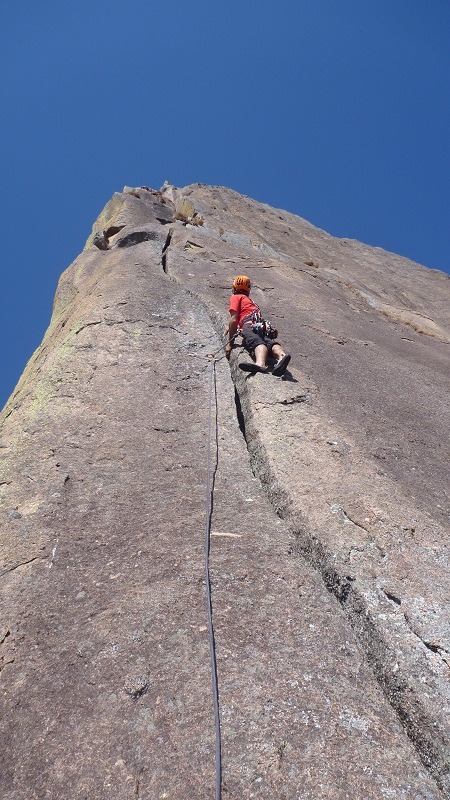 Sean climbing one of the few crack lines in Tsaranoro Valley: Rain Boto, a route opened by Bernd Arnold and the late Kurt Albert. Photo: Argyro Papathanasiou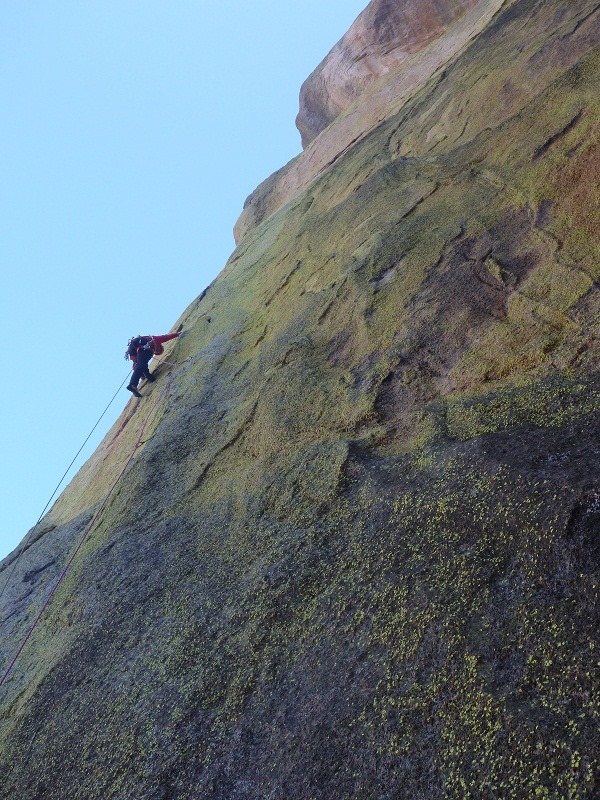 Sean climbing the excellent route Vazaha M'Tapitapy (Crazy White Men).  Photo: Argyro Papathanasiou

 One day while hanging out on the valley floor, I had the pleasure to meet Hery, a local paragliding and climbing instructor and trekking guide. Hery was born in the next valley over from Tsaranoro and had learned to rock climb and paraglide from traveling French guides. He made his living by offering tourists tandem flights, putting up top ropes on some of the bigger boulders and guiding in Andringitra National Park. With lots of excitement, Hery raved to me about a virgin big wall a few hours away near the village of Ambohimahamasy. He said it was a wall as majestic as Karambony, the impressive clear-cut, fluorescent green wall home to the famous Tough Enough, one of the harder multi-pitch climbs in the world.
I was skeptical, but hope and thirst for adventure prevailed. With Siebe on his way back to Belgium, I proposed that Hery team up with me to explore this new face.
The wall was not as impressive or as big as Karambony, few faces are, but it was a nice looking piece of rock. Ambohimahamasy is a little idyllic village on the edge of the jungle, and Angavoa Wall (Malagasy for "bat") rises proudly above. The village does not receive a lot of tourists, and the locals were very open and happy to see a vaza (white man) visiting. They were also surprised to see people attempting to climb this impossible wall. Every day a crowd would gather at the base to admire the spectacle.
I had a sneaking suspicion that climbing a new route with Hery was going to be an experience.
"Do you know how to belay?" I asked, just to reassure myself.
"Yes, I have three Grigris (a type of belay device)!" he said excitedly.
Not an answer that bolstered my confidence, but his enthusiasm certainly was admirable.
"I've climbed up to 8a (5.13.b)," he said. "8b and 8c are very hard. You can climb one 8c (5.14b) in a day. But if you climb two or three, then you are very tired."
I wasn't going to contradict him.
"But I haven't climbed for a long time now, so I've lost a lot of power!" he added.
Hery knew all the legendary climbers who had visited Tsaranoro and had climbed with many of them: Lynn Hill, Kurt Albert, Catherine Desnivelle, Arnaud Petit, Stéphanie Bodet, Adam Ondra. He had anecdotes about every one of them.
After a few hours of waiting at the first anchor, I realized I was going to have to refresh Hery's memory on how to use a jumar.
"That must be at least a 9a!" he said.
"Eh, no it's not a 9a."
"Are you sure it's not a 9a?"
"Yes, I'm pretty sure."
Even though he had "lost a lot of power," I was impressed to see Hery's strength and it was nice to climb with someone so enthusiastic, no matter the conditions.
It was a rather adventurous climb, with loose rock, cracks filled with bat guano and lots of lichen and moss. But at every anchor Hery would join me with a big smile, shouting out: "It's superb! It's magnificent!" Good spirit is probably the most important characteristic to have in a climbing partner.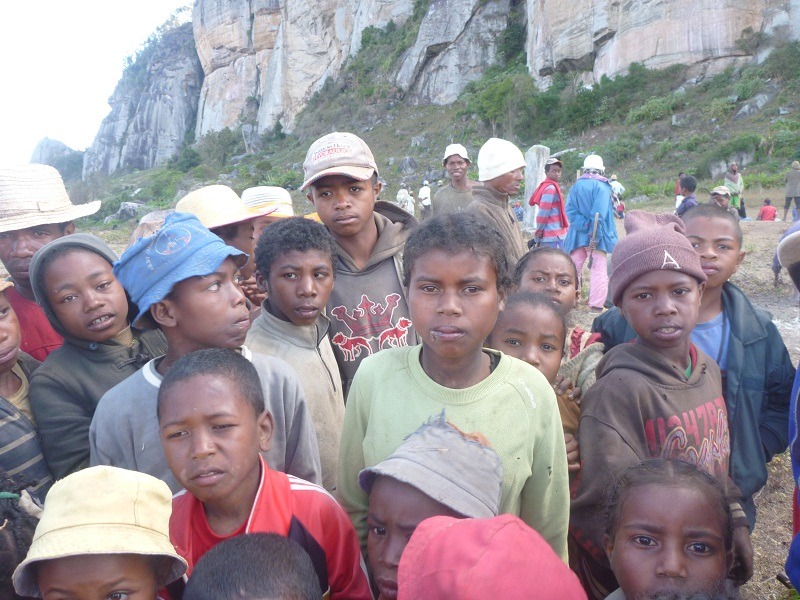 The kids of Ambohimahamasy village. The first ascent of Angavoa Wall always attracted a crowd at the base who came to admire the spectacle. Photo: Sean Villanueva
It took four days to complete the first ascent of Angavoa Wall, and every day Hery would have his three Grigris hanging on the gear loops of his harness. Every day I would tell him it was unnecessary weight, especially since we were climbing with double ropes (Grigris don't work with double ropes).
"Okay!" he would answer, and he seemed to understand. But every time he joined me at the anchor he would be carrying his three Grigris. Maybe he was taking the other meaning for gris-gris (a voodoo amulet believed to protect the wearer from evil and bring him luck) a little too literally?
On day five we went back on the route to try to free-climb the whole line in one go. To improve our chance of success, I wanted Hery to leave behind any extra gear that would weigh him down. So I took the three Grigris off his harness, put them in the bag that was staying on the ground and said, "You will not need these today."
Hery assured me he understood. But when he showed up after a long wait at the first anchor, what was on his harness? THREE GRIGRIS!
Shaking my head in disbelief, I thought to myself, "That's awesome!"
The first route up Angavoa Wall is called Mahagaga (Malagasy for "awesome"). It's 250 meters high, five pitches, with difficulties up to 7c+ (5.13a). Special thanks to the kind people of Ambohimahamasy, for their hospitality and great energy!
For more, check out some of our previous posts featuring Sean: Of Rats and Men, Jungle Jamming, Greenland Vertical Sailing and Baffin Island.