Update on the Patagonia Sustainable Trails Project in Los Glaciares National Park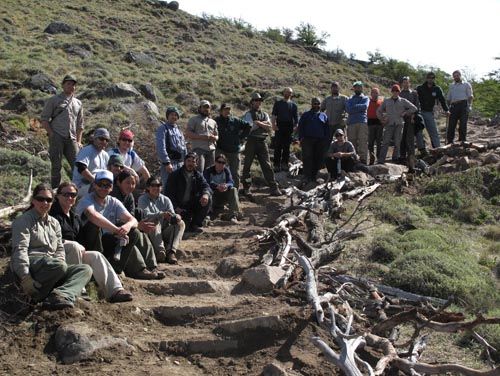 The second year of the American Alpine Club's Los Glaciares National Park Trail Restoration project, sponsored by Patagonia Inc., wrapped up successfully in early December. Over six weeks in the Patagonian spring, the ten-man Argentinean-American team, led by project coordinator Rolando Garibotti, with help from many volunteers, continued work begun in 2008 to restore heavily eroded trails in Los Glaciares, which is home to Cerro Fitz Roy and Cerro Torre.
First, however, the team, composed of several American trail experts, led a nine-day field-work seminar in late October with 17 park rangers from various national parks across Argentinean Patagonia. Over the course of 76+ hours in the field, the rangers learned techniques for mitigating and stopping erosion, including steps, drainage, and causeways. Despite some initial difficulties due to the language barrier, the course was a major success, and similar efforts likely will be made in the future.
[Students, instructors and finished work at the end of the trail restoration course. All photos courtesy of Rolando Garibotti]
Once the trail course ended, work resumed on the heavily damaged Laguna de los Tres trail, the approach trail to access Cerro Fitz Roy. Because of poor weather, work was also done on the lower-elevation trails leading to Rio Blanco camp and up the Cerro Torre valley. About 2,000 man hours of trail work were completed. During the first work cycle in late 2008 (see video below), about 2,600 man hours of trail work were completed.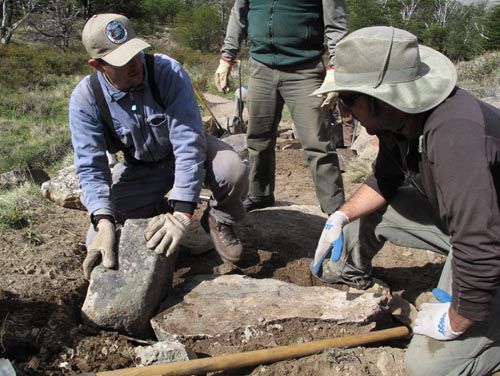 [Nick Gillespie and Enrique Hernandez during a nine-day trail restoration course.]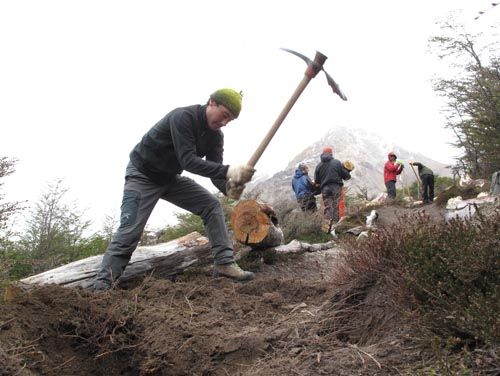 [Marcos Mendoza working in the Laguna de los Tres Trail.]
In his report on the 2009 work, Garibotti said the project is having a much broader impact than new water bars and steps. "Our work, including the trail course, is inspiring some land managers to follow a much more deliberate approach toward trail building and maintenance," he wrote. "One clear example of the above is that since January 2010 the northern area of Los Glaciares National Park has its own trail crew. As an initial experiment, the park decided to commit five salaries for four months to the trails. It is the first time in the Patagonian parks that several people are specifically assigned to trail work."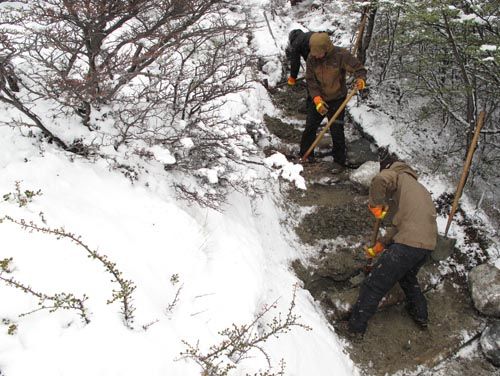 [Cullen Kirk, Nick Gillespie and Juanjo Landucci working near the Rio Blanco camp.]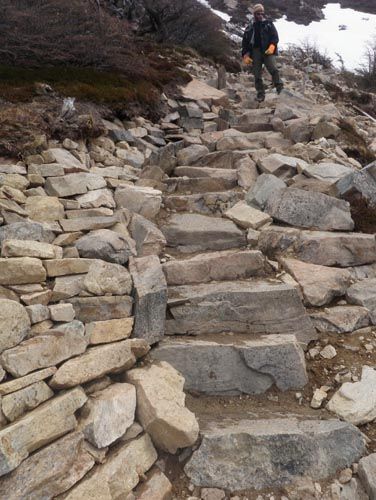 [Sample of finished work.]
The project will continue until 2011. There is much more to this innovative international effort than can be described in a short article, and you can read Garibotti's full report here. The video below offers a great summary of the first year of the project in 2008.
[Video: "Rolando Garibotti Patagonia Sustainable Trails Project, Los Glaciares National Park" via YouTube.]
Special thanks go to all the project's volunteers: Jorge Ackermann, Tomy Aguilo, James Bouknight, Nick Guillespie, Cullen Kirk, Juanjo Landucci, Ben Logan, Mark Loseth, Max Ludington, Leo Martinez, Marcos Mendoza, Diego Oyarzun and Mati Villavicencio.
—————————————————————————-
Calling all climbers: Patagonia and the American Alpine Club (AAC) want to know which types of activities would encourage more climbers to join the AAC. Patagonia is a long-time supporter of the AAC, and we are encouraging our climbing customers to participate in the survey. If you're a climber, this is your chance to help shape the club's direction for the next five years, and have a say on which activities should be funded in the future by membership dues. Thank you!