Veteran Anglers of New York Fly Fishing Adventure in the Abacos, Bahamas
Richard Franklin
/
May 29, 2012
/
9 Min Read
/
Fly Fishing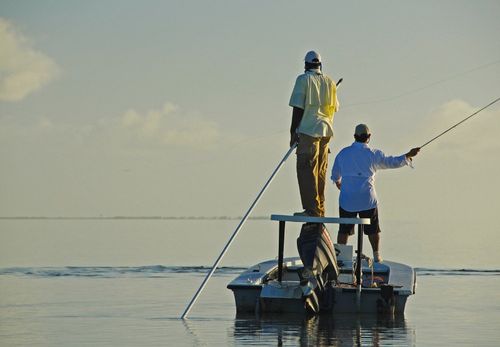 On the final evening of our trip, we enjoyed a feast prepared by expert saltwater fly fisher, FFF-certified casting instructor and Veteran Anglers of New York (VANY) volunteer, David Blinken. We called it "Bahamian Thanksgiving" with native conch salad, sautéed grouper, brown rice with chicken from the Abaco Big Bird poultry farm and spiny lobster or "crawfish" tails. We were packed and ready for an "0 dark-thirty" run back to Marsh Harbour Airport for our return to New York City after a week of fly fishing for bonefish on Abaco Island.
Robert "Nicko" Gill, the youngest of our four veterans who, like Andrew Roberts, a West Point graduate, served in Iraq, Exer Quinonez, and Manuel "Manny" Vasquez, a Green Beret during the Vietnam War, thanked the three VANY volunteers, David, Phil Shook, outdoor writer and FFF-certified fly casting instructor and myself. Nicko spoke about one of our two guided days on the trip when he was perched upon the bow of a skiff as Kendall, our Bahamian guide, quietly poled the boat and, in hushed tones, said, "OK, we are going to meet a single bonefish. He is at 11 o'clock about 120 feet. Get ready."
"Do you see him? 80 feet coming straight at us, start casting… drop the fly! Start stripping, strip, strip… Do not worry, we will find another one but that was a big fish."
Nicko struggled to execute; all the practice casting in NY City's Central Park was forgotten, a nervous anxiety evoking some difficult experiences from the past pervaded him.
"I just can't do it."
"Oh yes you can and you will; stop standing on your fly line and get ready for the next fish."
It did not come easily but Nicko hooked a tailing bonefish which screamed line off his reel and, brought to hand, reaffirmed all the progress he had made since a doctor at the Brooklyn VA suggested he contact the Veteran Anglers of New York, the local chapter of Project Healing Waters Fly Fishing (PHWFF). Nicko continued at the dining room table that he thought we should each say a few words about our most memorable moments during the past week.
"I not only can cast twice as far as I did when I arrived, riddled with anxiety, but I can initiate this discussion too".
Andy agreed that, until he became involved with PHWFF-VANY, he was not fully aware of the impact PTSD had on his life. Andy had fished casually with spinning gear in the past but began fly fishing for striped bass, first at Montauk with VANY and now on his own whenever he has the opportunity. When he hooked his first-ever bonefish whatever sound his reel may have made was not audible as Andy's vocal expression of excitement masked its sound.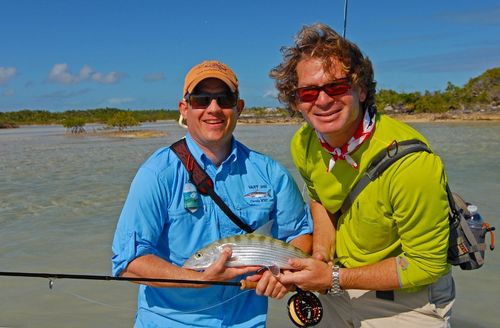 And so it went around the table with veterans thanking volunteers, volunteers thanking veterans and fish tales that were already being expanded upon. All had harmoniously contributed to the success of this ambitious outing that began seven months earlier at a fund-raising event.
The Theodore Gordon Flyfishers annual dinner and conservation fundraiser occurs in March and Tamar and I were in attendance. Tamar entered a bid in the silent auction for a rental house in southern Abaco with expansive windows and a deck overlooking a bonefish flat. Tamar, the program lead of VANY and PHWFF Regional Coordinator of the Mid-Atlantic Region believed she would be out-bid, but that did not occur and we went home with the paperwork for a lovely rental property with the capacity to house eight anglers. It never crossed Tamar's mind that we would do anything other than create VANY's most ambitious and elaborate outing in our five-year history centered around this fortuitous auction success.
Planning stages ensued: volunteers with bonefishing experience made commitments and we prepared participating veterans whose casting skills were accelerating and whose personal and medical situations permitted a week-long trip to a Bahamian out-island. Specialized tackle was needed along with flies, dates needed to be arranged with the house's owner, guides were contacted and confirmed and plane tickets and on-the-ground van rental had to be procured. VANY volunteer, Chris Parker, skillfully juggled itineraries; the last outstanding passport was received less than a week prior to departure and Chris still managed to get everyone on the same flights. Orvis New York's, Rob Ceccarni, donated custom embroidered fishing shirts, the Deckers Corporationprovided sophisticated Teva footwear, tropical fly lines were procured from both RIO and Scientific Anglers. Bruce Olson of Umpqua Feather Merchants patiently worked out a comprehensive order of bonefish flies to supplement the boxes of flies made and tied by Phil that in turn were further enriched by the surprise receipt of a beautiful box of flies tied by Kevin Black and his fishing buddies on the gulf coast of Texas.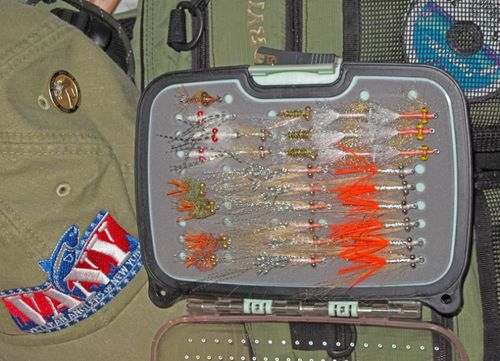 Arriving in Marsh Harbour, one contingent headed to our home for the week at Casurina Point while three of us headed into town to obtain provisions from Maxwell's Market. "Just up the street" proved to be an oversimplified direction requiring us to ask a pedestrian at the end of town for clarification. "If it is permitted, I will ride with you and show you precisely where it is", the grey bearded gentleman responded. He introduced himself as Gaston and provided a poetic monolog as he guided us to our destination.
"And where might you be going, Gaston?"
"Oh, not too far from here", he replied.
"We shall drive you there."
To which he responded, "My, humanity has indeed come a long way!"
Well stocked with groceries, we found our way to Casurina Point by dusk whereupon Phil, who had ascended the ladder to the lookout perched atop the roof of our house, informed us that bonefish, barracuda and small sharks were visible cruising our home flat.
On the first morning, Manuel prepared a breakfast of course-cut oats and flax seed. Once fortified, we crossed a channel to an ocean flat bordered during low tide by two sand bars. It wasn't long before two sizable grey shadows moved toward us only to be forever obscured by a passing cloud. As the tide flooded in, we waded toward one of the now diminishing bars in a freshening wind. "Did you see that, Manny? That was the tail of a feeding bonefish in that little cut in the bar. Cast there!" A cast directly into the teeth of the breeze proved futile but we enjoyed seeing our first tailing bonefish of the trip.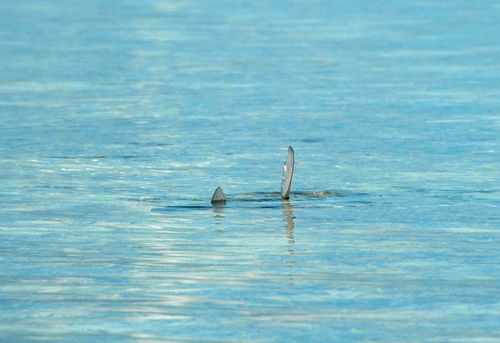 Our guides fished out of Sandy Point at Abaco's southern extremity, a 45-minute drive through a continuous stand of pine trees with an understory of small palms. Very little development penetrated the tropical forest until we reached the pink, blue and turquoise houses of the settlement of Sandy Point. One of the guides awaited our arrival to wave us down a sandy spit to the three waiting boats and, within moments, we were motoring off toward flats and creeks in the lee of the breeze.
Kirk cut his engine and poled us onto a flat outside a shallow creek mouth. "The fish want to get up towards the mangroves in that creek," he explained, "and should be coming up on this flat any time now. Look there, towards that chunk of coral, you see that? Those are tails of a good school of feeding fish at about 200 feet."
Andy and Kirk waded toward the glistening tails and once close enough Andy started casting to bonefish. The fish were tough on this day; harassed not only by us but sharks and huge barracuda, they were on guard and, of course, they are the world's most nervous fish to begin with! The wind, building to some 20 knots, didn't aid our delicacy of presentation either.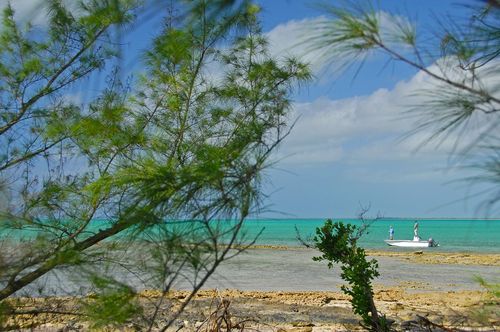 The wind continued the next day and clouds built too. Some of our crew fished our home water while four of us piled into the van for some exploration. The map of the island indicated a chain of little cays close to shore to our north that might provide shelter from the breeze. Every dirt road heading east off the main paved road saw our tire tracks. A dead end at a limestone quarry here, a loop returning to the main road there and, finally, a bit of a track heading into a thicket of Australian pine which we slowly traversed to its terminus at a coral point. There, a channel connected a deep bay facing the Atlantic Ocean and, in the glooming, early evening, overcast greyness, a magnificent lagoon with a broad turtle grass flat giving way to sandy flats bordered by mangroves. Twice during our stay on Abaco we visited this lagoon that was home to bonefish, big bonefish. On our last afternoon of fishing prior to our "Bahamian Thanksgiving" dinner, David and Andy ventured into the southern section of these flats, encountered numerous tailing fish and after three stupendous runs David brought to hand a superb nine pound bonefish. "It was one of a group of three tailing fish", he later explained, "the smallest of the three."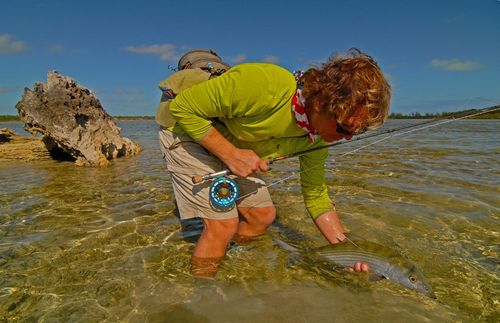 The middle of our week's stay was Wednesday, December 7th, a beautiful day and our second outing with our guides. Mores Island is an hour's run in a boat thus accessible only on as calm a day as was dawning before us. We saw bonefish from the minute we arrived and each flat was more beautiful than the one before. There were no Styrofoam buoys, plastic bottles or masses of polypropylene netting up in the mangroves, it was as pristine an environment as it would have been had we gone back in time.
When the tide turned in the afternoon we saw Phil, Andy and Exer wading and casting near a small mangrove island amidst a broad turtle grass flat. We motored widely around them and our guide began to pole the skiff. "There, do you see those tails?" he pointed. We got out of the boat and waded toward them but did not have to go far for it was not one group of tails, bonefish were feeding all around us – three tailers here, five there, ten beyond them and more behind us as well. It was not long before our guide, Kendall, had Nicko into a sizzling run as a bonefish ripped line then backing from his reel.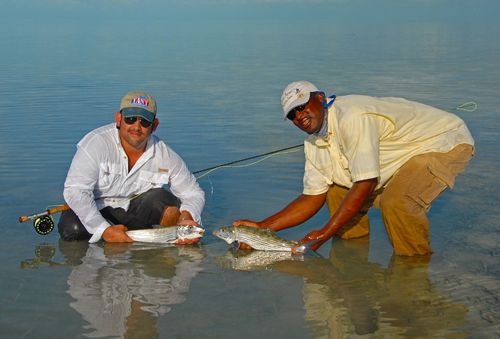 Savoring the complex flavors of the Bahamian ceviche, conch salad, and appreciating David's skill in preparing the crawfish and grouper, the time to say a few words rotated to me. Having been involved in the planning stages of this trip that involved more miscues than Abaco has dead end roads, I marveled at the simplicity and harmony of every aspect of our stay on Abaco. Fly tying ideas from the classics to the newest innovations and abundant materials were shared by all each night after dinner with many bonefish caught on flies tied the night before. The definition of veteran participant and Project Healing Waters, VANY volunteer dissolved into a single, engaged group of fly fishers.
"In the time of my father, on December 7th 1941, the United States suffered a nation-changing maritime disaster at Pearl Harbor in the Pacific. During our stay here in Abaco on December 7th 2011, the Veteran Anglers of New York triumphed at Mores Island in the Bahamas on a day that will live on famously, at least amongst our small group. On this anniversary, we dedicate VANY's longest, most elaborate and successful outing to the will and might of our fellow Americans who continue to preserve and protect our freedom and make an adventure like this possible."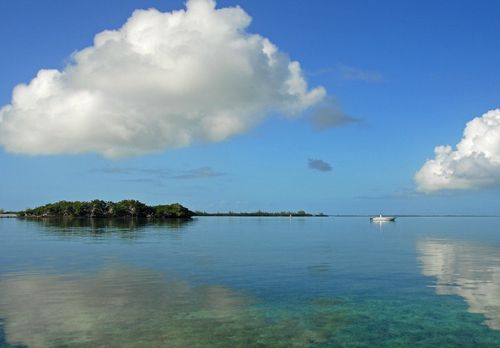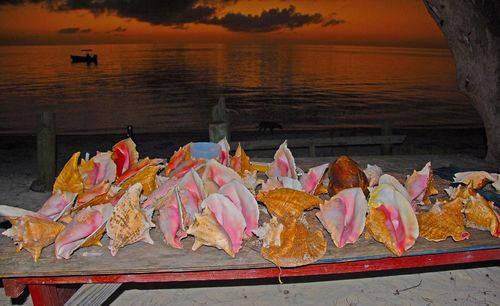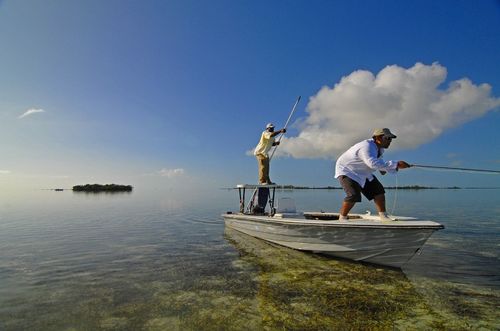 Yesterday was Memorial Day here in the United States. We share today's post in honor of the brave men and women who sacrificed everything defending their country. We're glad the soldiers on this trip made it home safely and were able to participate. We wish them, the volunteers at PHWFF-VANY and all of you many happy years of fly fishing.