Waypoint Namibia Now Available on DVD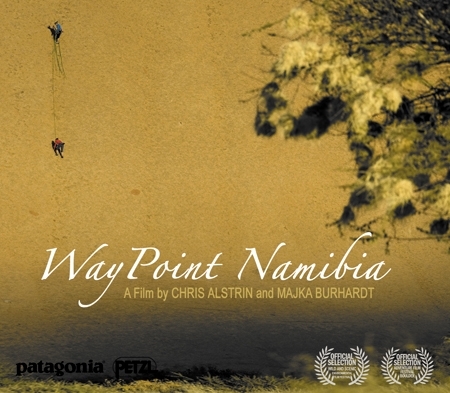 In September, we featured a post about a new film from Patagonia Climbing Ambassador Majka Burhardt and filmmaker Chris Alstrin, Waypoint Namibia. Burhardt and fellow Patagonia Ambassador Kate Rutherford rallied climber Peter Doucette, photographer Gabe Rogel, and Alstrin to round out the crew they would need for their month-long trip to Africa's second-least-populated country, where they encountered unexpected remoteness, crushing heat, great climbing, and – as they'd hoped – Namibia's Himba people.
The film is now available on DVD, and 5% of the proceeds from the sale go to help fund Integrated Rural Development and Nature Conservation Trust, an organization that strives to improve the lives of rural people by diversifying the socio-economy in Namibia's communal areas to include wildlife and other valuable natural resources.
To reach Namibia's incomparably remote climbing destinations, Burhardt, Rutherford, Doucette and their crew drove washboard roads for days on end in search of undiscovered climbing. Along the way, they met Namibia's Himba people, tested their mettle in extreme heat and worked their way (somewhat accidentally) up a new route on the Orabeskopf face of the Brandberg Massif, Namibia's highest peak. A slide show of the trip is available with caption in the Tin Shed.
The DVD is available for purchase off of Majka's site. This short features highlights from the full-length video:
Waypoint Namibia Short from Majka Burhardt on Vimeo.
If seeing the video at home isn't enough, try to catch Majka and Waypoint Namibia as they make the rounds with the Wild and Scenic Environmental Film Festival. With over 50 showings coast-to-coast between now and May 1, you can find a date and venue near you. View the complete tour schedule for a list of showings.