Where Life Begins: Patagonia Ambassadors Explore the Arctic National Wildlife Refuge
This summer, we–Clare Gallagher, Tommy Caldwell and Luke Nelson–explored, sweated, laughed and even cried in one of America's greatest national treasures, the Arctic National Wildlife Refuge. We learned from the Gwich'in Nation about how the coastal plains in northeastern Alaska are an integral part of their cultural and spiritual livelihoods, and we were awestruck that such wildness still exists in America today.
Now, keep in mind that we spend a big part of our lives out in the wilderness. As rock climbers and trail runners—and in our shared role as Patagonia ambassadors–we are lucky enough to go to work on 2,000-foot vertical rock faces and 100-mile single-track loops.
But this was the wildest place any of us had ever seen.
The wildness was everywhere: endless green tundra rolling ever-so-slightly upward toward the Brooks Range, segmented by crystalline-blue braided rivers; caribou mamas with newborn babies sprinting across the plains; seagulls, wildflowers, endless squishy moss; rockslides and avalanches and overflowing rivers.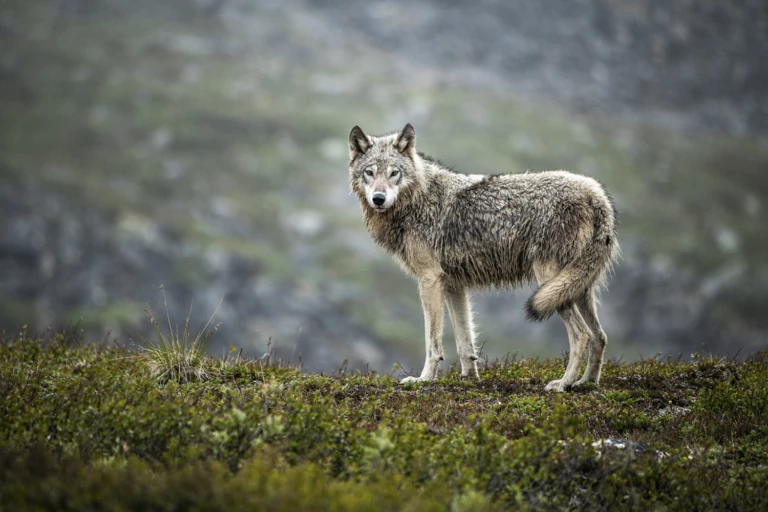 One day, while we sat perched on the tundra eating our lunch, a curious wolf strolled up. We froze, spellbound. We were the outsiders.
No signs. No structures. No humans. And no trails. Save for the caribou single track, which mysteriously begins and ends without explanation. Even the 180,000 caribou tread lightly across their home.
Why does this wildness matter? Especially with the impending threat of drilling in the coastal plain?
First and foremost, it matters to the people of the Gwich'in Nation.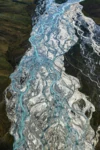 The Gwich'in call this land "Iizhik Gwat'san Gwandaii Goodlit"—"The Sacred Place Where Life Begins," because it's the birthing ground for the Porcupine caribou herd, which has sustained them for thousands of years. Drilling exploratory oil wells, performing seismic testing with giant machinery and creating roads on caribou-calving habitat would devastate the caribou, and subsequently the Gwich'in.
More than 80 percent of the Gwich'in diet comes from the land. In the nine remote Alaskan communities where the Gwich'in live, a gallon of milk costs more than $10. As Koyukuk Athabascan hunter Darrel Vent, Sr., said, "We don't have a store we can go to. This land is our store."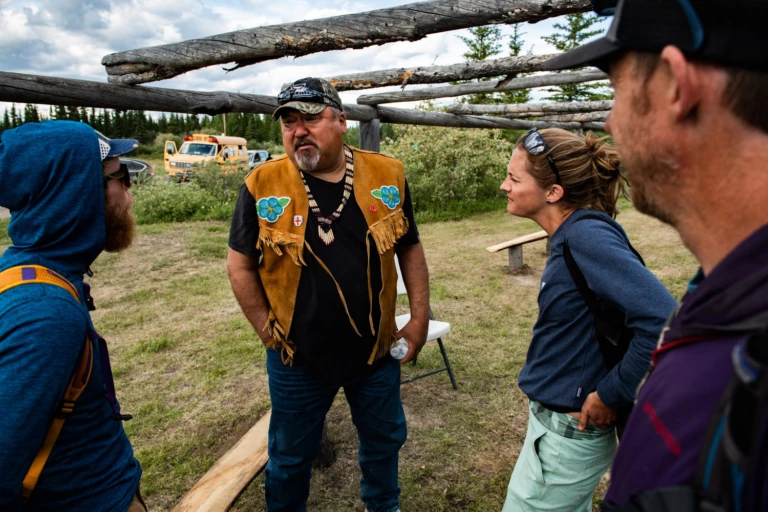 The Gwich'in know much about this land. So, it would seem obvious that our government would listen to them when drilling in this fragile ecosystem was proposed. But, no. As with many injustices toward indigenous communities, they, along with scientists who have spent decades studying the coastal plains, were ignored and even misquoted in the Trump administration's environmental review. Instead, the administration is steamrolling the legally required review process–deleting and suppressing scientific findings, grossly overestimating the potential revenue from drilling—so that a lease sale can occur as quickly as possible.
As Bernadette Demientieff, executive director of the Gwich'in Steering Committee, told us, "We have occupied these areas for thousands of years and we will be the first to be impacted if oil and gas activity occurs."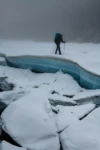 And while the Refuge seems untouched, we saw how our relentless burning of fossil fuels is already affecting the astounding and incomparable variety of plant and animal life. Where permafrost has melted, giant crevasses crack open the tundra. Extraction here would only exacerbate the damage caused by climate change, in a region that's already warming faster than anywhere else on earth.
After two weeks in the Arctic, we came home with wide eyes, sore feet and a fervor to share what we learned. We believe the Refuge should not be drilled and should be permanently protected—for the protection of the human rights of the Gwich'in people, for the protection of wild America and for the protection of future generations.
For all of these reasons, we must ask our representatives in Congress to do everything they can to protect the Refuge. Thankfully, the House has acted by passing H.R. 1146, which prevents oil and gas leasing in the coastal plain. But without action from the Senate, the coastal plain is still at risk. On the same day the House passed H.R. 1146, the Bureau of Land Management released its final environmental statement for oil and gas drilling, which allows oil and gas lease sales to begin in the coastal plain. Until the Senate acts, our partners at Alaska Wilderness League are encouraging people to let the oil and gas corporations know that we are watching them, and to hold them accountable if they bid and buy off these lands to exploit for oil and gas development.
As Americans, as parents, as athletes and as voters concerned for our country's last wild frontier, it's our duty to speak up. Let's permanently protect the Arctic National Wildlife Refuge.
Can't get to the Arctic Refuge, but want to see why it is so special? Check out the Arctic Refuge Experience coming to New York, DC and San Francisco this fall, and be fully immersed in this majestic place. Get event details and tickets.
Protect the Refuge
Send a message to your Senator today and urge them to cosponsor the Arctic Refuge Protection Act of 2019.
TAKE ACTION