World Freestyle Kayaking Championships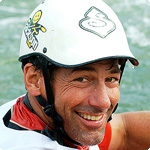 Congratulations are in order for Patagonia paddling ambassador Eric Jackson and his family. Mark, our product line director for paddling, sends word:
I'd like to share the great news that our paddling ambassadors Eric, Emily, and Dane Jackson took home top spots in this year's World Freestyle Kayaking Championships:

Eric Jackson – Men's 1st place
Emily Jackson – Junior Women's 1st place
Dane Jackson – Junior Men's 3rd place

Dane was competing in his first World's at the age of 13. He's the youngest person ever named to the US team and competed against young men four years older. Dane was in the lead throughout the entire comp and could easily have won were it not for some bad luck.

Emily is 17 and ran away with her victory. Many of her rides could have put her in contention for the senior Women's title. In every photo I've seen she smiled and shared her victory with others … an ambassador for the sport just like her dad.
EJ is 43 and this is his 4th World title. This year his maincompetitor was an 18 year-old Canadian named Nick Troutman. EJwon by making tactical changes to his rides as water-level conditionsdictated and bringing his A-game every day.

We've grown accustomed to top finishes from the Jacksons, but theseare monumental accomplishments for each of them. The competition washeld on a giant standing river wave this year. With all the new movespossible on a large fast wave, it takes intense determination to masterany new kayaking trick today. These wins are truly special and deserveour congratulations.
Mark also mentioned that EJ and Emily have been nominated for Everest Awards at this year'sTeva Mountain Games. Dubbed the "Oscars of the Outdoor Industry," theceremony will take place on June 1. Congratulations to the Jacksonfamily.
[Photo: Tanya Shuman Collection]