---
---
Save the Waves Film Festival this Friday in San Francisco
Nov 11, 2009
November 11, 2009
[Trailer for All Points South, one of four films you can see this Friday in San Francisco. Video: Save the Waves Coalition]
We already told you about the Adventure Film Festival going down in Boulder, Colorado this weekend. Those preferring to stay on the west coast now have another option. Save the Waves, an ocean advocacy group we've featured in the Tin Shed, is hosting the Save the Waves Film Festival this Friday, November 13 at the Victoria Theatre in San Francisco, California. It's a one-night gig featuring a quartet of inspiring environmental/surf films, live music, prizes, an art exhibit and a party to benefit the ocean. Hit the jump for the evening's lineup and ticket information.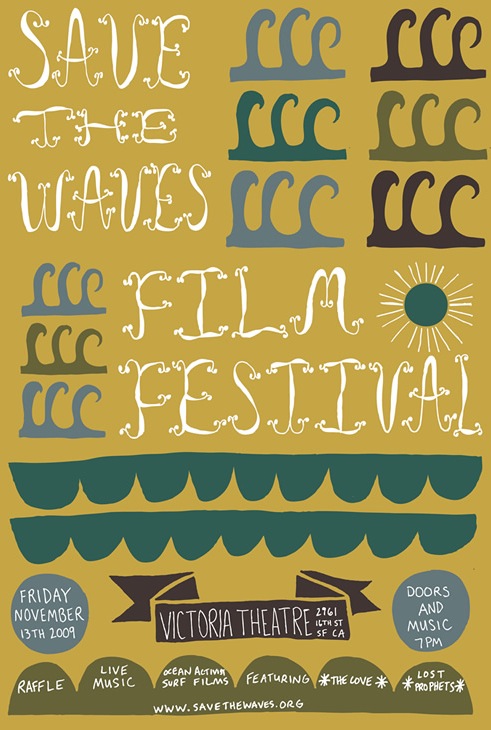 Save the Waves Film Festival will feature:
The Cove – winner of numerous international film festivals and described as "a certain Oscar nominee" by acclaimed film critic Roger Ebert.
Lost Prophets – a new surf film with Dave Rastovich, Hans Hagen, Chris Del Moro & Reef Macintosh.
All Points South – Best Short Film Award Winner, New York Surf Film Festival; this is a film by Save The Waves.
Devils Teeth – a short film about diving with great white sharks at the Farallon Islands.
After the film screenings, participate in a Q&A with Captain Paul Watson of Sea Shepherd & Mark Palmer of Save Japan Dolphins
Live music by The Eldorados and Jethro Jeremiah
Art exhibit by Travis Weller
Tickets are on sale now (21 & OVER ONLY). $20 General Admission. $50 VIP Green Wave Admission (includes reserved seating, 2 free drinks, STW membership, a T-shirt, and limited edition signed STWFF art poster). $5 raffle tickets for a chance to win a new surfboard, a Patagonia wetsuit, custom art by Travis Weller and Chivo, Jack Johnson signed CDs, North Face & Patagonia jackets and more. RSVP at the Save the Waves Facebook event page.
Talk about a no-brainer. By simply attending a fun party you'll be supporting the important work of Save the Waves, including their "Surfonomics" studies which place an economic value on the world's best surf breaks to help build the case for permanently protecting them. A Surfonomics study on Mavericks was released last month.
"Mavericks is an iconic, world-renowned surf break that's truly unique," said Save The Waves executive director Dean LaTourrette. "This study provides evidence of not just its environmental value, but of its economic value as well. This further reinforces the notion that it and other special coastal areas around the world need and deserve to be protected."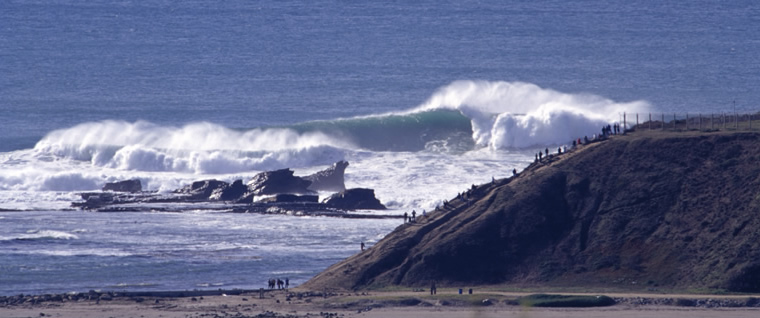 [Mavericks surf in all its glory. Photo: William Henry. With heartfelt thanks to all the veterans out there.]
« Backyard Corridors: What wild animals live in your area? By the Numbers: Quantifying Some of Patagonia's Environmental Initiatives »