---
---
Colorado: Adventure Film Festival Kicks Off Nov. 18th in Boulder; Alpine Styles Art Exhibit Opens in Golden
Nov 12, 2010
November 12, 2010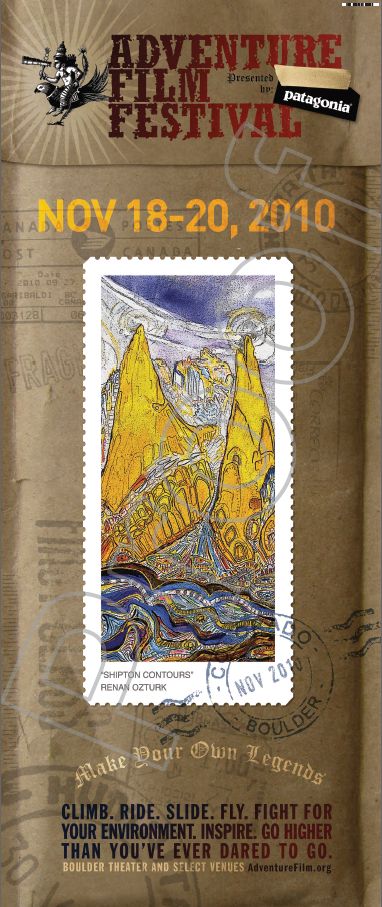 The legacy of our late friend Jonny Copp lives on in the 6th Annual Adventure Film Festival (AFF), an international outdoor community event he founded in 2005. The festival kicks off on Thursday, November 18th at the Boulder Theater and continues with screnings at locations around town, including Patagonia Boulder. The eclectic lineup features exploration, surfing, climbing, biking, skiing, as well as films that tackle environmentalism, global awareness, and social issues. There will also be an Adventure Filmmaking Workshop, discussions with the filmmakers, guest appearances by Craig Childs and Pete McBride, photography exhibits, gear giveaways, live music, and a rockin' after party.
Adventure Film Festival
November 18-20, 2010
Boulder, Colorado
Full schedule & ticket info
Visit the AFF Facebook page and Twitter feed for up-to-the-minute annoucements and community love.
**************
Residents of Golden, Colorado won't want to miss the upcoming Alpine Styles exhibit at the American Mountaineering Museum. Hit the jump for details.
Alpine Styles is an exhibition showcasing art that is about climbing, mountaineering and the mountain world. Works include illustrations that have appeared in climbing magazines and publications, and personal work being shown for the first time in public. 
Opening night is November 18th, 6PM, at the American Mountaineering Museum in Golden, CO. The exhibit will run through January 31, 2011. Featured artists include Jamie Givens, Keith Svihovec, Emilie Lee, Mike Tea and Renan Ozturk. All art is for sale, and all sales will partially benefit the Mountaineering Museum and the American Alpine Club Library.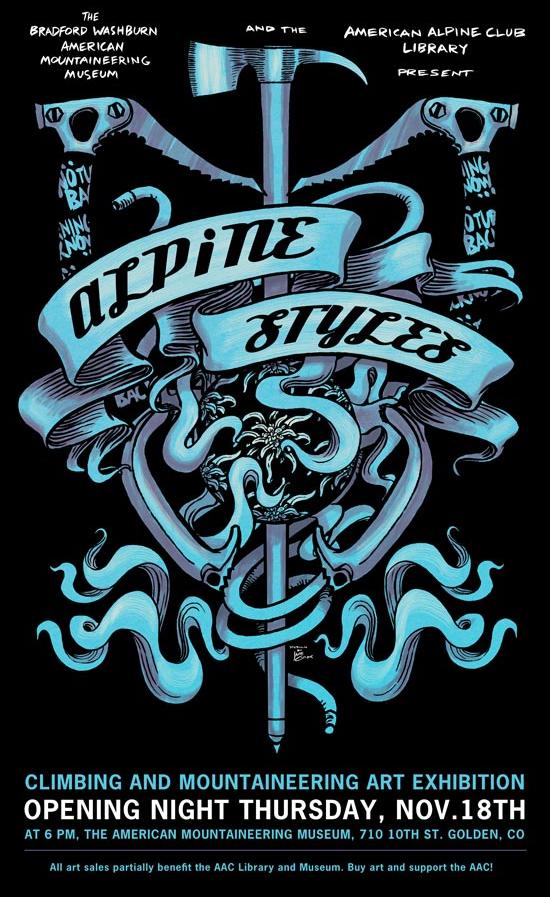 « Cows Without Borders Picture Story: Shandar! »