---
---
Buy a Song, Benefit the Environment – Introducing Patagonia Music and the Patagonia Music Collective
By
Kasey
|
Mar 1, 2011
March 1, 2011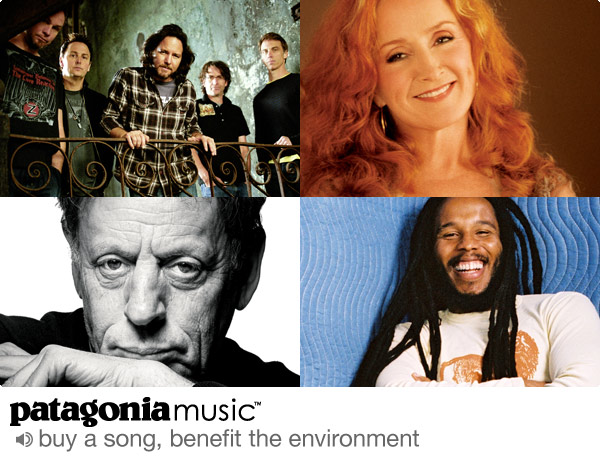 I'm very excited to announce a brand new philanthropic collaboration for us: Patagonia Music. We've teamed up with a diverse group of world-class musicians to raise funds for environmental activism. The concept is simple: Buy a song, benefit the environment. Artists donate exclusive Benefit Tracks – you won't find these songs anywhere else – you buy some great music, and every Benefit Track purchased raises much-needed funds for non-profit environmental groups. Together we form the Patagonia Music Collective. Preview all Benefit Tracks.

How do you hear the music? Visit our new Patagonia Music page and launch the pop-up music player. You can also download our new Patagonia Music iPhone App right now, for free. If you hear a song you like, click the right arrow for the link to purchase it on iTunes.
Hit the jump to see the complete Patagonia Music Collective launch line-up. We'll be adding new artists and exclusive songs frequently. [Featured artists in photo: Pearl Jam, Bonnie Raitt, Philip Glass, Ziggy Marley]

Patagonia Music Collective, Volume One
(buy individual songs or the entire album)
Bonnie Raitt & Jon Cleary   
"So Damn Good (Live)"
Benefits: Earthjustice
Zac Brown Band    
"Cold Hearted (Live)"
Benefits: Urban Farming
Blitzen Trapper   
"All the Stones"   
Benefits: SOLV
Mason Jennings   
"Don't Let the World Go Black"   
Benefits: Freedom to Roam
Jack Johnson   
"To the Sea"   
Benefits: The Kōkua Hawai'i Foundation
Brandie Carlile   
Turpentine (Live)   
Benefits: Honor the Earth
moe.   
"One Life"   
Benefits: Rainforest Action Network
Abigail Washburn feat. Kai Welch & The Shanghai Restoration Project  
"Sala (USA)"   
Benefits: China Branch of the Jane Goodall Institute's Roots & Shoots
Spoek Mathambo   
"Fly Away"   
Benefits: H.O.P.E. Foundation
The Bad Plus   
"Who's He?"   
Benefits: Defenders of Wildlife
Ben Solee   
"The Wires"   
Benefits: Kentuckians For The Commonwealth

Patagonia Music Collective, Volume Two
(buy individual songs or the entire album)
Ziggy Marley   
"A Fire Burns for Freedom (Acoustic)"   
Benefits: Jamaica Environment Trust
Maroon 5   
"Wake Up Call (Live)"   
Benefits: Reverb
Toad the Wet Sprocket   
"Walk on the Ocean (Acoustic)"   
Benefits: South Coast Habitat Restoration
Pearl Jam   
"Oceans (Live)"   
Benefits: Conservation International Marine Programs
Piers Faccini   
"Until Silence Reads the Lines"   
Benefits: Environmental Justice Foundation
Sun Kil Moon   
Chin Swee Suite   
Benefits: The Ohio River Way
Philip Glass   
"Kyoko's House"   
Benefits: Raincoast Conservation Foundation
Ra Ra Riot   
"The Orchard (friendly ghost remix)"
Benefits: The Conservation Alliance
John Scofield   
"How Deep"   
Benefits: Pesticide Action Network North America
Umphrey's McGee   
"Hajimemashite"   
Benefits: Climate Cycle
Brett Dennen   
"Little Cosmic Girl (bedroom Demo)"     
Benefits: The Tuolumne River Trust
Our sincere thanks go out to all of the participating musicians. We've been stunned at the graciousness of the artists who so readily jumped at the chance to introduce their fans to an enviro cause they support.
Please help us spread the word by telling your friends and sharing the link to Patagonia Music with your social network (http://www.patagonia.com/music). The program has been getting some good press already:
This is the first step on a new path for us. We'll keep you updated on news and new releases right here on the blog, and on Facebook and Twitter. Thanks as always for your generous support.
« Operation Algeria – Part Five Alert Level Orange »