---
---
Justin Clifton's 5Point of View – Catch the Film Festival April 26-29 in Carbondale
Apr 17, 2012
April 17, 2012
by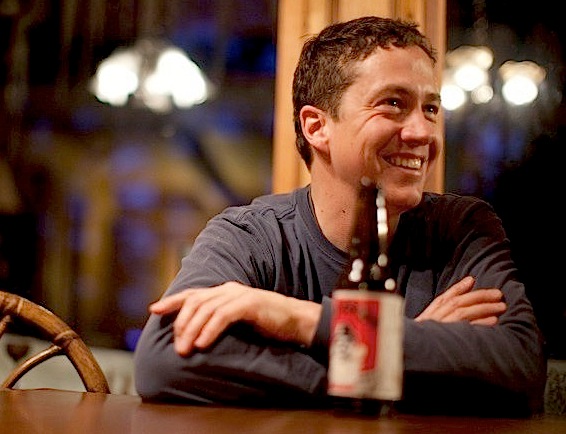 The 5Point Film Festival has a new executive director. Justin Clifton spent six years on staff with the Mountain Film Festival in Telluride. Last summer he came over to the Roaring Fork Valley where he's applying his expertise and vision to guide an exceptional adventure media event in Carbondale, Colorado. In advance of this four-day mountain movie menagerie, set to start on April 26th, Clifton shared a few thoughts on his new role and what we can look forward to on the cinema scene in 2012. [Photo: Ben Knight]
James/Joy Trip Project (JTP): You spent a lot of time working over at Mountain Film. In your opinion, how does that festival compare to 5Point?
Clifton: The way that I've been explaining it succinctly has been that Mountain Film is very much a festival that is activism on the back end. It's a festival that really is doing a wonderful job of highlighting the problems in the world and talking about things that people need to care about. It truly is an activist film festival. 5Point is not an activist film festival, but it is on the front end of activism. It's more about connecting people to the wilderness, the outdoors and these places that they're going to fight (for) and protect for the rest of their lives. That's the biggest difference that I see. Mountain Film has gone pretty far away from just programming for the adventure community or the outdoor market. They're kind of spreading their wings a bit more. 5Point to me is fairly rooted in providing a place where that community comes together in a meaningful way.
JTP: I'd like to think that this is the kickoff to the adventure film season. What can we look forward to this year?
Clifton: Oh man, so much! It's unbelievable. We're really exploring this idea of the evolution we make and are sometimes forced into this evolution by our experiences outdoors. Our films really speak to this notion that we are truly transformed by the places that we visit, that we engage in. It's certainly a reflection of where our mind is and it's also a reflection of where people are in their lives.
One of the things we're excited about is the expansion of our Dream Project, which is a scholarship program for young people, sending kids out into the world to pursue their dreams and passions. We sent three students out last year. We're sending five this year.
As far as world premieres we're excited about the latest Felt Soul Media installment which is called Unicorn Sashimi.
JTP: Ha! So is this another fly fishing film like last year's Eastern Rises?
Clifton: It's not. It's actually a snow film. They went on a little trip with Nick Waggoner from Sweetgrass Productions to Japan this past winter and came back with quite an amazing film. We're excited not only to be producing partners on the film but to also host the world premiere.
We have three great guest presentations. Hayden Kennedy, who's just back from setting the world on fire down in Patagonia, but that's only part of the story. He just had an amazing trip to Pakistan where he was on K7 around the time the guys shared the Piolets (d'Or) this year. And putting up an amazing route there that hasn't been completed yet, he's going to talk about that and his trip to Cerro Torre and maybe talk about some of the things he's been doing down in Indian Creek since he's been back. No rest for the wicked with that kid!
JTP: What other films can we look forward to?
Clifton: We're premiering a number of films. Tyler Stableford is premiering his film called Shattered, which follows Steve House and his pursuit for something more than mountains. That's how we're kicking off the festival. We're also excited about bringing in a few films that are just getting ready to hit the scene. A film called Code Red (by Jaime Brooks), which follows the Billabong Pro Tahiti Challenge during a double code red advisory at Teahupoo, is pretty amazing. We just have a tremendous lineup of films, and I've only gotten to Friday night!
JTP: At 5Point you're not just a host of films. You're also a producer and you assist financially in the production of films. I know that your organization was very involved last year with the production of Anson Fogel and Cory Richards' film Cold and also Jeremy Collins' film and stage show The Wolf and the Medallion. How does that factor into your work at 5Point and moving the whole genre of adventure media forward?
Clifton: Really the idea behind it is to help evolve the medium and to evolve the storytelling and to put our money where our mouth is. Festivals are constantly asking filmmakers for better cuts or better edits. We see that as part of the process, but when we see a lot of potential in a project we really need to step up and help how we can. We're very selective in how we do that. We don't have a lot of money. We actually run on an extremely tight budget, but we've prioritized a portion of that budget for these types of activities that will allow us to give people the opportunity to make something that they have even better.
By default we're seeing some emulation of the film Cold in a lot of filmmaking. Another film we're seeing a lot of emulation of is from last year, that we didn't have any part in, but we really love is Dark Side of the Lens. When you put this quality content out there you start pushing filmmakers to make something other than point of view GoPro adrenaline porn.
JTP: That's one of the things that really differentiates you from not just Mountain Film but other film festivals of your type. You're able to create, not only a venue, but a means through which these films can be shown. Is there an opportunity to get some recognition of the value of these films outside of the adventure film genre?
Clifton: I think it's picking up. We're seeing the adventure film genre being picked up by things like the Aspen Shorts Fest, and some of these other festivals, which is certainly broadening the scope and appeal. One of the things that is both a blessing and a curse for film festivals is the Vimeo community and YouTube, certainly. That kind of self-publishing also helps people to get their content out there. But the film festival still operates as a filter, where the best of the best make it into the festival, but any old thing can make it on YouTube.
JTP: Then ultimately do you hope to not only grow your audience at this film festival but grow the broader audience for this genre?
Clifton: Absolutely. There are a lot of people that are compelled by the stories. I think that if we're telling stories and we're not just showing off and we're actually getting at the heart of something then you automatically broaden the appeal to individuals who may not be climbers or bikers. But they still can appreciate the drive and the passion of someone who's into that. So I'm 100 percent committed to stories. Not just because I'm a climber and a biker myself, but because I truly believe in the human spirit that's embodied by explorers and extreme athletes, people who are pushing the boundaries.
JTP: So is that the big goal for 5Point? To make storytelling the priority so that these films are more compelling to a broader audience?
Clifton: Definitely. I can say so without hesitation, well maybe a little hesitation because there is some soft-core adventure porn in this. But for the most part our festival is entirely adventure porn free. Every film has a story and really a more soulful presence than just people hucking themselves off of cliffs. Our goal is to expand the creativity and the intelligence of this genre of film.
James Mills is founder and host of The Joy Trip Project a newsgathering and reporting organization that covers outdoor recreation, environmental conservation, acts of charitable giving and practices of sustainable living.
The 5Point Film Festival runs April 26-29 in Carbondale, Colorado. Check out the official trailer:
Browse the festival program:
Watch a few trailers from the featured films:
[WILD LOVE with Timmy O'Neill Trailer from Jenny Nichols on Vimeo.]
[L'equip petit- Trailer from InnihilProject on Vimeo.]
[OF SOULS + WATER: THE TEASER from NRS Films on Vimeo.]
[30 Days 22 Slots – A Preview from Dan Ransom on Vimeo.]
« Coral Refuge, Ocean Deep – An Excerpt from "Crossings" Heroes – Part Two »